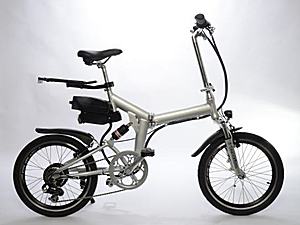 E-Pfeil (Series 1)
Foldeable 2x 20" wheel E-Bike known as "E-Pfeil", designed in Switzerland and produced, as usual, in China.
I took those photos 2013/08/24 at public presentation in Neuheim (Switzerland) where the inventor was present:

Weight: 23kg
Wheels: 2x 20"
Motor: back-wheel, 250W
Battery: 36V 10Ah LiMn O2 (600x cycles), 3.4kg, charges in 6hrs
Full suspension (front and back)
Price: CHF 1670 (August 2013), CHF 1890 (January 2014)
A brief test ride was convincing, yet, long term (6+ months experience) hasn't been documented yet. He claims one charge should last for 140km for flat terrain, and 60km for hilly and 45km for mountainous terrain - which is quite optimistic.
E-Pfeil.ch , with more technical details and photos
.:.