Updates
Mon, April 19, 2010: First version, with photos .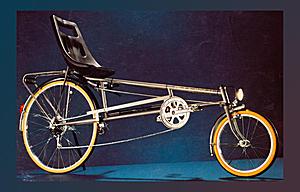 Original Roulandt longrider (1983) with plastic seat
I've got from a friend this
"Roulandt"
longrider (photo below), variant of the Avatar 2000 or
Fateba
.
I couldn't first make out what brand it was, fortunatly Markus Haenni from Fateba.ch

recognized it and determined that it's a "Roulandt" recumbent with a Fateba seat.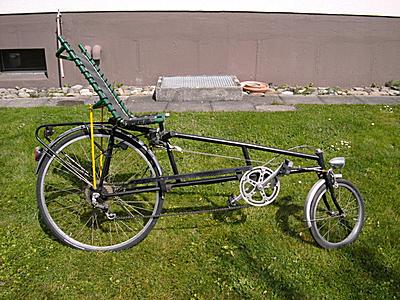 Roulandt longrider recumbent with a Fateba seat
Manufacturer: Roulandt (Netherland)
Year: 1983 (not verified); gotten 2010/04/19 for free
Price: CHF 1600 / Euro 1000
Weight: -
Length: 183cm
Width: 43cm (width of Fateba seat, original seat width: ??)
Height: 118cm
Frame No: 83601
Wheels:

front: 16" x 1 3/8
back: 28"

Gears: 2 x 6
Specialities:

steering via cables
Fateba manufactured seat mounted
The frame number reveals very likely the year, 1983. Unfortunately the wheel in the back is a single chamber rim and simple spokes - with baggage and rough street not suitable.

Positive
reasonable price (in 1980's)
simple setup
16" front wheel: wide variety of tires and wheel sources
small wheel distance, good maneuverability
Negative
original seat was insufficient, broke easily and sweat stayed
relative high seat (harder to sit when stopped, higher fall height)
no suspension
small wheel distance, a bit flacky at higher velocity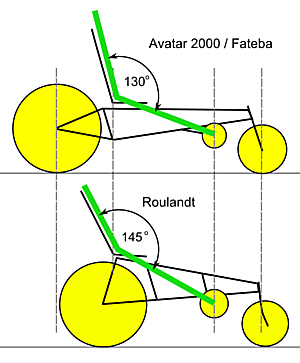 Longrider Type Comparison
The illustration shows the frame difference, the Avatar 2000 / Fateba has a lower seat, and is longer than the Roulandt.
Lower seat means easier to halt and keep balance, and lower fall-height in case of accidents.
The distance of seat to pedals are the same for the same person of course, the distance of the wheels is shorter for the Roulandt, allows riding smaller radius but also less stable at higher speeds.
The back wheel are both 28", whereas the Fateba has a 17" front wheel, and Roulandt a 16". Small(er) wheels means higher tire usage for the same distance covered.

The previous owner replaced the original plastic seat, which was not good and broke quickly as I was told, with a solid Fateba seat.
safety flag
bicycle computer
air pump
mud slides front and back
.:.