Updates
Sun, February 17, 2008: First english version with a bit rushed translation, with all photos .
Crossing France, French Atlantic coast, French / Ital. Mediterranean coast, Tuscany, Adriatic, South Tyrol - 5 weeks - 3500km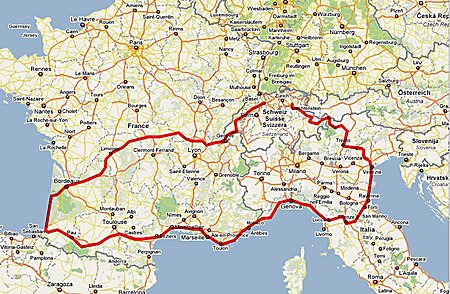 Overview of France / Italy 2005 Tour
Lenzburg - Genf - Limoges - Bordeaux - Biarritz - Lourdes - Toulouse - Marseille - Genua - Florenz - Venedig - Bozen - Reschenpass - Flüelapass - Davos - Rapperswil
Note: most photos datestamp the time is off by 1 hour, also the translation kind of was rushed, it's intentionally held briefly without much personal statements and spiritual insights and realization I had during this trip, which I prefere to share in person and not publically via the web - in case you wonder while reading my travel diary.
Everything packed, go and the jacket forgotten, but then go, Aarau, Olten, then via Oensingen, at another route to Solothurn, then, as usual, to Biel, 15:20 suburbs, a lot of city maps, search the park where I remember Sybille meeting, 16:00 arrived there, a bit uphill, it is 16:15, we talk, go to the farm to shop, cook, talking until 1:30 at night, sleeping in bed with a blanket and pillow, pure luxury.
Late 8:45 left, previously have showered, eaten, packed, etc. Biel, Nidau, on cycle route after Erlach, the beautiful Biel and the Chasseral in the background. Continue to Estavayer le Lac, it begins to drag, I am tired, too little sleep, I feel knees, must reduce speed toward Estavayer shortly before 13:00 noon eat some bread with spread, a lot of drinking, Yverdon, continue on channel along very beautiful landscape, back to the cycle path, along traintrack, then branch off to La Saraz, about 2km slight slope, I feel very tired, continue to Cossonay, then 12km to Morges, I look out after a sleep - / campground, find a good spot with a view of the Alps, eat dinner, the remains of Sybilles food. I wait until it darkens, pitch the tent, and soon sleep.
To get up 7:30, a little drink together, about 10km to Morges, stop at the lake, very beautiful, good weather for the ride, warm & sunny, breakfast at Nyon, then Versoix, Geneva to try bypassing, do not succeed without first to reach France (wish to spend remaining swiss cash), but also Geneva, stuffy, loud. Next St. Genis, customs, then, first expressway, where I probably would not be allowed to ride on. Then away from the highway through small villages, hilly and difficult therefore. 18:30, I reach Forges, and camp behind bushes, not even wait until it darkens because I feel very tired, sleep early.
Around 7:30 quickly pack, drink, wash hands and face, up and downhill after Bellegarde, Nantua, with beautiful lake, again uphill, then sweeping view into the area. In Pont d'Ain, 13:30, further Chattilon sur Charlonne, this route is by far the most beautiful section, slightly undulating, very windy, small villages, with small lakes, and trees along the road, forests, beautiful, I am moved. Continue to Belleville, more traffic, before about 10 cars per hour only. In Belleville, I would like to swim, but that is muddy shore, the water is dark, I leave it, unfortunately, not a good place to sleep, so on, again filling water, a total 6l drinking water - continue to Beaujeu, where the Beaujolais wine comes from, full of vineyards, beautiful, but not a place to sleep, only about 7km abroad was finally a site found, a stunned and surprised wild boar runs quickly away while I set up my tent, it's already 21:30, it darkens, drinking, washing, write even how many kilometers, I made "6.12", it just counts to 199.99km, so total of 206.12km this day.
7:30 getting up, outside several ticks on the tent, shacking all off, individually examine every piece before packing again, drinking, washing, exit, then uphill, very slow, beautiful area, hilly, anywhere small villages, then all downhill, fast, cloud cover the sun, little sunshine, I enjoy it very much this way. La Clayette, Charolles, then Paray de Monial, very beautiful town as far as I could see, had the cycle route to the Loire sighted, riding to Digoin, the way forward is no more asphalt, the road at the channel stops after about 5km no more, on the N79 almost parallel to the canal and natural Loire runs, this main road is not very busy, good. Finally, I come to Diou, let's see how much the cost the camping would be, but it's too early, the campsite is still closed, but it has 2 camper / RVs, it is apparently allowed in the picnic area behind the camping overnight, I try it, I find a place right on the Loire, very beautiful. Around 21:30 tent is up, and sleep, but only temporarily, too little.
7:30 clouded sky, getting up, wash myself, pack up, after Dompiere sur Besbre, shopping for washcloth, bread, just before a storm arrives changing rain gear, to go back to the shop to escape most heavy rain, wrap all water sealed. Next very hilly, approximately 50-150 m each after Moulins, old city, rough street, eat bread, drink water, in the afternoon after Souvigny I had cold, strange feeling, I am very tired, the last night hardly 2-3 hours sleep, I eat the remains extensively from yesterday, pasta, onions, garlic and 3 carrots, more salt, it is better, I choose to head for the next camping-site, want to sleep earlier and longer, not big sleeping space search and wait until it gets dark. The Plan d'eau de Vieuvre camping (5 euro) is very nice on the river, with a warm shower, wash underwear and T-shirt, hair, drink again and feel much better, enough sleep, eating and drinking, if at all lacking something I notice it a lot. My right knee with the wound from the fall from the 2nd day heals slowly because the knee because I move it a lot while riding (go figure!), put my hands more often on it, and feels very good. It is 19:15, the sun is shining still warm, windy, cloudy areas that have now disbanded. I am about 3/4 days before my plan (for meeting Lori Jessica in Bordeaux), about 15km to Montlucon, my planned goal for tomorrow, I try to make one day ahead so I can rest one day, sometime before 9.5., 20: 45, sleep, tschüss!
Around 7:30 up, it rains a little, it "niesselt", wait a little, wet pack up, tent, drinking refuel, departure. Until Cosne d'Allier approximately 15km, hilly, after exhausting Montlucon, suddenly road full of trucks coming from the highway, easy on the same road with no traffic to Montlucon. Through the city, and then starting again on the road to Huriel, and getting hard again, again hills, more and steeper, but the landscape is wonderful - but then easy to strenuous, approximately 5-6 km/h uphill for 5-7km, and then with 20-45km/h downhill for the entire 50-60km all the way, all day apprx. 85km. At 17:00 in Boussac, getting fruity colored sugar water, later I just decide to go on the Camping de la Ferme for 4.85 euros. Cooking, very quickly with carrots, onions, garlic and pasta, very good - thanks to Melanie, I cook well with the boiler, she has been a good role model. Later, I call her by cell phone, she calls back so that it is cheaper, we speak for approximately 8-9 min, and CHF 20 call credit are gone - never again mobile phone calls abroad, only SMS. 20:45 diary writing and route of the morning studying, good night!
Up at 8:30, 9:45 departure, very hilly, it's raining, cold, 8-10C, and windy sometimes, it snows soon I guess, I think I ride slowly, until 14:00 in Gueret, after the abandoned city to a small lake, just eat, further from the city but without direction to Limoges highway, it runs better, a lot of downhill, very beautiful area, but not if it would be so cold (it feels like the wind to 0C), finally arriving at Benevento and realise it's a holiday, no shopping, I have stocks, luckely. On the outskirts I meet a German touring cyclists, barely 8-9kg luggage, we chat about bicycles and traveling about 1 hour, and the sun comes out, it gets warmer, he goes on, I also go ahead downhill after a 2km driveway, which will be my campsite, it is only 17:00, but already unpack everything and let it dry in the sun, dinner, write, early to bed!
8:30, sunny, dry, pack up, moving clouds - departure, in parts hilly to Ambazac through Limoges, pretty, to Aix-sur Vienne, it is flat. Have some bread with margarine and jam to eat, lunch only for a drink - 16:30 around time to cook dinner, and possibly night, which is good (from a rest stop basis), cook some pasta, spring onions and garlic, drink again (drank too little by the day). Waiting until 19:00 to set up a tent. I am approximately 7km before Chalus.
Content: