Updates
Sun, August 9, 2009: First experience and photos after 100km .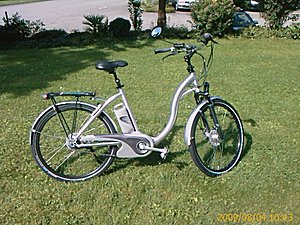 Flyer C8
Brand: Biketec
Type: Flyer C8 Premium 09 Tief
Tires: 2x 26" x 1.75 Schwalbe Marathon Plus
Gears: 8 Gang Shimano Nexus Hubgear
Price: CHF 4000 (bought 2009/07/15)
Ca. 100km ridden (2009/08/04): Very good. Exact display of remaining charge in the battery as well energy use, all shown on the display of the native bike computer. The battery can easily be detached and recharged. Good suspension (Shimano Rollenbremsen BR-IM 70/75), supposedly maintenance-free as well the hubgear.
Front light based on strong white LED, which is attached direct on the battery without a dynamo.
With excellent Schwalble Marathon Plus tires. The mirror was additionally bought and was not included in the base.
.:.