written by Rene K. Mueller, Copyright (c) 2020, last updated Wed, September 9, 2020
Updates
Sun, July 12, 2020: Brief diary & photos, and reflection. .
Date:
June 27 - July 10, 2020
Duration: 2 weeks
Distance: ~200km
Elevation: 2000m - 2700m
Countries: Switzerland
Villages: St. Gotthardpass/UR, Olivone/TI, Ilanz/GR, Elm/GL, Weisstannen/SG, Sargans/SG
Mountains/Passes: St. Gotthardpass, Sellapass, Pass Maighels, Bornengopass, Lukmanierpass, Greinapass, Diesrutpass, Panixerpass, Muotatalsattel/Heubützlipass, Heidelpass
Camping: Wild (100%)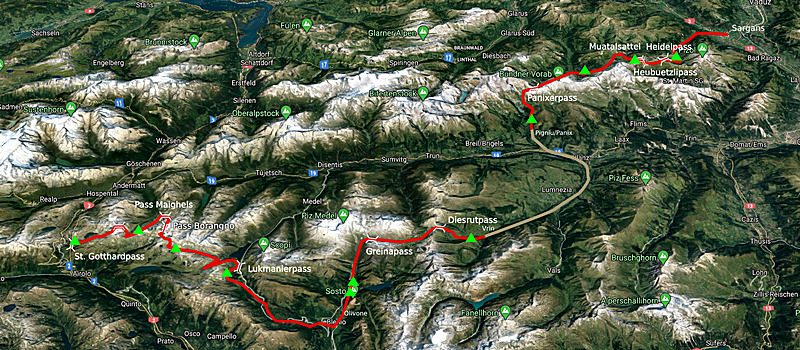 Hiking 2020 Swiss Alps Map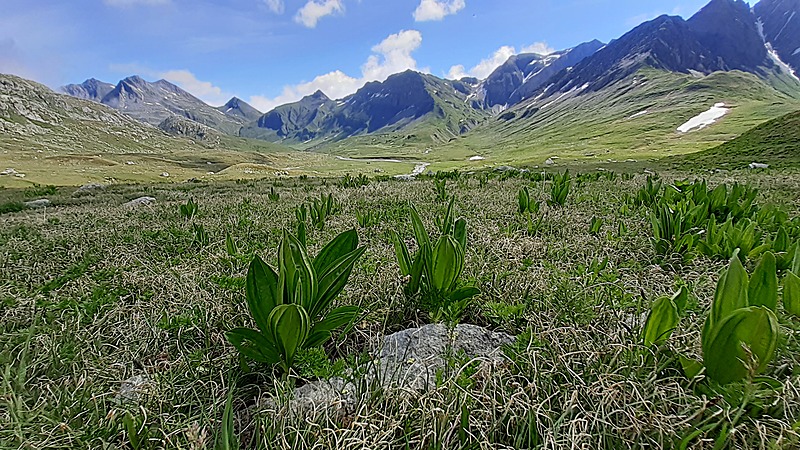 Greina Plaines - most beautiful ◈ Crap la Crusch, Lumnezia


Heubützlipass ◈ Graue Hörner, Pfäfers
After years cycling with a recumbent, I switched to slower pace with hiking and explore more close region where I reside: swiss alps.
I started at St. Gotthardpass at 2000m elevation and continued for a few days near that same elevation hiking east, and only descend to villages to buy food again after 4-5 days (Olivone/TI, Ilanz/GR, Elm/GL) otherwise stay up in the mountains. The beginning of July 2020 there were just a few snow fields mostly at northern slopes and some steep sections were more tricky to hike over. I visited breathtaking places, most beautiful scenery up in the mountains at 2000m or more elevation, it wasn't highest alpine but high enough for my preference.
At the evening I arrived at the St. Gotthardpass and pitched my tent apprx. 10 min walk away from the hospiz / mountain hostel. 22:00 Leaving 7:00, beautiful blue sky, I head toward Giübin mountain, first snow first fields, wide view. I skip the snow covered peak of Giuebin and descend further. Offline maps helps as the path is covered by snow. Steep descent, but I detour below the Unteralppass, blue marked path (climbing path). 12:00, about 14:00 pitch my tent, it's windy, more clouds, 18:00 first rain, and through the night.
It stormed through the night and rain - dark misty sky - around 9:00 the sun briefly comes through. I stay in the tent until noon, the sky slowly clears. I decide to talk my own route tomorrow in order to maintain elevation without descending further.
Slept well, 7:00 packing, 8:00 leaving on my own route, keeping 2400m elevation without descending to Vermiggelhuette, but walk near Wildenmatten und Porggeren. Rather climbing up steep but doable I reach near the Pass Maighels (~50m near by). Quick 5min rest then continue steep on snowfield to Pass Bornengo. The descent then is hard, no solid ground but big loose stones, almost takes me 1hr until the junction to ascend again. The path is in a terrible condition and signalisation is bad as well. Steep ascend, with passages to climb with hands. About 14:00 I reach Capanna Cadlimo SAC/CAS and continue mild descend until I reach Val Cadlimo, about 50m above the trail I pitch the tent. 16:00, about 8 hrs hiking non-stop I'm exhausted. 17:00 eat dinner, washing arms and face and drink plenty water. 19:00 resting.
6:00 awake, mild night, was covered sky, the sun barely comes through. 8:00 I leave the site, about 40min later I meet the shepherd Nicola, whose cabin is like an altar of a buddhist temple. He is very devoted to the tradition, we find some common ground: his background is non-veda tibetan buddhist tantric teachings, whereas I'm more esoteric/veda affirming inclined to put some terms or labels. He devotion contradicts the non-attachment teachings of the buddhist tradition but makes him very likeable. He tells me that tibetans monks keep visiting bim, also some gathering happening within the next 2 weeks. 11:00 I leave after heartfelts goodbye - he is a lama in disguise for me, empowering the entire valley of Cadlimo. Around 13:00 I reach the Lukmanierpass at 1900m low, it's warmer. I walk 20min further past Alpe Corse at the beautiful meadow - awaiting the stormy evening. 14:00. Took the chance to shower with 1.5l water and dried myself in the few moments in strong sun. 15:00
6:00 wake, 7:00 departure with clear blue sky, the sun just coming over the mountain ridge. I walk down one of the most beautiful scenes I have ever seen, a nature path ("natural sentiero"), first flat then steeper until the official hiking path which follows first the close the along the road with hardly any cars. The forests are beautiful, not dense but rather sparse so one sees each individual tree. I descend further as the richer and dense flora expands. The path increasingly gets steeper until I reach Olivone around 12:00. I shop a few items before I continue to ascend toward Pass Greina. Past Compo Blenio I pitch my tent close to the forest. After 1100m descend and 400m ascend again I feel my heels and overall exhaustion. 15:00
Good sleep, 6:00 awake, but get up 8:00 to check the weather. Today is kind of restday as I plan tomorrow to talk the Pass Greina, so I just a bit higher for today. 10:00 I leave packed and after ~2hrs I reach Pian Geirett 1900m but no good place to camp with this string wind, so I descend again to 1400m at Daigra where I find a spot. Also, the region "Greina" has no camping policy, well, not many places to do so anyway and for hikers it's usually allowed to camp overnight, just not "camping" for more than a single night. Just 100m within the declared region I pitch my tent. A bit of a busy but idle day. Tomorrow better weather to expect and I plan to hike Pass Greina and Pass Diesrut in 1 day, will be a long day.
5:30 awake, 6:30 leaving, hiking back to Pian Geirrett, it's chilly and windy 7:30. Steep first then flat toward Pass Greina, a view opens to the Greina Plaines, a mix of moon-like and then vast grean meadow with a few stones in the field - beautiful. I rest for 2 hrs before I continue toward Pass Diesrut, quite narrow path along the river. After reaching the pass the descend into the valley of Lumnenzia. Close before Puzzatsch I divert right-hand side and walk right of the river until the forest starts, eventually I find a place. 16:30
Slept long, 6:30 awake, continue to doze until 9:30 when the sun hits the tent. Washed some cloths and my hair again, slow day. Sunny day so I charged my battery bank again which I use to recharge the phone (I use solarpanel to charge battery bank for 3-6 hrs, and then fastcharge with it the smartphone within 1hr; not using solarpanel directly with the smartphone). 6:00 awake, 6:30 leaving and reaching Vrin around 7:30 and waiting for the bus at 8:30. I call in to reserve the follow up bus from Ilanz to Pigniu. 9:15 at Ilanz, it took 40min for 15km distance by bus. In Ilanz I shop food for the next 4-6 days: 2x bread (500g + 250g), muesli (400g), tomatopaste (200g) dried grapes (200g), 2x chocolate (2x 100g) etc. 10:35 taking small bus to Pigniu and I walk from 1400m to 1700m and before the forest ends I pitch my tent at the edge of it. 14:00
Very windy night with rain, in the morning the tent was dry though. 6:30 awake, it's chilly, cold hands while I pack the tent. 7:30 departure, as soon I reach the sun I take off the jacket but keep the scarf around the neck for a couple of hours as the wind upward from the valley is chilly. At 10:30 I reach Pigniupass aka Panixerpass and eat a bit. I slowly descend with the light shoes or rather sandals with new insets barefoot. Descending into the Glarnerland is nice, soon reach the meadows of the farmers and rather flat continue to Elm where I decide to ascend again to "Waldhuetten" at 1350m where I find soon a nice site to camp, but I'm exhausted and my feet hurt a bit due the intense ascend, descend and ascend again.
6:30 awake, good sleep, 7:15 departure. Ascending slowly, steeper near Foopass. At 10:30 I reach Foopass and descend right away a few hundred meters as it's too windy, about 150Hm lower I stop and eat a bit. I continue to descend to Fooalp and turn right in order to ascend again toward Muotatalsattel. Short before I stop, 13:30 and later pitch my tent for a shorter day and relax my legs and feet. 19:30
Long sleep, 7:30 awake, 7:50 departure toward Muotatalsattel, which I reach around 8:15. Tricky 30m follow on the narrow crest, then along the slope with snowfields reaching Heubützlipass 8:45. A short descend and then almost at the same elevation along and pass a few ponds until reaching short but steep ascend toward Heidelpass at 11:00. Then long and at first steep descend until I reach Batöni 13:00 with 3 waterfalls, where I rest and ponder whether to continue upward toward Lavtinasattel or descend toward Weisstannen. I don't think I have sufficient strength for today and tomorrow long descend, so I descend a bit and pitch my tent along the old hiking path 17:00.
Slept well, 8:30 departure toward Weisstannen through the forest. I reach the small village with bus stop at 8:15, but I decide to descend by foot to Sargans. The hiking patch first on the road rather flat, near Schwendi diverts ascending (!!) again, but in the shade of the forest and finally steep into Mels and further to Sargans 12:30 where my hiking trip ends.
In order to save weight I did not take the cooker, but only eat cold: bread, cheese, tomatopaste, nuts & dried fruits and muesli (with water), chocolate and cerealbars. I reused the 2-person tent from my bicycle trips, which is big enough for a person, but very narrow for 2 people actually, and weights 2.3kg - but it's possible to have a sub-1kg 2-person tent. Since I pitched the tent on 2000m to 2500m elevation the nights were chilly and I required additional "winter" cloths, they added volume but not much backpack weight. With over 20kg (close to 23kg) my backpack was too heavy compared to other hikers I encounters which mostly had sub-20kg more near 15kg backpacks incl. tent; couples even had lighter backpack as they shared weight on two backpacks.
In Ticino, the italian speaking part of Switzerland, the hiking paths or trails with white-red-white marks, indicating moderate difficult hiking path, were much steeper and ofter rather climbing incl. hands and not suitable for minors/childrens or with heavy backpack like me. The hiking paths in Graubuenden and St. Gallen were well maintained, and good signaling; yet, in Uri at 2700m elevation the paths were snow covered and not marked anymore (usually on stones with white-red-white stripe) - it might be more suitable to hike at 2500m elevation or higher later in July or even August.
Although wild camping is prohibited in Switzerland officially, so called "biwak" or one-night tent pitching

in the mountains is permitted - given you really leave the place cleanly behind (no trash). I prefered to stay overnight at least on 1900m, above the forest line or even higher where no cows graze and contaminate the water, as clean water was essential for sufficient drinking after long exhausting hiking day.
After nearly 14 days I was physically quite exhausted, mentally blank and still in the mind from the beauty of nature - my body changed significantly in regards to adapt hiking, e.g. more muscles on the back and around the hip, and more endurance at the ankles. Some passages of the trip were tricky, close to dangerous as sometimes no misstep was permitted and full concentration all day long - which were mentally and physically additionally demanding; it made it a full awake meditation excercise: focus in the here and now fully, for everything around oneself.
This hiking trip felt like a long breathing-in . . . of goodness and beauty.
.:.