Updates
Sat, July 26, 2008: Longdistance 2-day tour from Steinhausen (Switzerland) to Strasbourg (France) .
Steinhausen/Zug (Switzerland) - Zürich - Waldshut (Germany) - Basel - Strasbourg (France) - Basel (Switzerland) - Brugg - Bremgarten - Steinhausen/Zug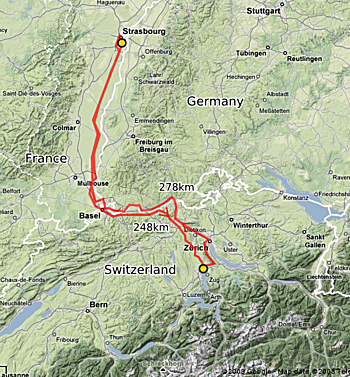 2-Days Trip Route
Date:
25th - 26th July 2008
Duration: 2 days
Distance: 525km or 316 miles (apprx. 262 km per day)
Countries: Switzerland, Germany, France
Cities: Zurich, Basel, Strasbourg
Bicycle: Longrider recumbent Fateba L1
I wanted to figure out how long or how far I can ride without just to end up completely overtired. After my european tour 3 weeks ago, I feel fit for a long-distance tour. I deliberately chose a flat stretch from Steinhausen/Zug (CH) via Sihltal to Zurich, Brugg and then Koblenz, Waldshut (D) and then on the german side of the Rhine to Basel, Lörrach and then Kembs (F) and near the Rhine on the french side via route D468 to Strasbourg.
As I realized then, after the first day and 278km ridden, I was able to return almost the same route, just a bit shorter (247km) but the same riding time of 13 hours. I regret a bit that I rushed the first day, so the 2nd day I rode back I took a bit time to look at some villages more closely, e.g. Neuf Brisach, and I even took 30 min to look at a dome construction in Fessenheim.
5:45 to go, a bit cool in the morning, especially in the Sihltal, about 10C, at 7:00 I reach Zurich, around 7:30 I leave the city toward Altstetten and follow the bicycle signs - I succeed very well. Ride to Baden, Koblenz and cross the Rhine to Waldshut (Germany), on the no. 34 or E54 mostly to Basel, 12:20 and 140km with a tail wind from Waldshut to Basel, about 24-31 km/h, for about 30min again in Switzerland, then Germany for a few miles and immediately then to France crossing the Rhine, further to Kembs very close to the river, then on the no. 468 north. I have headwind until the evening, come along only slowly, about 20km/h instead of 24-27km/h. I buy some liquids 6l, 2 hours later also buy some food, salt-biscuits, cheese, bread and a pack bars - must eat more. 18:30 I feel very tired, have some knee pain and take a 30min break, I continue to ride 10km on the Canal du Rhone au Rhin, then branch-off, and go toward Strasbourg (Neuhof), 20:25 - but I won't enter the city that late and tired, but ride toward the Rhine for a sleeping place. Because it has mosquitoes and despite clear night I put up the tent - unfortunately. About 21:30 into the tent, 278km driven, I think it is enough for today. Thanks!
Content: