Updates
Sat, March 1, 2008: First english version of the diary .
With recumbents Denver/Colorado - Sedona/Arizona (42 days, 1600 km): Rocky Mountains - Monument Valley - Grand Canyon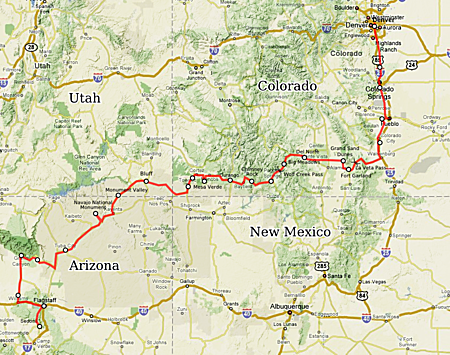 The USA 2004 Tour
Denver, Colorado Springs, Pueblo, Walsenburg, La Veta Pass, Great Sand Dunes, Wolf Creek Pass, Pagosa Springs, Durango, Mesa Verde, Cortez, Bluff, Monument Valley, Kayenta, Tuba City, Cameron, Grand Canyon, Williams, Flagstaff, Sedona

Date:
14th August - 26th September 2004
Duration:
42 days
(21 days ridden)
Distance:
1600 km
or
994 miles
, apprx. 76km or 47mi per day
Countries:
USA
Cities/Locations:
Denver, Colorado Springs, La Veta Pass, Pagosa Springs, Wolf Creek Pass, Durango, Cortez, Monument Valley, Grand Canyon, Flagstaff, Sedona
Bicycle:
Fateba L1
longrider recumbent
Camping: National Park Campgrounds
A little preface, USA in 2004, question whether President Bush Jr is elected again, he was - unfortunately. For many non-Americans it is hard to understand why this president should be elected again. . . Why are we in spite of this political situation visiting USA? Because this country is far more than any president, in particular the Colorado Plateau, the Rocky Mountains, the Grand Canyon are so impressive, a miracle of nature, and I would like to say that every person once should see the Grand Canyon, no film, no photo, no description can get close to it. It lets people remember how small we are, and realizes we are not at the top, but we stand in the midst of the world as tiny beings. The Four Corner (Colorado / Utah / New Mexico / Arizona), for me has remained a piece of home through all the time, and I was happy to travel with Melanie there. . . (rkm)
Zurich airport - our recumbents will be packaged in cardboard because it has to gon on a conveyor belt for the X-ray machine. They are apckaged for 60.00 CHF, both. Two giant packages we pull through the airport hall ... The flight is more pleasant than I imagined. Three films look (World Downfall film, Garfield, and a new Western - beautiful) music. Washington DC through the customs, Rene has yet to give a fingerprint because he has a multi-entry visa (he can stay up to 6 months). I go through the customs, Rene is questioned and is asked to fill out another form. Our recumbent packages remained closed, good. In the 2nd flight to Denver I sleep, deadbeat (CH-time 4:00) we arrive finally. It takes quite a while until we get our recumbents, the boxes look pretty damaged, but the recumbents are OK. Julio is already waiting some time for us. The houses are sometimes a little run down. All very closely built, all have small front garden with grass. The streets are very wide. Arrived at Julio we talk until 6:00 CH-time. Julio still has friends visiting, U.S. politics is the topic and the Urantia Book

. (mel)
Julio leads us to Boulder / CO, everything looks very cultivated. Beautiful view of the mountains (red). Later we head to a huge organic store, we sit by the river and eat. Many young people sit in inflated car tubes and ride down the river. The areas I see I like - it has style. I am very tired and sleep in the car while riding to the Red Rocks. Impressive curvy red rocks, somehow, they unreal, like from another time. We go to the Amphytheater where it is very nice, I like that really. Finally nature. Camera purchased. (mel)
Star still wants to talk to Rene, Julio and I go shopping. American Way of Life, generous, wasteful. Yes it is no coincidence that USA is No. 1 in the amount of waste per person wordwide. At Julio's home stands in the kitchen trash can of 200L, and in front of each house is a container. We are still head for the REI store to pick up things we ordered. I exchange the H2O filter and heater without problems, one because something is missing, the other simply because I want a different model - that is service. 14:00 we drive with the car loaded with recumbents. On the road I notice that we have forgotten toolset, so again back 20min. Finally we get out of city almost at 16:00, when we depart from Julio and Star, riding ugly and busy road - it is freshly paved, our bike trip begins. It is soon clear that with our slow pace we won't reach Colorado Springs tonight. At 20:00 it will be dark, we start at 18:30 searching for a place to sleep. But 5-10m off the road all is fenced. We ask to 2 farmers, but the ladies are probably scared, and deny us a campsite. It darkens, and begins to rain. Behind a fire brigade building we pitch our tent. Cold dinner and sleep soon. The last 3km of the trail were very nice to ride - less traffic and wide landscape. (mel)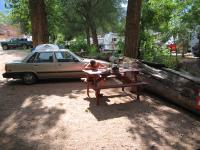 Melanie writing diary, Colorado Springs
To get up 6:00, and continue to pack together to Colorado Springs. There is still little traffic on the road, and it is almost all mountain, and soon we see Colorado Springs. Even on the outskirts, we see a REI store and Melanie buys a LED taillight, then to the 'Garden of the Gods' Visitor Center, a small bite to eat, with a view to 'Garden of the Gods' (GG). Then we look for a campsite, and finally go to 'Pikes Peaks' GG, right next to the noisy street. Showers, fine cooking and eat and sleep. (rkm)
The Garden of Gods (GG) has been very impressive, especially in its many different forms of rocks. Beautiful red rocks, somehow they were more alive than usual. (mel)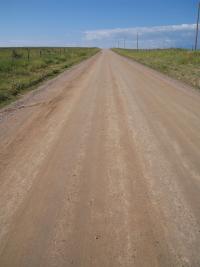 We get up soon to buy more water in a 'Safeway' (open 24 hours), then through the city which goes well, and quickly, because it is only 7:00. The route Star has recommended leads on restricted military grounds which we can't pass, and have to go back a bit and detour, then you back on the right road to Fontain, where we meet a 'runner', according to his own statements 15,000 miles coming from Canada going southward. Later in Fontain we meet another outside, this time on the bike. We go 'Main Street', it becomes' Old Pueblo Road' (often changes the names but still the same street, which is not always easy to follow). Well, we see America as we imagined; wideness, wind, long straight roads, little cars, we ride aside of each other. It goes fast with a tail wind. Soon be without asphalt but becomes a gravel road. Toward Pueblo Melanie at a flat tire, I fix it. Pueblo again a flat tire, and it takes time to realize that there were two punches nearby in the tube, then south to a commercial campground, but not for tents. We head to Pueblo Reservoir, another 15 km, we approach a public campground called 'Arkansas Point Campground', beautiful, a lot of space, beautiful view on a reservoir. In the evening it begins to rain, and then the rain continued throughout the night, sometimes very heavy.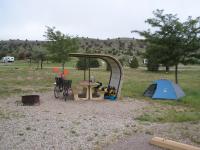 State Park Campground, Pueblo, CO
It's still rainy and cool, we remain one day in Pueblo, remain in the tent. A little shopping in the nearby boat jetty, and laze through the day, in the evening fine cooking and eat, then sleep.
It is 7:00, getting up, it is still a little foggy and cool, we go ahead, even briefly shop in Pueblo, then via the 'Little Burned Mile Road' from Pueblo south without I-25, street with pavement or gravel even, still damp from the night but passably well. The road leads through vast fields, then in a small canyon, river, and a few houses not really even a village, the route goes on. And a surprise, a mountain biker from Pueblo has focused on the same 'lost' route too. We drive a little farther to eat lunch. Approximately 13:30, we are in Colorado City, hardly a village, passing a gas station and then still on I-25 after Walsenburg, since there is no practical alternative, the bicycles are allowed on this interstate. The Interstate has many slopes which drain our force - car pass us at 75 mph, but we have enough space on the shoulder. Finally around 17:00 we reach Walsenburg, slightly uphill, through the town of outward up to the 'Latrop State Park', and it still has room for us, very large parcels. We are both very tired, it wasn't expected for such a long day. After dinner, we get into our tent, and it begins to rain.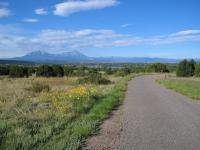 Walsenburg, CO - looking to Spanish Peaks
Getting up around 9:00, and as soon as we come into a conversation with Americans, almost all of our critical views are shared by the people here - very strange. Later we talk with the campground host, a nice older couple, they tell us we have to change our place - someone else rented the space for the next day. We move around and laze the day more or less, and early to bed.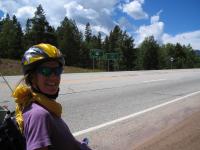 La Veta Pass, CO
We get up and take an early going, as we are planning a lot: on the 'La Veta Pass'. Already on the journey to the pass we have hard headwind, and so it's fairly consuming, and gradually I feel my knee already some pain, and we get slower, but the pass is in sight, and we reach the pass, done. We still ride 300m down and eat lunch on the side - we feel the altitude (3100m) and the effort. Then everything downhill continue, but with headwind again. There are storm clouds on the foot of the mountain, and it's raining, and flashes and thunder - but we ride fast that we do not get into the rain front - Fort Garland finally arriving at the campground, cold meals and go to bed.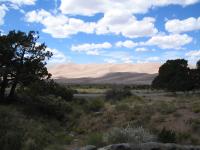 We decide to take a short route to the Great Sand Dunes so we have lunch at 13:00 and go to the campground, it is very windy, the tent must fasten with stones. Melanie sleeps slightly, and later we drive to the Visitor Center, watch a short video about the GSD, and then we walk on the dunes. Very impressive how high the sand hills are. Later in the evening, cooking, eat, a small fire with the rest of wood and then sleep. (rkm)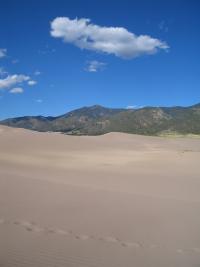 The sand dunes getting lower again to more we ride away, on a side road (paved) is all just flat. Almost no traffic! We ride through agricultural district, a large valley which we pass through. I am pleased when we finally come to Del Norte - I am tired. On the Rio Grande between trees, we can set up our tent, beautiful private campground. Our neighbours are MTB bikers riding from Canada to Texas on the road. We meet some more hardcore MTB riders, though already mature age, we exchange a few words, but so much is not to say (odd). We are in the library for e-mail, and then go shopping - yes, and then back to sleep soon - I am very tired - there is also no left over.
Content: