We stayed up late, in a restaurant we eat breakfast, then we head south on the 160, then turn to the 41 after Utah, the landscape is wonderful, the first villages at the resort we get to watch (previously only a casino, not very meaningful) - see the villages like slums - much junk, rusty cars in the front of houses, inconsolable, we buy something for lunch. Late at 18:30 finally arrived in Bluff, which is located in a canyon, green, vital, just to feel good - quite unlike the native american reservation we passed through before. We find a beautiful commercial campground, and to go a restaurant (Two Tower) nearby, eat well and discuss with the owner extensively until 22:45.
Departure around 10:00, and the trip is on flat terrain, and deep (about 100 - 200m) canyons, very beautiful, but also very demanding, the rock formations are beautiful, more red, more traffic on the road. And it's getting streneous, up and down, around 18:00 we see Monument Valley but we decide to go after Goulding, a village with camp ground next to the 160, about 2 km, at sunset tent is pitched, cook, eat, and it is late in the evening we see the clear starry sky. Short shower, and go to sleep.

We continue to drive towards Kayenta, Melanie bought a bracelet from a Navajo woman to stood near the road. Then Kayenta, small town, does little 'deserted' - we eat in a pizzeria (fast food style) at noon a large 17" pizza, and drink out of 9dl large cups. No campgrounds, a small RV park without tents - expensive motels (100-120 US$/night) we go further, it's already 14:30, it takes up to the diversion to the Navajo National Monument, sunset, and still 15km to ride, it darkens, and finally, we are at the campground. Tent pitched and sleep - without dinner.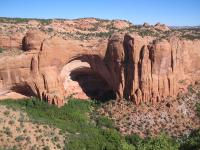 We visit the Visitor Center to learn why the camp is free - only donations (the donations are split 50/50 US Government - Navajo people) since the infrastructure belongs to the government but donations remain for the center. It is very informative Visitor Center. Im NM Navajo it has the best-preserved Anasazi ruins. We walk 100m along a path downhill and see a few dwellings, where more than 100 people in a small area have lived. We see a movie about this - the Ranger are white (no native people at the Visitor Centr) - pity. In the afternoon I write cards and René hears music - a lazy day.

Almost everything goes downhill, or is it flat, in the evening it looks like rain and thunderstorms close by, there are so small eddies of sand, the wind is very strong. We do not expect a campsite to find. But we are lucky and find a quite elegant campground, with free internet access. We eat dinner at the restaurant next door and go to sleep soon.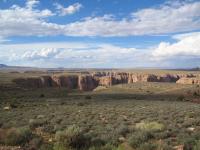 "Colorado Canyon", prior "Grand Canyon", after Cameron, AZ
A long journey, from Tuba City out in Cameron, we eat lunch, then to Colorado Canyon, Desert View as a day target, which is much further and also with a long climb. Only late at night, about 20:30, we approach Desert View, and that is not the Grand Canyon City yet, which is about 20 mi away.
In the morning we recognize where we are, Desert View, and we go to the Visitor Center, and enjoyed the first impression of the Grand Canyon, indeed breath-taking - barely able to express this in words. Later, we drive to the Grand Canyon City, leisurely 2 hours we ride, and approach a small town that was only built for tourists, about 30,000 visitors per day at peak times, as we were told. The dedicated campground is very large, very well organized too.

Content: