written by Rene K. Mueller, Copyright (c) 2013, last updated Tue, August 27, 2013
Updates
Wed, August 7, 2013: First version of diary .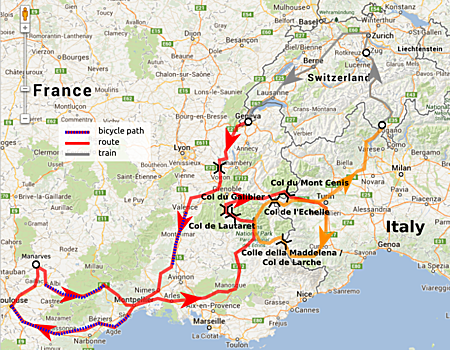 Tour 2013: France & Italy Passes
Date:
July 5 - August 5, 2013
Duration: 4 weeks
Distance: 2500km
Countries: France, Italy
Cities: Geneve, Montpellier, Toulouse, Turino
Rivers: Rhone (France), Durance, Po (Italy)
Passes:
Col du Banchet (695m) - Rhone Valley
Col du Lautaret (2058m) - Hautes Alpes
Col du Galibier (2642m) - Hautes Alpes
Col du Telegraph (1566m) - Hautes Alpes
Col du Mont Cenis (2083m) - Hautes Alpes
Colle della Maddalena / Col de Larche (1996m) - Provence
Col de l'Echelle (1762m) - Hautes Alpes
Bicycle: Longrider recumbent Fateba L1
Camping: Wild (100%)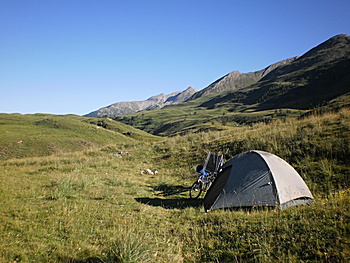 Colle della Maddalena / Col de Larche (1996m)
I skipped the part in Switzerland using the train to Geneva, and on the way back from Locarno. Unlike earlier trips with my recumbent, this time I targetted the passes in the Hautes Alpes region of France, and the ones on the border on France and Italy.
I chose the passes and the route approaching them wisely so I could master those passes with the baggage (apprx. 15-20kg incl. water) I had and a rather heavy recumbent (18kg), mainly a steady climbing around 5%-8%, e.g. Col du Galibier I rode from the south side (5%-8% in average, last 1km was 10%-12% and quite hard), whereas approaching the same pass from the north would have been more steep from Valloire up, which I rode down and experienced the limits of my brakes which heated up the wheels to the point the inflate melted and lost air within few seconds, yet still sufficient to stop (yes, I need disk brakes).
First I head to Toulouse to visit a dear friend in the Midi Pyrenees, where I encountered the apprx. 140km long "Voie Verte" or bicycle pathway on an old train way from Albi to Bedarieux - highly recommended; and then returned into the Provence and slowly worked myself up the Hautes Alpes, and Briancon I visited twice during this tour, making it the center of this tour.
The most beautiful passes for me were Col de Maddalena / Col de Larche (1996m) and Col de l'Echelle (1762m), both connecting France and Italy; as well Col du Mont Cenis with its lake.

Taking the train from Zug - Bern - Geneva, and riding to Hermance to visit a new friend.
Reaching France, via Viry and Frangy, riding along the Rhone river.
Trying a new route between Rhone and Valance, in between Col du Banchet (695m) which has steep slopes, and the bicycle path along the Rhone from Grenoble to Valance suddendly ends already in Vinay . . .
Leaving Rhone and riding aside through nice but hilly nature.
Reaching meditarean sea at Sete, and reaching Canal du Midi near Agde.
Slightly hilly passage as bicycle path along Canal du Midi isn't developed, so I ride on the ordinary street all day.
Content: