Updates
Wed, June 4, 2014: Photos and brief diary of the recumbent tour in Central Europe: France, Italy, Austria and Germany .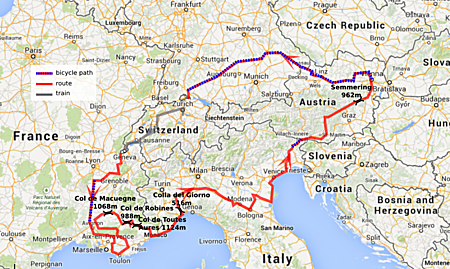 Tour Central Europe 2014: Rhone, Po, Danube
Date: March 12 - May 22, 2014
Duration: 10 weeks
Distance: 4000km
Countries: France, Italy, Austria, Germany
Cities: Geneve, Toulon, Digne les Bains, Nice, Savona, Alessandria, Bolognia, Venezia/Venice, Wien/Vienna, Linz, Regensburg, Donaueschingen
Rivers: Rhone, Durance, Po, Tagliamento, Donau/Danube
Passes:

Col de Macuegne 1068m (France)
Col de Robines 988m (France)
Col de Toutes Aures 1124m (France)
Colla del Giorno 516m (Italy)
Semmering 965m (Austria)

Bicycle: Longrider recumbent Fateba
Camping: Wild (100%)
Repairs: broken 28" wheel replaced in Austria, no flat tires due to Schwalbe Marathon (Plus) tires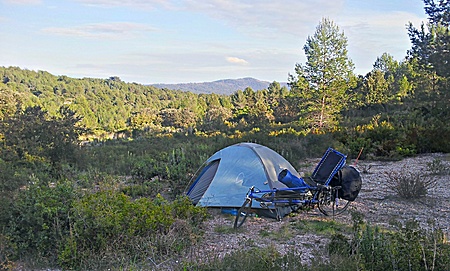 Camping in the Provence
I skipped the part in Switzerland, as I have ridden this part so many times, and since I started this tour so early like never before, March 12, I wanted to reach the mild south of France as quickly as possible so I took the train from Zug, Zurich, Bern to Geneve - there my cycling started.
As next I tried out another route reaching the Rhone but avoiding Lyon, which turned out not that simple: dead-end of a bicycle path, but found other cyclists showing me a way to continue. After a few days I reached the south of France, the anticipated Provence, where I spent roughly 1 month to tour, mostly visiting regions I haven't been before - the most beautiful part was the village of Murs. Then I continued to visit the Verdon valley and canyons, and went ahead over the pass Col de Toutes Aures to Nice, and along the sea to Italy, and short before Genova, after Savona, I rode over the pass Colla del Giorno to enter the flat region of the Po river, where I visited some of the old cities, and mostly camped along the Po.
Once I reached Venezia/Venice I rode north to enter Austria at Travisio, along a bicycle path following an old train trasse, until 850m elevation was reached, and reached Kaernten, and along the south most valley and some small rivers slowly up the pass of Semmering, and then after a day reached Wien/Vienna, and the Donau/Danube river.
There the famous Eurovelo 6 follows the Donau/Danube, from Donaueschingen to the Black Sea, so I followed the Eurovelo 6 from Wien/Vienna back to Donaueschingen, about 20km before the end of the Donau/Danube I diverted to the border of Switzerland, where my tour ended, after 10 weeks underway and about 4000km. This year a deliberate slow tour with about 60km per day, as I really wanted to experience the region and not rush through the places as I did before; and I avoided the higher passes as I was quite early underway and many passes were still closed and snow covered.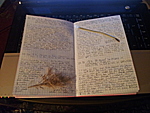 Physical diary with physical items embedded
I maintained also during this trip a personal diary in an ordinary physical manner, with more technical details and notes for future trips, and sometimes even physical items (e.g. dried leaves from the place at that date) embedded. A more brief diary and photos follow here in electronic form:
Start of my tour, taking the train from Zug to Geneva, just one photo in Zurich mainstation switching trains.
Riding the normal street until I reached the Rhone river, where bicycle paths go along the river.
Tried to find a new path to avoid Lyon, but the bicycle path ended in no-where, where most of the streets did not allow bicycles to continue. I met some other cyclists, Ken & Stephanie, who navigated me further, over roads which were not even displayed in my maps I had on my smartphone (offline).
Reached again the Rhone at Vienne, without going through Lyon - nice place I stayed there.
Rode most of the day on bicycle path, but it wasn't well maintained, so I switched back to the normal road - the sun in the late afternoon and a small river allowed me to wash some of my cloths the first time on this trip.
I rode on N7, which didn't have much traffic, and reached Orange, close to Avignon, and rode around the big city - was a long day and reach the river Durance, which enters the Rhone at Avignon.
Took a restday to relax, as the day before was tiresome.
Content: