Updates
Wed, July 15, 2020: Last year (2019) hiking trip, photos and brief diary. .
After many years traveling with a recumbent, I decided to go slower with hiking in the alps and camp near the higher passes - I decided to hike in central Switzerland around the St. Gotthard pass region:
5 Days: Gurtnellen, Felliluecke, Oberalp Pass, Andermatt, St. Gotthardpass, Airolo, Passo del Naret, Fusio / Mogno
3 Passes: Felliluecke (2476m), St. Gotthard (2106m) and Passo del Naret (2311m)
with backpack, tent, sleeping bag, etc apprx. 20kg
wild camping each night near the passes (~2000m altitude)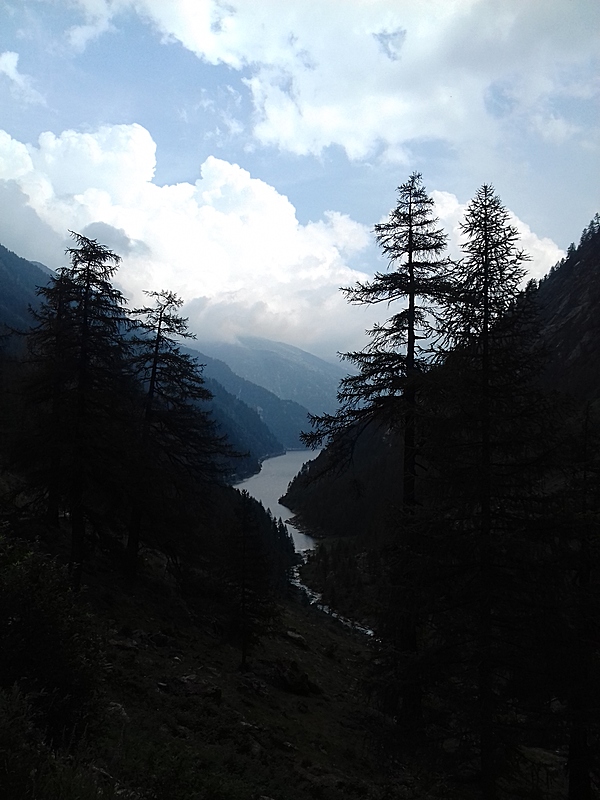 Lago del Naret
Taking the train from Zug to Erstfeld, then with the bus to Gurtnellen, where the path into the valley of Felli starts (Fellital). The first part is quite steep through the forest until a small flat meadow starts, like stairs one reaches another level with meadows. I hike further until the trees end and just meadow and more gravel and large stone fields start and I barely are able to find level ground to pitch my tent, I'm too exhausted to reach Felliluecke this evening, so I camp apprx. 150m altitude below. A beautiful spot I found, which becomes a reoccuring event on this trip.
At 7:00 I packed the tent and start to continue the ascent, and the first snow field covers the hiking path, I first walk on the packed ice, until I drop suddenly entire leg length down, and my shoes are stuck in the snow. With my walking sticks I free my stuck shoes until I can pull myself out and retract from the snow field on the large stone field aside, which are much harder to hike up just few hundred meters to walk or hike, but it takes me more than a half hour with the 20kg heavy backpack, which is a new experience for me as I haven't hiked for decades and haven't hiked with heavy baggage before at all.
Finally reached the top at Felliluecke, and the sole of one shoe, which already started to detach now is only attached at the tip of the shoes, and I risk to lose it entirely - I use a cord to fasten the both soles, so I can at least decent to Oberalppass to catch a train down to Andermatt, where I buy new hiking or rather trekking shoes. Unlike planned, I continue to walk then from Andermatt to Hospental and turn left into the valley leading to St. Gotthardpass. It's a pleasant walk, not steep, well prepared, yet in the afternoon I feel exhausted, no desire to eat at all which isn't a good sign. So I find a beautiful place about 2km before the pass, about 50m higher away from the walking path and the street - it's also the first day I cook with my utensils and appreciate the cooked pasta mixed with a soup powder making a nice warm meal. I'm about 2000m altitude tonight.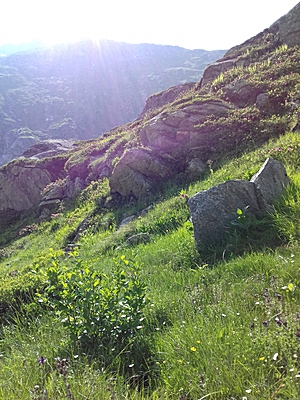 I was so exhausted last day, that I decide to introduce already a resting day, so my digestion works properly and my body absorbs the nutritions. In the afternoon I cook again, and wash myself with soap and 0.5L water - and find a water saving procedure to do so: wet my body parts I like to wash, make the soap wet, rub in my hands - and rub that soap/water in my hands over the the wet body parts, and then wash it off with clear water from the top (face, neck, chest, legs, and feet) to down, and use my hands to slide excessive water from the skin down. Washed body parts reduces the risk of soar spots, e.g. shoulder (with backpack), and feet.
I start again 7:00, and I feel good today after the resting day, and takes me apprx. 1 hour to reach St. Gotthardpass, apprx. 500m before the Hospiz (mountain hostel) with the restaurants. This is now my 2nd pass on this trip at 2109m altitude. After few minutes I descent the hiking path down the Airolo, along and crossing the Tremola, the old route at the south side of the St. Gotthardpass. It takes me quite a while to reach Airolo, new shoes, and carefully sensing any stress and adjust the pressure with the lacing. Finally arrived in Airolo and quickly shop few items, and continue and cross the river Ticino and before Fontana I walk into the forest, heading direction of Alpe di Cristallina, apprx. 500m before I find a nice space in the midst of the forest and ground to pitch my tent. Once again I cook and eat well, the salty pasta is appreciated. It's still early around 17:00 and clouds hover over the valley.

Around 7:00 I start again, and after few minutes reach Alpe di Cristallina, from where I ascend a nice track up until the fork to Passo del Naret and Passo di Cristallina - and I go direction Naret. The temperature drops significantly as the wind rushes over snow fields, and it smells like early spring.
Finally I reach Passo del Naret at 2311m altitude, but I descend quickly as I'm sweating and it's quite chilly at apprx. 5C with wind. So I reach the Lago del Naret, an artificial lake and then quite steep down to Lago di Sambuco, also an artificial lake, where I walk on the simple street and not the hiking path 50m in altitude higher and slightly up and down.
I wanted to camp before Fusio, but didn't got a good source of water to camp. So I walk until end of the lake where I get a good water source again, and decide to walk further down to first village of the valley Fusio. Once I arrived I check the timetable of the local bus and decide to stay another night nearby and take tomorrow the bus. About 30min further descend direction Mogno I find a tiny flat part next to river, where I pitch my tent the last time on this trip near the rushing noisy river Maggia.
Around 7:00 I packed, during the night it rained briefly and early morning again the tent was wet and I had to pack it wet therefore. Around 8:30 I reach the busstop, about one hour early before departure. On the busstop is an information table about an avalanche which destroyed part of the village of Mogno in 1986 including a 400 year old chapel, which was rebuilt in 1986 by the architect Mario Botta and I decide to visit that chapel. A most impressive and beautiful chapel I must say, geometry and beauty morphed together.
At 9:30 I take the bus aka Postauto down the steep valley until Bignasco, where I switch the bus to Locarno, from where I continue with the train to Bellinzona. I join with an already packed train coming from Lugano and the departing train to Arth-Goldau is fully packed, people stand and sit at each free space there is, one cannot walk forward or backward anymore I rarely have seen such a full packed train in Switzerland ever. Finally I reach Zug and my first multi-day hiking trip ends.
I overestimated my physical strength with the 20kg backpack I slightly had more food than I needed, as my appetite decreased significantly while hiking, and I also shortenend the trip. I used walking sticks on the trip, which helped steep ascends and descends. For water preparation I used Micropure tablets, and used them twice, otherwise the water source was so high that I was trusting its purity (e.g. coming from an ice field and not flowing through a forest first). Additionally I also noticed to sacrifice 0.5L water for hygiene (very limited showering) was worth it for me, and apprx. 1kg cooking utensils were also worth it: a warm meal at 2000m altitude and at 10-15C was nice and sufficient salt intake.
During my trips the past years with the recumbents I learned to listen and sense every detail of my body, and so on this hiking trip as well: adjust shoe lacing and pressure on the feet so they are comfortable, and also adjust the way I walk even it might look bizarre, but change it until there is no stress or soreness the result was, I had no blisters at all on my feet.
I've got hooked so to speak and already planning my next hiking trip within the next few weeks.
.:.