written by Rene K. Mueller, Copyright (c) 2016, last updated Wed, September 16, 2020
Updates
Wed, July 6, 2016: Brief description of a "test tour" .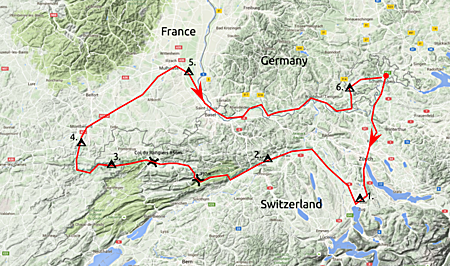 Test Tour 2016
Date:
June 22 - July 5, 2016
Duration: 1 week
Distance: 580km
Countries: Switzerland, Germany, France
Cities: Zurich, Delemont, Montbeliard, Mulhouse, Basel, Schaffhausen
Rivers: Aare (Switzerland), Les Doubs (France), Rhein (France & Germany)
Passes: Col de Rangiers (856m)
Bicycle: Shortrider recumbent Flux S900
Camping: Wild (100%)
My first
test tour
with the
Flux S900
recumbent, deliberately a short tour and in close proximity: starting in Schaffhausen then to central Switzerland city of Zug, staying a few days and then continue to Lenzburg, reaching the river Aare and further Aarau, Olten and at Oensingen entering the Balsthal, all flat - continue the valley with a decent ascend of 400m before downhill to french speaking canton of Jura and city Moutier, further to Delemont and then steeper ascending to Col de Rangiers again 450Hm to 856m altitude.
Once reached the small pass, an incredible steep descend which really posed a challenge to the disk brakes - 450Hm downhill to St. Ursanne, still Switzerland and reaching the river Les Doubs. I expected next 60km to be flat, but "Route Barree" and a "Deviation" sign lead me out of the river valley again 400Hm uphill, so steep I had to push the recument for an hour covering 5km.
Once I reached St. Hippolyte again down in the river, and then continue to Montbeliard where I rode the Eurovelo 6 along the canal Rhone au Rhin to Mulhouse, and then turning south to Basel (Switzerland), and along the Rhein on the german side to Hohentengen and then Schaffhausen ending the tour.

Conclusion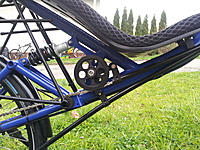 Chain Wheel (before I lost it)
Cons: On the 6th day one of the screws, which fastened the "redirectional" chain wheel under the seat and covered by the bags, detached and lost it and as a result the chain got loose and the chain pipes moved to the front which blocked further pedalling - luckely I had an extra screw and attach the chain pipes differently (and removed the chain wheel altogether) and continued the travel - that's really bad after only 400km on the tour.
Mixed: The disk brakes worked well, yet, at the steep descend of apprx. 5km they made some strange sounds (rhythmic noise) which indicated uneven brake force at work, which made me fasten/release the brakes in quick succession, which helped: mixed experience.
Pros: The front and back suspension made me care little of uneven roads which are common on local french village roads which are full of patches, also bumpers on the street I simply rolled over without much problems.
I also used a new tent "Marmot Vapor 2P" tent (2016-), which is weights total 2.5kg and replaced my outworn "Sierra Sirius" tent (2004-2015); I reviewed a bunch of tents with similar design (self standing inner tent was a requirement, so it could stand also without pegs) and choose the "Marmot Vapor 2P" because of the moss color, which is ideal for wild camping, blending into nature and be less spotted.
.:.