written by Rene K. Mueller, Copyright (c) 2009, last updated Mon, June 11, 2012
Updates
Mon, September 14, 2009
: Adding a few notes of my 2nd round touring through France .
Tue, July 21, 2009: First draft with overview, no detailed diary yet .
A brief description of two tours or rounds in France in summer 2009, total of 5900 km and 66 days (47 days riding):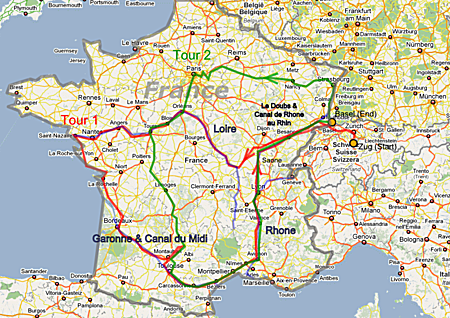 Travel Route: Loire, Garonne / Canal du Midi, Rhone
Tour 1

Date: June 14 - July 20, 2009

Duration: 37 days (27 days riding, 10 days visiting people or on a boat)

Distance: 3156 km or 1956 miles, (average 116 km/day)

Countries: Switzerland, Germany, France

Cities: Zurich, Basel, Orleans, Tours, Angers, St. Nazaire, La Rochelle, Bordeaux, Montauban, Toulouse, Beziers, Montpellier, Nimes, Avignon, Lyon, Basel

Rivers: Sihl, Rhine, Canal du Rhone au Rhin, Le Doubs, Saone, Loire, Garonne, Canal du Midi / Canal de Deux Mere, Rhone

Bicycle: Longrider recumbent Fateba L1

Fixes: front 4x, rear 3x

Camping: Wild (100%)

Tour 2

Date: August 15 - September 13, 2009

Duration: 29 days (20 days riding, 9 days visiting people or on a boat)

Distance: 2741 km or 1721 miles, (average 137 km/day)

Countries: Switzerland, France

Cities: Basel, Strasbourg, Nancy, Paris, Limoges, Toulouse, Beziers, Montpellier, Nimes, Avignon, Lyon

Rivers: Rhine, Canal du Rhone au Rhin, Canal du Marne au Rhin, Marne, Seine, Vienne, Canal du Midi / Canal de Deux Mere, Rhone

Bicycle: Longrider recumbent Fateba L1

Fixes: -

Camping: Wild (100%)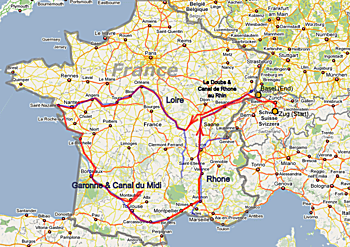 Tour 1
I started the travel from
Zug (CH), and rode along the Sihl to Zurich and then short along the Rhine to Basel from where I reached the
Canal de Rhone au Rhin (Rhine Rhone channel), which is part of the Eurovelo Route No 6 from Nantes to Bucarest. I followed that route from Altkirch to Nantes via

Le Doubs, and then
Saone and following most of
Loire , and further reached the altantic ocean at St. Nazaire.
From there I went along - the Atlantic coast to Rayon, and Bordeaux, and followed the
Canal du Midi or Canal des Deux Mere, down to Narbonne, and then reaching
Meditarean sea at Sete, further to Montpellier, Nimes, and reaching the
Rhone at Beaucaire and then going north via Avignon to Lyon, and going back via
Saone to Chalon sur Soane and Canal de Rhone au Rhin to Dole, Besancon and Montbeliard and then Basel
and ending the trip there.

The main purpose of the travel was to travel the
Loire

as long as possible, yet, I didn't start at the source, but at Digoin where the Loire - Saone canal reaches the Loire. The Loire is one of the longest rivers with over 1000km length, and mostly has remained untouched and is "wild" - bathing is forbidden as the stream is fast and has undercurrents. Long riparian zones (so called Auenwälder), forests along and within the river go for miles with little intrusion by man - for me a wonderful area of nature.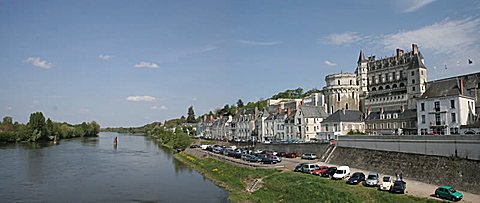 Amboise on the Loire (photo by HotelAmboise.com)
I personally bathed a few times in the Loire, but at only 30cm or a foot deep water which already had a strong current, and a bicycle collegue I rode with for a few days told me a bit where good places for bathing were available and what to look for and pay attention. Since I camp wild so is washing or bathing is a big plus at arrival at a wild campsite. Unfortunately washing at canals or channels were not possible, too dirty were its waters - an exception were canals which rejoined the natural river for a while again, like along Le Doubs.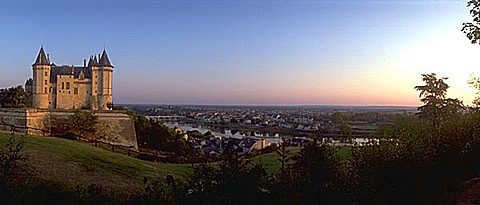 Chateau de Chambord in the Loire Valley
From a wind direction point of view, as well from a seasonal consideration, it wasn't the best choice to go first north and west, and the south and reach the hotter region at July - but the "weather" god was supporting me at impressive manner: at had tail wind almost all my route, only for 2 days I had head wind from Digoin up to Orleans, otherwise when I was driving west I had north east wind, which was cooler than usual, but with the sun a very balance temperature experience, and the moment I reached the Atlantic near St. Nazaire, north west wind started, and again tail wind, and at Bordeaux and going east the usual west wind kicked in and so forth. What can I say, usual there is west wind in France, and yes, at it rains less than the rest of central Europe.

Bridge at St. Nazaire to Mindin, end of the Loire reaching the Atlantic (photo by L'Argoat)
Mid of July I was reaching the Meditarean sea and the Provence, and the heat with over 32°C and almost no temperature reduction at night isn't what I'm very good at, it made me slow and feeling tired all day. Some people love the heat, but riding in moist heat the bicycle can be tiresome, I ended up with over 8L liquid (mostly water and fruit juices) usage, and when you start to drink the 9th liter at night you think this becoming crazy - at least for me. Interestingly, when I rode north at the Rhone, reaching Lyon, the slightly cooler air really at a refreshing impact on me, but the temperature fall of 15°C the next days were hard for me to adapt quickly: my body was still trying to sweat and heat up, but with 12-15°C air temperature and rain it was rather cool, and I had to eat more "heavy" things, and the liquid issue soothed down significantly down to 3L per day again.
I finished the tour in Basel, and just before still in France at Dannemarie a TF1 film crew was filming me and a younger german comrade I just met a day before - and we did a brief interview about the Eurovelo No 6 route, and why we chose it, how it is to ride solitary for a long time and so forth. When the broadcast is available download I will link and include it here.
I wrote a daily diary in a small paper-based notebook and will write it in electronic form as soon I have some spare time.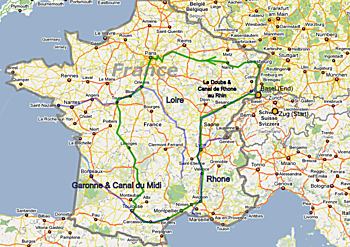 Tour 2
A few weeks later I returned to France, from
Basel
going along
the Rhine and then the Canal du Rhone au Rhin, until I reached
Strasbourg, from there to Nancy, along
the Marne through Valley of Champagne (not as flat as expected), until I reached Meaux, and tried to stay close to the Marne
and rather complicated route to reach Chelles, a suburb of Paris, then entering Paris from the east, through Porte de Vincennes, leaving Paris south east, Porte de Bercy, and via small roads to Evry, then via N152 riding to Orleans, then along
Tours, then continue via D910 Chatelleraut along
then Bellac and further Limoges, where it's quite hilly, further via D704 which leads through a wonderful region,
passing the Vezere at Montignac, and passing
the Dordogne at Sarlat la Caneda
further to Cahors, and from there visiting again Valle al Cros, where I stayed a week and then continued my trip via Montauban, Toulouse and then again
the Canal du Midi and follow it via Terbes direct then to Beziers,
following the 20km long beach of Sete, Montpellier this time I circumvented, but entered Nimes this time and visited the amphitheater briefly, continued to Beaucaire again and reaching
the Rhone, and from there staying on the right side (west) of the Rhone to
Avignon and until I reached Lyon, which was a bit easier then on left side of the Rhone, and the Saone side of Lyon is very nice, further up north along
Saone until Chalon sur Saone,
then on a busy N73 to Dole, and then along the Le Doubs to Besancon, and further on
Canal du Rhone au Rhin to Montbeliard, reaching
Dannemarie, when I parted the bicycle trail, and tried another route to Basel: Schwoben, Jettingen, Knoeringue, Folgenbourg which is a nice steady climing compared to the rather hilly D419, and then descend from Folgenbourg down to St. Louis and return to Basel.
At the first trip to France I skipped Paris near Orleans, and I thought if suitable return to France the same year, which I did after roughly a month. I started at Basel again, and drove to Strasbourg and found a trail which was indicated by small blue stickers "Vers la Mers" (Strasbourg, Paris, Mers). Just after Strasbourg the Canal de Marne au Rhin with bicycle trail starts, not as good signaled as other trails, but ok - just after Lutzelbourg I lost the bicycle trail, no signs anymore - somehow made it to Niderviller, and then via department roads to Lunelville, and then entered Nancy.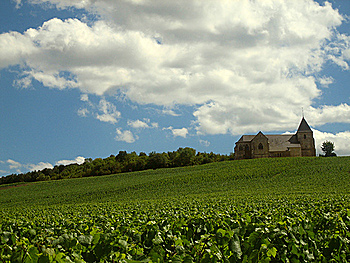 Champagne Valley, France
Leaving Nancy by south turned out a good choice, and I reached another bicycle trail along the canal, and rode until Tull, there I made the choice to ride south, maybe north would have been a better choice, anyway. It's very nice around that area. As next I follow the Marne through the large valley of Champagne, where the champagner comes from - but it wasn't flat along the Marne, the road on the right side of the Marne went up to small villages and down again, and with a hot sunny day this was that easy to ride as expected, but beautiful scenery.
When I exited the valley at Meaux, then I was close to Paris, so I thought - but to reach Paris really it's hard with the bicycle: e.g. around Esbly you reach the Marne, with a nice trail, but bicycles aren't permitted to ride on it, instead on hilly roads through small villages - stupid. And I was told, it is as if Paris doesn't want long distance bicycle riders reaching Paris, who knows. To enter Paris from the east turned out very complicate, and instead to take N6, which local bicycles riders didn't recommend me, I slowly approached Paris going north and south and a bit west - finally I reached Chelles, at that point it was easy to reach Paris then.
Paris is the most beautiful city I have seen so far, it has charme, and is truly big, the core is just 17km wide, but with all the suburbs which align seamless it extends to 50-60km finally. I met a new friend I made during my first round in France and he showed me Montmatre, and I will revisit Paris to dedicate 2-3 days to explore the city in more details.
I left Paris south east and then south west riding on N157 to Orleans, which was very flat. After Orleans I revisited the Loire until Tours which was very nice again, wonderful scenery. I went straight south from Tours, until Lussac les Chateaux, where I joined the N147 which I wouldn't do again and do not recommend, narrow busy and hilly road to Limoges, but rather stay along the Vienne until Limoges.

Limoges (photo by Structurae.de)
From Limoges, which I also like to revisit, I took D704, it's a hilly road going south - no rush possible with all the hills, and you get to see wonderful views, definitely recommended, in partialur the area around Montignac and Sarlat la Caneda. From the later a wonderful but short bicycle trail starts, just near city limit of Sarlat starts the trail at the right hand side and goes without any significant ascension or descension to Grojelac - it's build on old railway tracks and leads to most beautiful parts of nature.
What follows are longer and wider hills, less villages, fewer people until Cahors. After Cahors I revisited new friends I made at Valle al Cros and stayed for a week. Then I contined my trip the same way as with Tour 1, except near Avignon I strictly stayed on the right hand (west) of the Rhone reaching Lyon, and further up then to Macon, and then rode N73 which is too busy during the week and not recommended.


Beaucaire
The rest of the tour went the same way as Tour 1 again, except the last part at Altkirch where I followed through local small villages up to Folgenbourg with a steady ascension, but afterwards quite busy road (for a Sunday) downhill to St. Louis and returned to Basel.
The interview for TF1 "Ton Velo", which was recorded at my first round, was broadcasted on my second round coincidentally, and a day later several people recognized me on the street and approached me and hinted to me that they saw me on TV, and wished me good luck for the rest of the trip.
Generally said, aside this little episode being more exposed, the french are very positive to long distance bicycle travelers as I experienced, maybe also due the recumbent / velo couche bonus a bit: people are open, helpful and often very generous, car drivers and truck drivers included - this makes riding in France a even more appreciated experience aside of the wonderful nature.
More photos and more details follow later.
June

130km Basel (CH)
50km Dannemarie (F)
62km Clerval
15km (boat) Baume les Dames
"
42km Routelle
132km Santenay
146km Gannay sur Loire
125km St. Satur
93km Sully sur Loire
100km Blois
59km Amboise
26km Montlouis sur Loire
113km Gennes
129km Mauves sur Loire
62km La Pellerin
122km St. Jean de Monts

July

153km Esnades
167km St. Aubin de Blaye
153km Bourdelles
183km Monticoux
60km Ginals
"
"
"
"
95km Montech
172km Capendu
148km Mireval
99km Baucaire
36km Avignon
147km Tain l'Hermitage
122km Trevoux
31km Montmerle sur Saone
171km Dole
143km Montbeliard (F)
100km Basel (CH)

More detailed route:

Zug (CH), Zurich, Baden, Brugg, Bözberg, Frick, Bad Säckingen (D), Rheinfelden (D), Grenzach (D), Basel (CH), St. Louis (F), Jettingen, Altkirch, Dannemarie, Montbeliard, L'Isle sur le Doubs, Clerval, Baume les Dames, Besancon, Routelle, St. Vit, Dole, Tavaux, Seurre, Demigny, Chagny, Santenay, Montchanin, Montceau les Mines, Paray le Monial, Digoin, Diou, Gannay sur Loire, Decize, Avril, Nevers, Fourchambault, Marseille l'Abbaye, La Charite sur Loire, Herry, St. Satur, Cosne sur Loire, Lere, Chatillon sur Loire, Gien, St. Gondon, Sully sur Loire, Chateauneuf sur Loire, St. Denis de l'Hotel, Orleans, Clery St. Andre, Blois, Amboise, Montlouis sur Loire, Tours, La Riche, Saviegnier, Brehemont, Samur, Gennes, Angers, Mauves sur Loire, Nantes, Le Pellerin, Paimboef, Mindin, St. Brevin des Pins, Procin, Bouin, Beauvoir sur Mer, St. Jean de Monts, Les Sables d'Olone, La Tranche sur Mer, Triaze, Charron, Esnades, La Rochelle, Rochefort, Royan, Cozes, Mirambeau, St. Aubin de Blaye, Bordeaux, Langon, Bourdelles, Aigullion, Agen, Moissac, Castelsarrasin, Montauban, Montricoux, Caylus, Ginals, Montauban, Montech, Toulouse, Carcassonne, Capandu, Narbonne, Beziers, Sete, Mireval, Montpellier, Lunel, Nimes, Beaucaire, Avignon, Montelimar, Valence, Tain l'Hermitage, Vienne, Chasse sur Rhone, St. Fons, Lyon, Trevoux, Montmerle sur Saone, Macon, St. Marcel, Navilly, Dole, St. Vit, Besancon, Montbeliard, Dannemarie, Altkirch, Muespach, St. Louis (F), Basel (CH)

August

77km Basel (CH), Neuf Brisach (F)
170km Strasbourg, Heming
108km Nancy, Maron
154km Toul, Ligny en Barrois, Vitry le Francois
134km Chalons en Champagne, Chateau Thierry
107km Chelles
61km Paris, Vigneux sur Seine
163km Orleans, Mer (Blois)
"
175km Blois, Tours, Chatellerault, Bonneuil Matours
148km Limoges, La Mayze
156km Montignac, St. Chamarand
94km Cahors, Ginals
"
"
"
"

September

"
"
"
"
163km Toulouse, Montgiscard
168km Beziers, Agde
150km Sete, Montpellier, Nimes, Beaucaire
170km Avignon, Valence, Pont de l'Isere
162km Lyon, Belleville
"
167km Macon, Chalon sur Saone, Dole, Orchamps
149km Montbeliard
80km Basel

More detailed route:

Basel, Neuf Brisach, Illkirch, Grafenstaden, Strasbourg, Vendenheim, Saverne, Lutzelbourg, Niderviller, Sarrebourg, Heming, Rechicourt Le Chateau, Avricourt, Amencourt, Leintry, Emberneuil, Lunelville, St. Nicolas de Port, Nancy, Heidemont, Luders, Neuves Maisons, Maron, Toul, Blenod les Toul, Vancouleur, Houdelaincourt, Ligny en Barrois, Bar le Duc, Vitry le Francois, Songy, Chalons en Champagne, Londe sur Marne, Damery, Dormans, Chateau Thierry, Charly, Ferte sous Jouane, Tripot, Meaux, Percy sur Marne, Frenes sur Marne, Vierse sur Marne, Chelles, Neuilly sur Marne, Fontenay sous Bois, Nogent sur Marne, Vincennes, Paris, Charenton le Pont, Alfortville, Villeuve St. Georges, Vigneux sur Seine, Corbeil Essonnes, Auvernaux, Milly la Foret, Maleshebes, Pithiviers, Orleans, Beaugency, Mer, Blois, Onzain, Vouray, Tours, Monbazon, Chatellerault, Bonneuil Matours, Chauvingy, Lussac les Chateaux, Bellac, Limoges, La Meyze, St. Yrieix la Perche, Lanonaille, Montignac, Sarlat la Caneda, Grojelac, Gourdon, St. Chamarand, Cahors, Concots, Bach, Caylus, Ginals, Montauban, Fronton, Toulouse, Montgiscard, Castelnaudry, Carcassonne, Trebes, Olonzac, Capestang, Beziers, Vias, Agde, Sete, Montpellier, Mauguio, Lunel, Uchaud, Nimes, Beaucaire, Tarascon, Avignon, le Pontet, Sorgues, Orange, Montelimar, Valence, Pont de l'Isere, Tain l'Hermitage, Sarras, Givors, St. Genis Laval, Lyon, Neuville sur Saone, Villefrance sur Saone, Belleville, Macon, Chalon sur Saone, Dole, Orchamps, Baume les Dames, L'Isle sur le Doubs, Montbeliard, Dannemarie, Altkirch, Schwoben, Jettingen, Folgenbourg, St. Louis, Basel
Content: