written by Rene K. Mueller, Copyright (c) 2012, last updated Sun, September 1, 2013
Updates
Wed, May 23, 2012: First version with a few photos and summary description .
A brief description of a tour in Italy & France in 2012.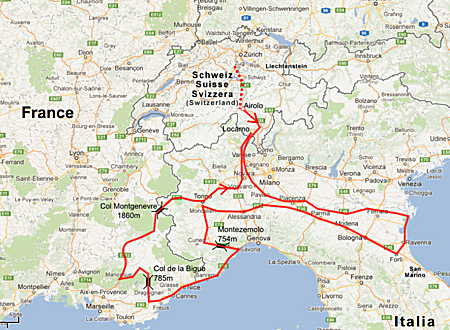 Map of 2012 Trip
Date: April 24 - May 22 2012
Duration: 31 days
Distance: 2500 km
Countries: Italy, France
Cities: Torino, Bologna, Nice, Cannes
Rivers: Po (Italy), Durance (France)
Bicycle: Longrider recumbent Fateba L1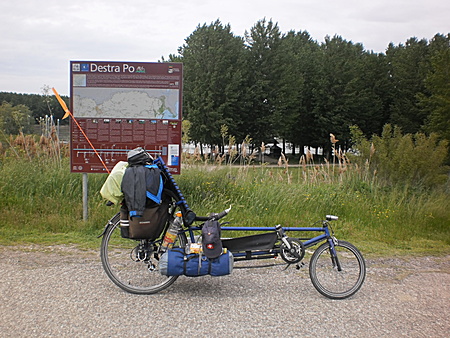 Destra Po Bicycle Trail
In
2011
I passed by at the Po river in Italy and really enjoyed it so I revisited the area again.
St. Gotthard was still closed when I started and so took the train from Zug to Airolo, and rode down the Leventina - all downhill so good for a start. I followed the Ticino river, east-side of Lago Maggiore, and then again Ticino in Italy until it joins the Po river, followed the right side (south side) of the Po river mostly on the bicycle road until the end at Goro at the Adria. Then rode a bit south and followed through the cities along the hills: Bologna, Piacenza and touched Torino.
As next I tried another route to reach the meditarean sea, which turned out a bit cumbersome: 1) two tunnels were not bicycle allowed, and cumbersome detour was required, either pushing the bicycle steep side roads uphill, or 5-10km detour - 2) and I thought it would be a low elevation all together; but not so, and I ended up 754m pass at Montezemolo, and nice descent then to Savona.
As usual along the coast line Nice, Cannes and then entered the Provence, reaching Aups, then visiting Lac de Saint Croix, beautiful scenery. Then joined the Durance valley at Manosque up near Gap, and further to Briancon (1300m), and then steep uphill 7km at 8% on the Montgenevre Pass at 1860m elevation, climbing the 500m were hard due the steepness of the last 7km.
Once I reached Montgenevre I encountered even snowfields - at noon 8°C, and as I was told in the morning it was -8°C even - I came as close as I could get to the source of the Durance. I planned to stay there, but as I arrived the weather changed and for the good and lack of winter equipment I left for Italy, and steep downhill using the brakes for 30min without release down the Susa valley, until I reached Susa.
Then flat to Turin/Torino, slowly passing through and enjoy the city, further to Norvara and riding the west side of Lago Maggiore at Arona, Verbania - more narrow road and more busy than the east side. I reached Switzerland again, and arrived in Locarno, where I took the train to Arth-Goldau as St. Gotthard pass (2100m) was still closed.
I wrote a daily diary, but right now don't have the time to type it in . . . maybe later.
.:.