Updates
Sat, October 10, 2020
: Adding '3 Days Hike: Zug - Horben - Schöftland' with a few photos .
Tue, September 15, 2020: Adding '4 Days Recumbent Tour de Suisse' with a few photos .
Sat, August 29, 2020: Adding 'Altdorf - Surenenpass - Engelberg - Wolfenschiessen' 3 days hike and earlier 'Schonegg Pass - Klausenpass' 2 days hike .
Some smaller hikes or tours
2 Days Hike June 2020: Grafenort - Schonegg Pass - Altdorf - Klausen
3 Days Hike August 2020: Altdorf - Surenenpass - Engelberg - Walenalp - Wolfenschiessen
4 Days Recumbent Tour September 2020: Zurich - Bern - Bulle - Gstaad / Saanenmöser Pass - Thun - Lucerne
3 Days Hike October 2020: Zug - Horben (Lindenberg) - Schöftland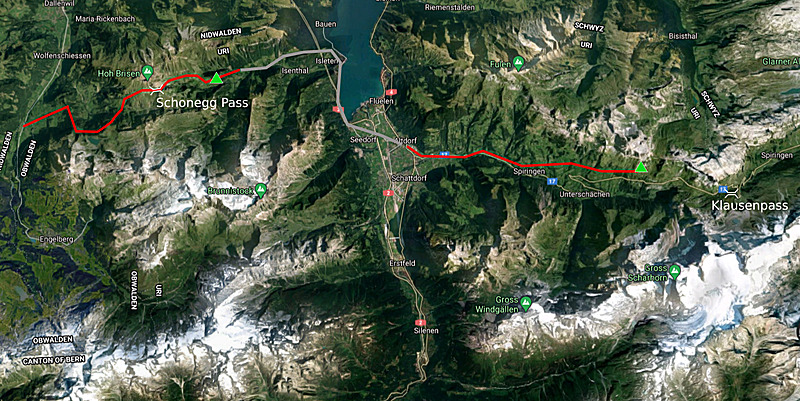 2 Days Hike: Schonegg Pass - Altdorf - Klausenpass
Brief window of opportunity opens for a 2 day hike from Grafenort / Oberifängi after a week of raining, starting late at noon as the clouds disperse and slowly ascending and face remaining clouds, actually walking into them and fine misty rain starts as I reach Schonegg Pass 15:45 at 1900m elevation and descend quickly and more rain is pouring and I wait near a small barn just below for apprx. 40min until rain stops and continue to descend via Gitschenen. Along the hike trail I find a small spot to pitch the tent for tonight - the sun comes through and dries my cloths and shoes - a good rest for tonight.
I continue descent until I reach paved road and a bus stop, and I decide to take the bus to Altdorf as given just 2 days to hike I like to ascend toward Klausenpass from Altdorf - once I reached Altdorf I hike up again from 450m up to 1800m but won't reach Klausenpass, but a bit before near Heidmanegg - given my physical condition being exhausted I can't hike further and it's a good place to stay for tonight. Tomorrow forecast states heavy thunderstorms and rain, so I realize I won't continue over the Klausenpass and Linthtal as I hoped - another time.
6:30 I descend quickly back to Urigen, where the bus service is available, as only next week the bus actually goes over the Klausenpass, but for now only goes to Urigen - from there I ride back to Altdorf and from there take the train again.
After this brief hike I realized I wanted to go longer and stay higher up, and so I did two weeks hike in the alps as next.
After the 4 weeks hike on the
Jura Crest Trail
I wanted to meet a new acquaintance in Engelberg and also hike part of the Via Alpina swiss hiking trail, at least a bit.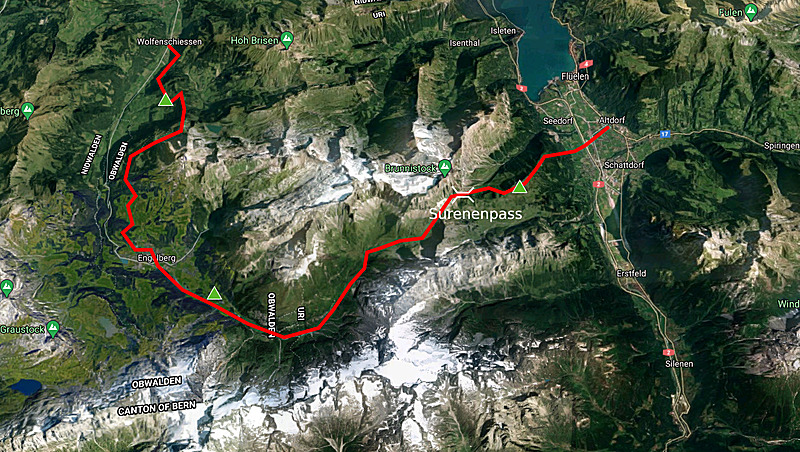 3 Days Hike: Altdorf - Surenenpass - Engelberg - Walenalp - Wolfenschiessen (August 2020), apprx. 45km
9:50 arriving at Altdorf by train, traversing through the village toward the long and steep ascent through the forest, non-stop from 450m (10:00) up to 1730m (13:30) which are hard as a first day and I realize I did not drink enough water while ascending (mild headache). Two german young hikers join me briefly (Franzi & Sven) who hike Swiss Hike Trail #1 aka Via Alpina, lightweight without tent but booked mountain hostels for the next 10 days - and weather forecast states weather change to cold and rain by next weekend and possibly snowfall above 2500m (update 2020/08/30: it did
snow
at
2700m: Blümlisalp
, even down to
2000m: Kleine Scheidegg
). I find a nice spot near Alp Grat mountain hostel/restaurant to pitch the tent, with great view back into the valley and Altdorf, apprx. 1800m elevation.
6:15 awake, 7:00 departure, toward Angistock and then Surenenpass at 2292m elevation - the moment I reach the pass strong cold wind blasts into my face and dries my sweat within 2 mins and cools off my body quickly - so I won't stay too long but descend quickly to meet a new acquitance who joins me ~400Hm lower than the pass. Later I continue the long valley toward Engelberg - and decide to not enter the village but pitch the tent for tonight earlier as I feel exhausted of the first two days hiking.
6:15 awake, 7:00 departure toward Engelberg 8:00 where I shop some food even I know I will only continue to hike another day, as weather change with temperature drop and significant rainfall expected the next 3 days. I ascend briefly from Engelberg hiking the lower trail toward Walenalp, around the Walenstöcke - impressive peaks, and then mild descent to Oberifängi where I pitch my tent for tonight.
7:30 departure toward St. Joder chapell and then through forest with mild descent but moderately maintained trail to Wolfenschiessen, where this 3 day hike ends.
I realized it takes me 2 days to get back into the rythm and my body adapt the exhausting hike with ~20kg backpack - next time I choose a milder and easier first day to better adapt a multi-day hike.
As I was visiting new acquaintances in the Zurich region, I decided to use the recumbent as the mode of transportation and added a few days for a small tour around central and southwestern Switzerland, in particular to test out a new variant from west to central Switzerland going via Bulle -
Saanenmöser Pass (1279m)
- Thun, a quite low pass given the region, e.g. the Jaunpass is 1509m nearby with steeper slopes.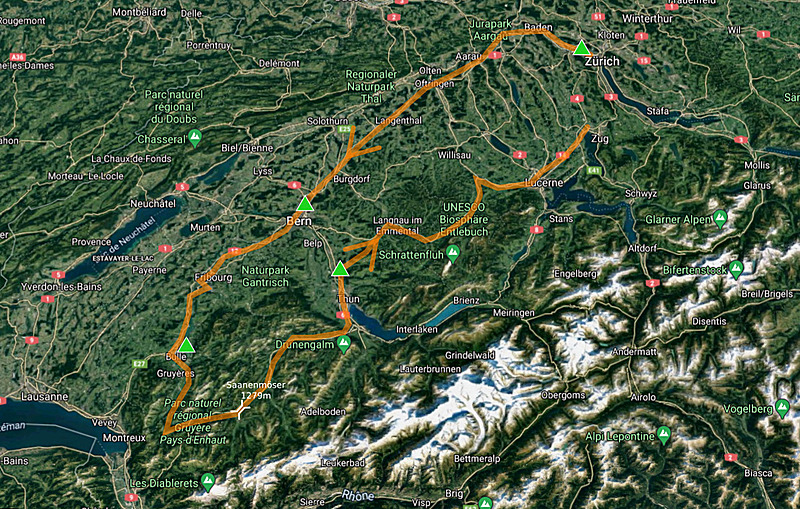 4 Days "Tour de Suisse": Zurich - Bern - Fribourg - Bulle - Gstaad - Thun - Lucerne - Zug
I stayed in the forest above Urdorf and left 7:00 toward Brugg, mostly on the main road with little traffic Saturday morning. After Baden quickly to Brugg, and a bit on bicycle trail, then Aarau, Olten and then Aarburg, partially main road and part bicycle trail toward Langenthal and short before Bern, near Schönbühl I went into the Allmitwald and found a nice spot to pitch the tent. Starting first by leaving the forest westward and going on the main street southward and bicycle lane mostly into Bern and early morning almost no traffic in the city, heading toward "Fribourg", and reaching it already 10:30 - as I tried to use the "flatter" route, I was rerouted in Fribourg itself due construction work and had some detour therefore - but finally rejoin the road I planned, with little traffic all afternoon until I reach a calm village or city of Bulle, which I know from the hike a few weeks ago, and I went to the same spot in the forest to pitch my tent 17:00. Leaving late at 7:45, and quickly shop some food near exit of Bulle, and trying out the official bicycle trail, but it ascends unnecessarly, so I try my own route based on my map on the smartphone, but eventually I'm forced to hilly road with significant ascents and descents whereas the main road is rather flat - you wonder who planned those bicycle trails, no idea of imposed ascents/descents. After Chateau d'Oex I pretty much stay on the main road and divert on the flat bicycle trail toward Gstaad, from there harder ascent and then joining main road again to Saanenmöser Pass at 1279m. For the descent I try the bicycle road, but it's steep, steep descents and a few ascents again - the disc brakes run hot - eventually I ask a fellow cyclist how the rest of the road down to Spiez is and he recommends I stay on the main road with my heavy recumbent. And so I descend nicely, only a few mild counter ascents but mostly I can let it run at 30-50km/h.
I skip Spiez but head toward nice Thun, with great bicycle trail starting there toward Burgdorf, eventually near Brenzikofen I divert into the nearby forest, a welcome shady and therefore cooler spot for tonight, after a near cloudless day and 25-30°C.
Leaving around 7:30 and reaching Oberdiessbach and continue toward Konolfingen, and Bowil and Signau and staying on the main road with a nice wide bicycle lane to Langnau im Emmental. Mild ascend toward Trubschachen, Wiggen and Escholzmatt (852m) - where I make a brief stop to eat lunch - highest point of the day, and then mostly descending with brief 2x ascents in between near Hasle and Entlebuch, and then Wolhusen, nice wide shoulder or bicycle lane through Malters direct to Littau and Emmen, without entering Lucerne nearby. Very busy roads in Emmen and complex routing for bicycles (changing sides from left and right and back again with 4-6 car lanes in between), eventually I find the bicycle trail along river Reuss until Gisikon and then again main road with bicycle lane toward Cham, and nearby Steinhausen where the tour ends 15:00.
Conclusion: the route via Bulle - Saanenmöser - Spiez with 1279m peak elevation with 20-30km steady ascent theoretically is a viable option to reach central or west Switzerland:
west-to-east:

ascent:

after Bulle there is unnecessary ascents before Montbovon, use main road
after Montbovon to Chateau d'Oex, use bicycle trail
Chateau d'Oex to Rougemont, use main road
Rougemont to Gstaad and then Schönried, use bicycle trail

descent: Schönried - Saanenmöser - Zweisimmen - Spiez, use main road

east-to-west: I can't recommend any option from Spiez to Saanenmöser as I didn't ride the bicycle trail except Zweisimmen - Saanenmöser which is slightly hilly and with extremely steep ascents sections (20+%).
I personally would analyse the overall traffic on the street at a given day and time, and if it's low traffic prefer main road, except Gstaad to Chateau d'Oex use bicycle trail.
A brief window of warm weather in October 2020 came up and I decided to walk 2 1/2 days from Steinhausen/ZG to Schöftland/AG over small pre-alpine ridges of Switzerland: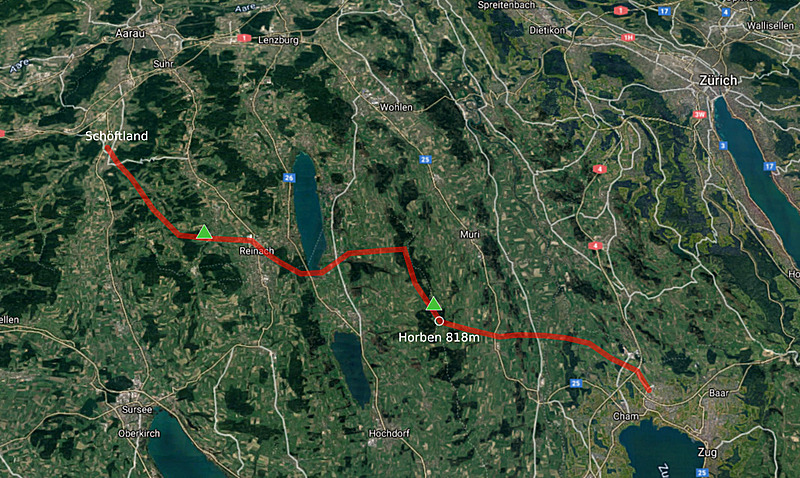 3 Day Hike: Zug - Horben - Schöftland ~55km
I started 13:00 heading into the flat Reussthal through some small villages, stopping for some time to await the rain to stop during the afternoon, walking at Mühlau over the Reuss river, then Beinwil and eventually I reached the first hill range or ridge of Horben as part of Lindenberg ridge, an old castle or rather old house - in the nearby forest I found a place to pitch my tent, where the steady wind on the top of the ridge was absorbed by the trees.
Long sleep until 7:30, 8:30 departure heading toward Müswangen along the ridge eventually down to Aesch at the Hallwilersee, over to Mosen and heading up hill to Reinach/AG, and further on the ridge again near Geisshof where I find a spot to camp again, in the forest where the wind is calm. During the day I picked up apples, wallnuts, and hazelsnuts along the trail, as a snack in between; and as the various water source photos illustrate there are plenty opportunities to get drinking water. The 2nd day I'm quite exhausted in the evening even I didn't really walked long or fast - didn't find my rhythm yet.
Good sleep and 8:30 departure again, heading hilly to Schmiedrued, and then toward Schöftland where I arrived around noon, and decide to end the trip here and take the train back.
The original plan was to head to Zofingen or Olten, but I was too slow the 2nd day and blisters started to form on my right foot, and I'm afraid the new shoe inlets (extra cushion) missed tiny holes so the swet would leave the sole and socks, but instead the skin of my feet got wrinkled due the moisture and eventually blisters formed there - lack of attention to the details even for "just" a small hiking tour.
Also the Merrell trekking sandals (bought 2020/07) sole profile grip are almost gone - after 3 weeks intense hiking usage on previous hiking trips and apprx. 320km trekking they are reaching their end-of-life already.
.:.