written by Rene K. Mueller, Copyright (c) 2023, last updated Fri, July 14, 2023
Updates
Thu, July 6, 2023: Adding 11 days journey/hike in Swiss Alps: Gotthardpass & Bedretto valley .
Date:
June 24 - July 5, 2023
Duration: 11 days
Elevation: 1200m - 2400m
Countries: Switzerland
Villages: St. Gotthardpass/TI, Airolo/TI, Goeschenen/UR
Mountains/Passes: St. Gotthardpass, Pass delle Colombe, Lukmanier/Passo del Lucomagno, Passo dell'Uomo
Camping: Wild (100%)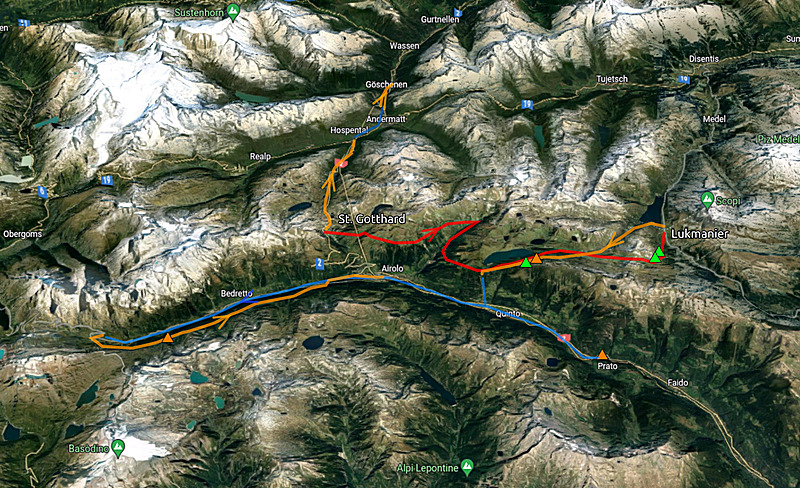 red: solo hike / orange: with comrades / blue: public transport
I was looking forward to hike again in summer 2023, and the first week with some stable weather, north-wind (bise) is giving cooler air but also prevents daily thunderstorms in the alps, which can be severe and long lasting in Ticino/Tessin. So I started St. Gotthardpass and explored region of Lukmanier again, which in 2020 I encountered - a beautiful spot I stayed for 5 days to just enjoy nature. After a week a friend and her son joined me, and we explored the Val Bedretto for 4 days, more light hikes.
With food for 9-10 days in my backpack it was very heavy, along with 3L water weighing more than 20kg - for the first day(s) of hiking a challenge before getting used again. I left Zug at 6:30 and arrived with train & bus at St. Gotthardpass at 9:30 - strong cold north wind faced me as I arrived, and quickly left toward Lake Ritom.
Some distances:
Gotthardpass - Giuebin 2h 45m
Gotthardpass - Realp 4h 30m
Gotthardpass - Piora 4h 30m (my route for today)
Gotthardpass - Airolo 3h 35m
Gotthardpass - Hospental 2h
Gotthardpass - Andermatt 3h
Gotthardpass - Alpe di Cruina 5h 15m
Gotthardpass - Cap. Corno Gries CAS/SAC 6h 15m
Gotthardpass - Bedretto 3h 45m
Gotthardpass - All'Acqua 4h 35m
Very soon I was greeted with a stunny view into the Bedretto valley, one which I wanted to explore a bit more this summer, either this journey/hike or the next one. Anyway, almost without dropping much elevation I reach the artificial lake and nearby found a beautiful spot to camp for tonight.
After a good sleep, I left the site at 10:00 and entered Val Piora, around 14:00 I reached the Passo delle Colombe, greeted by a small lake on the top of the pass - a beautiful sight.
Much steeper I descended slowly with the heavy backpack, and eventally left the official trail to branch off my main destination of the trip: a rocky island with a few small ponds at Foppe die Pertusio - one of the most beautiful spots I encountered on all of my hikes in Switzerland.
So finally, this jewel of a place of tranquility and stillness, and a lot of wind all day long - what a pleasure to be be here at such a place.
Another day, exploring the nearby a bit - but otherwise doing little.
I decided to leave the spot with the small ponds and descend about 200Hm to seek a spot with less wind exposure for the coming day with much rain.
A few samples of flowers nearby:
Eventually I found an almost windless spot to pit the tent:
A weather change was about to happen, early already misty clouds rushing by, and overcast most of the day otherwise - ready the tent for 24-36 hr rain. This was the expected rainday, although it didn't rain all day through, but on and off - the tent (Naturehike Cloud Up 2) did not leak, so the first rain test succeeded.
To wait in a tent for the rain to end, and it actually ends for some minutes, there is a moment when the drops on the tent are still occassionally flow, even there there is no drumming from the rainfall anymore - complete silence, and then you hear the sound of the drops running off the cover down, a very soft "shush".
Early morning still some clouds moving fast from south and north - the Lukmanier being the part where northern and southern Switzerland weather clash - it is an interesting observation to see clouds from opposite directions moving toward each other. As the sky cleared up, I took the opportunity to take a shower with 1.5L water - warmed up by the sun. The last day being solo on this trip - this has been so far a soothing and slow "hike" as I stayed mostly in one region, really enjoying the stillness of this place. Leaving the place after 5 days felt good, I wanted to move and hike again. Around 11:00 I met a friend with her son, and we continue from Lukmanier around Pizzo dell'Uomo, over the Passo dell'Uomo, and then returning to the place I stayed the first night, near Lake Ritom.
Some distances:
Lukmanier - Alpe di Boverina 2h 25m
Lukmanier - Campo 4h 15
Lukmanier - Sogn Gions 2h 40m
Lukmanier - Piora 3h 30m
Lukmanier - Cap. Cadlimo CAS/SAC 3h 20m
Lukmanier - Passo Colombe 2h 15m
Lukmanier - Acquacalda 3h 45m
Lukmanier - Passo Sole 2h 20m
As a reminder, the hike-times as listed in Ticino/Tessin usually are too short, unless you hike without backpack and have a fast pace; whereas the northern part of Switzerland the hike-times for distances are longer than experienced by me with backpack and I usually beat the time as listed.
It took us over 7 hr which otherwise would have taken 3-4 hr due the different pace and frequent stops to rest or eat, a different pace, but I enjoyed the company of the hiking comrades.
After seeing my comrades being slower I adjusted the plans quickly, and we decided to use the inclined railway from Piora (Lake Ritom) 1793m down to Piota 1005m - almost drop of 800m, and from there we took the bus up to Cruina, just one stop below Nufenenpass, and hiked back within the Valley of Bedretto, and soon found a nice spot to pitched our three tents. My friend had a cooker and pans with her, and cooked a nice meal - as I have only cold food with me and no cooker, I appreciated the change of food, and she also found a Chicken of the woods mushroom nearby which she turned into a delicious meal.
After having two days hike with them, my comrades endurance increased, and we hiked back to Airolo near the Ticino river at relatively low altitude of 1600m down to 1200m at Airolo. We took the bus to Osco, where we revisited a campsite I found in my earlier hike this year, near the rushing Ticino river, a good place to stay for tonight.
Last day of the trip: we took again the bus to Airolo and then up the St. Gotthardpass, still rainy clouds moving from the south. We descended slowly toward Hospental/UR, as the wind direction turned again from south wind to north wind - after a bit more than 3 hrs we reached Hospental and took briefly the train to Andermatt due time constraints of my comrades, but then continued again hiking from Andermatt down the Schoellenen (very narrow valley) to Goeschenen, where this journy/hike ended ~16:00.
Climate
: The heat of the summer didn't hit Switzerland yet, so at 2000-2400m the temperature bounced between 5C at night to 15C at day, in the sun without windchill it reached over 25C.
Equipment: My friend's equipment gave me some additional perspective:
Mini water filter "Sawyer": small light device with two adapter and a small flex water bag - filtering water quickly (apprx. 1L/5min) using gravity (original comes with squeezing small waterbag which breaks quickly); I usually try to reach 2000+m elevation to have access to fresh drinkable water (downstreams from the mountains), as below are cows roaming contaminating the water, having a filter would provide some additional flexibility. Update: after my return I purchased the filter (EUR 46) and a seperate 3L flexible waterbag (EUR 15) and plan to use it on my next trip.
Better backpack as mine is 20+ years old, and tearing - whereas her's ("Osprey" branded backpack) I tried briefly and it fit perfectly to my back even though the back length was different - so seriously considering to replace it
I still prefer to eat cold without cooker, but appreciated the cooked meals from my friend - it gives a more "civilized" and "comfortable" experience when hiking, whereas eating cold makes it more rough but also more independent (gas cartridges).
Stillness: As I stayed 5 days at the same place with some small change, it wasn't the typical hiking going on and on, but reach a place I really loved, and just be - stillness, after a day or two one slips naturally into a meditative state of beingness. The question of boredom comes from the mind trying to chew and digest high velocity or frequent stimuli, when you slow down physically and mentally, you get back in sync with nature, which can provide a different kind of stimuli - and when operating so close to nature, one has to pay attention in order to be able to stay so close; being in sync with nature (being out of sync can be painful or even dangerous).
.:.