"For to be free is not merely to cast off one's chains, but to live in a way that respects and enhances the freedom of others."
Nelson Mandela
from "Long Walk to Freedom" 1995
Updates
Mon, September 15, 2008
: Upgrade: solar panel attached to frame, maintenance book started .
Thu, August 7, 2008: Upgrades: fender extensions and chain protection with PVC tube .
Sun, July 20, 2008: Added old brochure Fateba "Long Bike" scan and PDF .
Wed, December 5, 2007: A few photos with closeups of my Fateba L1 recumbent .
Here my
Fateba L1
, manufactured in Switzerland by
Fateba.ch

, it's the old fashion
longrider
invented by Dave Wilson back in 1976, with some minor improvements.
I ride the longrider since 2003 with great enthusiasm and have done long tours of 7500km (4500 miles) and I'm very pleased and recommend it to tour travelers.
Positive:
very comfortable sit position
very stable at low but also high speed (up to 75km/h)
very low hurting risk in case of falling due low seat position
good aerodynamic, apprx. 3-7km/h faster than with normal bicycle
Negative:
very long, difficult to take with on a train or airplane
large curve radius due long wheel-base
heavy with 18kg
main weight on back wheel, higher risk of spoke breaks
missing suspension front and back
Year: 1994 (bought used in 2004/03/12)
Ridden: 50,000km / 42'000 miles (since 2003)
Price: CHF 1200 / € 700 / US$ 950 (used, new apprx. CHF 3500 / € 2100 / US$ 3200 and up)
Weight: 18 kg
Length: 215cm
Height: 112cm
Width: 59cm (Seat 49cm)
Wheels:

20" front (formly 17") (40-406 / 20x1.5 Schwalbe Marathon)
28" rear (28 x 1 3/8 / 700x35C / 37-622, e.g. Schwalbe Marathon 37-622)

Gears: 3 x 8
Specialities:

Fender extensions front and back (blue)
Hubdynamo SON 6V/3W (defect unfortunately after 5 years, I'm not sure to recommend it as it might be just easier to use LED-based lights with rechargeable batteries, unless you like to create a serious electric system for your bicycle)
LED front (3x AAA) and back lights (2x AA)
2x Shimano LX chains combined (13000km, 2007/05)
28" back wheel with double wall rim with zinc-enhanced spokes (nach 17000km, 2008/06)
chain protection with PVC tubes (22000km, 2008/08)

Computer: Sigma BC 1200 & 800
An old version of the brochure: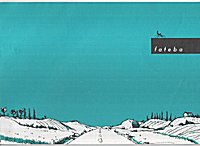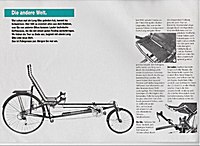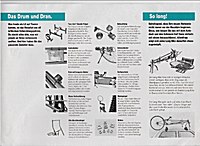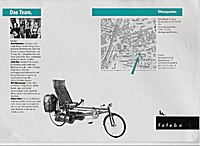 Download Fateba Longrider Brochure (German version) (PDF)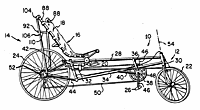 Avatar 2000 patent excerpt (1979/1981)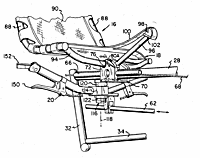 Avatar 2000 patent excerpt (1978/1981)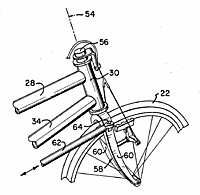 Avatar 2000 patent excerpt (1978/1981)
In an interview Dick Ryan at
Ryan Owner's Club

:
Q: In an article that you wrote for RCN 62, you stated that Fomac had a patent on the Avatar design, but that within two years, many companies were building. Did you mean they were building Avatar look-alikes or recumbents? Was that a statement about the difficulty of protecting patents?
A: It was there just for general information. But yes, I meant they were building Avatar look-alikes. It is tough for a small company to try to defend a patent. Also, when I saw the patent, I thought it was kind of vague (laughs). The look-alikes were the ones like Infinity and Linear, but it was the Europeans who really copied it, I mean piece for piece, like Radius and the Swiss Fateba.
I approached Markus Hänni from Fateba Switzerland and he responded (01/2008):
"We were approached by Andreas Naegeli (Velolaboratorium) in 1982 with the Avatar 2000 by Fomac Inc, and he offered us to use the Avatar 2000 for a certain time, because he didn't get so familiar with it himself.



Fateba Team: Markus Hänni, Rolf Baltensperger, Jakob Buri, Alois Bachmann (from left to right)

We have ridden the Avatar 2000 intensively and were very excited. On the swiss market the Avatar 2000 would likely have no chance, with a price of over CHF 6,000 we reached a new dimension of pricing! We have thought back then, we can do it better and more cost-effective.
Of course we studied the Avatar Patent thoroughly, but it didn't secure the concept of recumbent, but detail solutions like the seat attachment, seat position and steering bar attachment, etc. We looked also other alike recumbents like the first commercial taiwanese short rider "Funcycle", or the "Roulandt" from Netherlands, or the "Speedy" by Mike Burrows.
Despite of all knowledge there were no solid cognitions on which we could have relied on, e.g. like on the diamond frame solution. So we had to build countless prototypes until we believed to have found the optimal pedal hub position and height, or the relation of seat height to pedal hub height. Whether under-seat steering (USS) or over-seat steering (OSS), how long the wheel base, there were thousands of open questions, not to mention the detail problems: how should be the seat? A tub like or a combination of ordinary saddle with back support, or a frame with a net? How to attach the seat to the frame, how to allow different body or leg lengths? To keep it short, we didn't copy the Avatar 2000 simply, but it's true without the Avatar 2000 there would be no Fateba recumbent."
When you look at the patent filed by Wilson and Forrestall and compare the two photos, it becomes obvious the Fateba is almost 100% copy of the Avatar 2000, the concept and design has been adapted entirely, yet many details have been improved which do not reveal themselves at the first sight, e.g. the steer bar is adjustable apart from the seat and thereby different arm length are supported.
Fateba hasn't been willing or able to develop the longrider much further since 1990's, not even full suspension has been available yet which is standard for low- and shortriders.
A friend of mine reminded me how important it is to keep a bicycle clean, not for fashion reason, but for extending the lifetime of a bicycle:
cleaning all gears, especially redirecting gears holding the chain up
remove all dirt from fixated bars, e.g. backpack or fender bars, to have the frame bar junction not to rust
if you clean the gear with high pressure water, do it from the back, not from the side
add a drop of oil to all screws
Since my recumbent is already over 10 years old, some parts started to rust, and I did sandpaper those parts, and painted with new colored varnish over, multiple layers.
I have ridden the recumbent now for over 20,000 km, and it's, aside of a few dents in the varnish which are hardly recognizable, in a good shape also thanks to the maintenance.
Later I like to extend the gear from 7 to 9 in order to extend the range of the gear transmission ratio, but this also implies a new back wheel altogether.
Content: