written by Rene K. Mueller, Copyright (c) 2020, last updated Thu, November 19, 2020
Updates
Sun, August 16, 2020: Description, brief diary and lot of photos. .
Date:
July 19 - August 15, 2020
Duration: 4 weeks
Distance: ~500km
Elevation: 700m - 1400m
Countries: Switzerland
Villages: Brugg, Balsthal, Frinvillier, St. Croix, Nyon, Bulle, Guggisberg, Langnau i.E., Wolhusen, Lucerne, Cham
Mountains/Passes: Staffelegg, Benkerjoch, Weissenstein, Hasenmatt, Stallflue, Col de Chasseral, Mont Racine, Chasseron, Col du Marchairuz, Mont Tendre, La Dole, Euschelspass, Guggersberg, Napf
Camping: Wild (100%)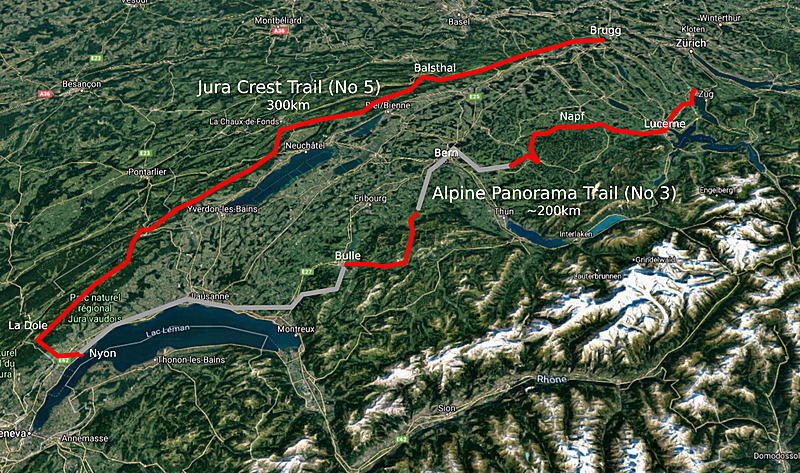 Hiking Swiss Jura Crest Trail & Alpine Panorama Trail in July/August 2020, 500km in 4 weeks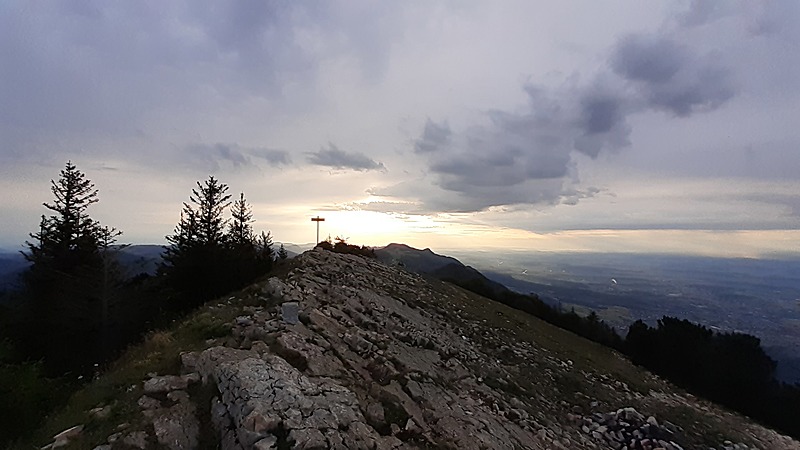 Hasenmatt ◈ Auf den Müren, Selzach

Euschelspass
After hiking the alps beginning of July 2020, I was drawn to keep hiking some more:
So I started trail no 5 in Brugg (skipping one section Dielsdorf to Brugg) and hiking all through until Nyon, and as I knew already along the Lake Geneva I would have no space for wild camping unless I would ascend each evening into the forests up to the hills, so I took the train to Bulle and continue the trail no 3 back to Steinhausen/Zug.
The Jura Crest Trail (No 5) was easy compared to the hiking in the alps, but it was more demanding on the physical endurance - and the issue with water: the Jura region has almost no creeks as the rain water runs into the ground as the stones are porous and very few creeks are formed therefore, as a consequence not many public accessible fountains which otherwise is usually the case in Switzerland. And so water sources became a main factor to plan the destination of day hike and throw the official guide away as it focused on people taking a hotel/motel or just do one day section hike.
The Alpine Panorama Trail (No 3) was even easier as hardly any hard ascents or descents but mostly mild and rather short day sections, and there was no problem with water as there were plenty water fountains almost in every village or even any passing farm, which was nice, as the temperatures in August reached over 30°C in the afternoon. I did some detour around Bern as I met with a long time collegue and also with a long term friend a bit later, so I skipped Rüggisberg - Münsingen - Emmenmatt, but continued Grosshöchstetten - Emmenmatt / Langnau i.E. - Napf.
Took the train to Brugg/AG, 9:30 starting the hike, just after 30 Min Robert, a single day-trip hiker joins me for 2 hrs, at 12:00 I rest and eat my lunch. After 14:00 I reach Staffelegg and descend a bit to get water. Once I reach Benkerjoch another water source - I drink plenty and fill my 2x bottles each 1.5l. After a few hundred meters on the next crest is a small place with firepit where I pitch my tent. Moderate first day. 18:00
Good deep sleep, 4:30 awake as I hear footsteps on the path/trail, 7:00 departure. Fresh cool air, reach Salhöhe after mostly in the forest and shade, which is good. Eventually reach Hauenstein, 2 water sources with "no drinking water" but I drink my bottles empty and refill them anyway as no other waster source for today. 15:00 I reach Belchenflue with some firepit, at or near the crest.. Pitch the tent easly and rest soon, was a long day.
Good sleep, 5:30 packing, 6:30 departure. Again mostly through the forest and reaching Bärenwil with public drinking water. I decide to walk directly to Holderbank/SO and then a bit in the forst again before descending to Balsthal. The official route5 would have ascended to 900m again before 480m again into the valley, and I skipped it as I was shopping food and an additional 1.5l bottle as the next days sparse water sources expected - 3x 1.5l water now, but also now 4.5kg instead of 3kg water. With the additional food for the next 4-5 days the backpack is now over 20kg, nearly 23kg and my feet and knees sense the next ascent. At 13:30 I rest, exhausted already, and on a small path on the slope I pitch the tent already, a few mins later it start to rain and later some thunder and more intense rain, until 17:00.
Raining until 19:00 last night, then sun comes through for sunset, the tent is almost dry again. Calm night. 5:30 I decide to insert a restday. 9:00 getting up and later eat a bit. Around noon talking to some other hikers passing by. Almost exatly the same day yesterday it starts to rain again, 13:30. Rain until 18:00 like yesterday. 19:00 5:30 awake, 6:30 departure with quick ascend toward the top with a small farm Schwengimatt at 1000m. A bit higher on the crest, nice meadows and forest. A bit detour due closed section, wet and slippery passage from rain last night. Reaching Balmberg with a lot of people. An hour later at Weissenstein and further to Hasenmatt, short before I detour to a lower path with a deadend where I find a place in solitude, 14:00. Just below Hasenmatt but at 1277m, 19:00.
5:30 awake, 6:30 depature, around 7:00 I reach Hasenmatt, actually a peak with a vast panorama, I make a few photos but don't stay too long as the day or leg is long today. Soon I reach another peak or meadow Stallflue, unassuming name but impressive, harsh wind from northwest. Crest path now truly forward Grenchenberg and slowly toward Frinvillier 14:00. My feet hurt from the long descent, but I know I need to continue at least reach Orvin, so the next leg isn't too long and hard tomorrow. 15:00 short before Orvin strong rain, I wait 30min, brief sunshine. Next a bench I pitch the tent before next rain arrives 16:30.
5:30 awake and 6:30 departure, slowly ascending from Orvin toward Chasseral, easy ascend over meadows and sparse forests. Around 12:00 I reach the Chasseral aka Chasseral Signal with the huge and massive broadcast tower. Before the Col de Chasseral which is nearby I descend rightside over a wide meadow, before the valley closes to a narrow descent I find a waster source and fill all three bottles. I explore the close enviroment for a good place - the one with great view are too small for the tent, so I pitch the tent near a small, very small creek. 16:30. I plan a restday for tomorrow as I need to shop food and stores are closed tomorrow in Cernier - a welcomed restday.
6:30 awake, 7:30 departure when I meet Paulo from Padova (Italy) about 100m away from my site packing his ultra light and ultra cheap equipment. He shows me all the items for his 3 day trip, with 2.5l water 9kg backpack. The tent is single layer and needs grasground to be pitched, only weights 400g, a DIY cooker with wind breaker he cooks his tea as breakfast. His jacket very light, bought at Decathlon, other stuff like his tent at Aliexpress based on reviews on Ultra Lightweight Hikers forums he mentioned. We continue together until Le Paquier and then toward forest where we part, as I need to shop food in Cernier tomorrow and he is going his 2nd day toward Vue des Alpes. 12:00 I pitch my tent and use 1.2l to wash myself incl. hair, with the rest of the water 0.3l I wash underwear and socks, the other 1.5l water are reserved for drinking. 20:00
7:30 departure, nice descent through forest mostly to Cernier where I shop again: 2x cheese (200g + 240g), 2x breads (500g each), fruit bars, 3x chocolate (2x100g, 300g), 2 apples, 1 banana, muesli (750g), fruit juice (1l + 0.3l just for the small bottle). My water bottles I fill on public fountain "no drinking water" regardless. After short break I head to Les Hauts Geneveyes at the train station ascend for apprx 1hr to Tete de Ran with almost 360° view. I continue a bit before eating lunch and longer break as I decided to walk at max to Mont Racine, so the next day I reach water source at afternoon, not too early. 13:00 I reach already Mont Racine, about 300m after I decide to stay for the afternoon and night, without pitching the tent just sleeping bag. Around 20:00 a herd of cows comes up to the crest near my site is - let's see.
And a short video clip of the region around Tete de Ran:
4:30 awake, still strong winds through the night until morning. Since I slept just with the sleeping bag without tent I'm packed after few minutes but stay a bit to see the sun rise. 5:30 departure reaching quickly Col la Tourne and ascending to Les Tablettes an on the crest slowly descending when I realize my left shoe is torn at the sole. At Noiragieu I take the train to Neuchatel/Neuenburg and then Marin where I shop new treeking shoes: Merrell Trekking Sandals which fit perfectly like no other shoe before - a model from 2019 at reduced price (CHF 70), also new socks which are thin and more breathable. I take the train back to Noiragieu and arrive at 15:00. At the public toilette I fill 1.5l and 1l bottle at the tab and start my ascent to Creux du Van and with the new shoes I walk or hike much better so I'm faster, I feel also stronger and more endurance. I reach the crest, impressive view, I decide to go as close to Les Rochats as possible; short before I reach it I find a place to pitch the tent - 3.5l water, enough for tonight and rest of tomorrow. 19:30 - was a long day.
Old broken shoe vs new comfortable - I decided to try light trekking sandals instead of low hiking shoes or boots as the older Columbia shoe was, which turned out for the rest of the trip a great choice so far.
5:30 awake but 7:30 departure, after 15min I reach Les Rochats with a military base and a restaurant. At 10:00 I eat lunch already so I have enough energy through the day. Around noon I reach Chasseron by walking through forest with mild ascent. Soon I descent toward St. Croix where I fill 2x 1.5l + 1l bottles with "no drinking water" and shop for 1l orange juice which I drink right away. After 30min outside of St. Croix I find my place for tonight. While pitching the tent one strut break, but the tent can still be pitched, 15:00. Planning the next few days with all the places where water is supposed to be available (using Maps.Me app which uses OpenStreetMap with drinking water marked). 18:00, taking time to fix the broken strut with shifting the inset a bit - which works.
6:30 awake, 7:15 departure, first through sparse forests again, very appealing. Then from the side ascent to Le Suchet and once reached the top a vast view to Lake of Neuchatel/Neuenburg and part of Lake Geneva - 360° view, I breath in the view. Long descent and many turns until I reach Vallorbe, 13:30. I shop bread and cheese again for the next days. My feet hurt again. I decide to skip next mountain Dent de Vaulion as it's a long ascent before I find a place for tonight, so I walk around more flat or mild ascent and after 30min in the forest find a place, nearby the railway track apprx. 100Hm higher. Was a long and exhausting day as the last hour until reaching Vallorbe, it felt like an odyssey the hiking trail is routed in the valley. 16:00 tent is pitched. 19:00
Yesterday I decided to insert a restday, as the feet hurt more so going in recovery today. In the afternoon I walk back with empty bottles to the water source with cold water apprx. 8°C, 1l per minute but steady - so I have enough water for today and tomorrow. I take the opportunity to shower somewhat warm water in the sun (let the cold water heat up in the bottle with the sun) - 0.75l water used (half of 1.5l) for hair and entire body - changing the procedure to save more water as I used 1.0 - 1.5l per shower before - feeling fresh and new. 18:00 5:30 awake, 6:15 departure with clouds covered sky - good, won't use much water that way. As I like to make way today I skip Col de Mollendruz and directly to Mont Tendre, which I reach after mild ascent already 10:45, sooner than expected. A bit descent follows and through thicker forest until I reach Col de Marchairuz 13:00. To my surprise there is a water source with cold water next to the restaurant - so I fill and replace water. I continue for 40min until I find a nice spot near the path/trail but hidden 14:00, first rain drops while I pitch the tent, later more intense and thunderstorm nearby. After 18:00 the sun comes out again.
5:30 awake, 6:15 departure, it rained and thunderstorm until late in the night, in the morning the outer raincover still wet but I packed the tent anyway. The day before I decided to skip St. Cergue but to La Girvine which resides about 1200m, 200m higher than St. Cergue. Around 10:30 I reach La Girvine Gare/trainstation and ascent toward La Dole through misty air, no more than 100m sight. About 13:00 I reach the peak of La Dole with big white radar on top, more sight, for moments one can spot Lake Geneva. I won't stop but continue descent for search of the water source as indicated on the map (offline Maps.Me app). And there is no running water and small bird drops in the sink - so no way to get water I think - 50m apart on the other side of the trail and source with running water - great, and fill 2x 1.5 + 1l bottles as I'm not sure about tomorrow weather, perhaps rainday or continue. I decide to seek a place near the water source just in case. 14:30 just finished pitching the tent it starts to rain intensly with gusts of winds.
6:30 awake, misty air, clouds floating through the trees, a bit rain, reluctant. 9:30. It rained all day long until 16:00 almost without interruption, 17:30 the sun comes briefly out for a few moments, the clouds are layered and make up different shades of dark blue. 18:00
6:00 awake, it stormed and rained through the next keeping me awake as I had to stabilize the tent from the inside with hands and feet as strong gusts bent the tent. As morning approached the winds soothed though. 7:20 I see blue sky below the moving clouds through the forest and I decide to pack and continue and finish the trail no 6. The descent from La Dole is easy and then rather flat toward Nyon, where I arrive 14:30 - this ends the Jura Crest Trail.
I take the train from Nyon - Lausanne - Bulle, and shop in Bulle for groceries again and head into the nearby forest where I find a nice spot for tonight. 18:00
6:30 awake, 8:30 departure, continue through the local forest of Bulle and reach Broc soon. Afterwards walking through the canyon of Jogne or Jaun / Gorges de la Jogne until reaching Lac de Montsalvens and then Charmey and then entering the narrow valley along Jaunbach - easy hike so far. At Im Fang I find a public fireplace and small place for the ten in the forest nearby, 14:00. I also crossed the french speaking part of Switzerland back to swiss-german speaking part.
7:30 departure, along the river toward Jaun and short steep ascent to Euschelspass, near the pass a source of water - so I decided quickly to stay at or near the pass for tonight. I enjoyed the scenery and at the evening just rolled out the thin mattres and then the sleeping bag - without tent, but with additional layer of cloths for a chilly night. 20:00
Very early awake but stay in the sleeping bag, which is moist outside from the humidity of the night. 7:30 I pack the wet sleeping bag and descend to Schwarzsee, mild descent - the longer but more scenic route. Finally reaching the lake of Schwarzsee and then the village by the same name 11:30. I continue for appx. 1hr down the valley, near Tromooserli but lefthand side of the river, a bit uphill I find a spot in the shade. Since it's early afternoon and a river nearby I decide to shower with bottle and wash some cloths again and dry in the strong afternoon sun. 16:00
5:30 awake, but 8:00 departure, good sleep. Continue to Zollhaus where I fill 2x 1.5l and 1l bottles with cold water from a water fountain next to Restaurant Zollhaus - nice gesture to have drinking water available. Short but steep ascent to Brönnti Egg (burnt edge) with ide and vast view back to Euschelspass and to the north back to Jura Crest I hiked before. Mild descent through forest, and just before it ends I find a place - just apprx. 1.5hr from Guggisberg, about 30min away from Laubbach just a bit below, 12:00. I relax in the tent. 18:00
7:30 awake, 8:15 departure, quickly reach Laubbach and then short ascent to Guggisberg (village) where I eat brunch and then ascent to Guggersberg with a great view. At noon I take the bus, then the train to Bern and a bit outside of Bolligen to meet up with a friend I made during Occupy movement time. 13:30.
I depart around 8:30 to Ittigen by foot and then train and bus to Grosshöchstetten where I join the route 3 "Alpine Panorama Trail" again. Short but steep ascent and then almost on the crest to Blaseflue 1114m and mild descent toward Emmenmatt, about 20mins before still on the ridge I find a place to camp, 14:00.
7:30 departure and short descent to Emmenmatt and then along Ilfis river to Langnau i.E. where I meet a longtime friend briefly. 11:30 I ascend on the small road to Dürsrüti 12:30 and join hiking route 3 again. Mostly through forest and occassionally passing by farms. A bit before Lüdernalp, at Sunnberg I find a nice spot, 15:00.
5:30 awake, 6:15 departure, soon reach Lüdernalp, with no activity and not water fountain, so I continue mostly in the forests. Just before Oberlushütte then is a natural water source, cold water out of the ground. Eventually reach the Napf with impressive view 13:00. I descent a bit apprx. 2hr just after Chrotthütte I find a place to putch my tent. 14:00 I take the chance with sufficient water to take a small shower to wash my body. The sky is a bit overcast and in the distance some thunderstorm rumbles. 17:00
5:30 awake, 6:15 departure after a good sleep, almost horizontal without descent direction Wolhusen, still seeing bernese alps like Eiger, Mönch and Jungfrau, the famous triple. Short before Wolhusen steep descent 10:00. Then along the Kleine Emme (small Emme) river with a nbit ascent & descent. At Schachen dark clouds start a thunderstorm 13:00, I quickly pitch the tent, in case the rain last longer, as tonight rain is forecasted. Yet 14:00 the sun comes out and I pack again to continue and reach Malters, at a small forest I pitch the tent 2nd time - this valley is narrow with road, traintrack, river and villages - not many options to hide well. 16:00
5:30 awake, 6:30 departure continue to Littau and then brief ascend to Gütsch and then arriving almost at the center of Lucerne and walking over the old bridge over the Reuss river. A brief stop and then along the lake a bit and then ascent toward Adligenwil, and then Udligenwil where I rest for 2 hrs to relax my feet after extended walk on concrete through the city. The forest nearby are too "clean" and well maintained for my taste so I continue further near the Michaelskreuz where I find near the forest a nice spot to pitch the tent. Brief rain already starts at 17:00 again and a bit thunder in the distance.
5:30 awake and looking at the sunrise over the Zugerberg. 6:30 departure with mild descent to Meierskappel and then Buonas, and rather flat to Cham and reaching my destination Steinhausen close to city of Zug. 10:00.
Lessons
- This is the 2nd hiking trip in 2020, after being in the alps a bit flater the Jura Crest Trail and Alpine Panorama Trail back to central Switzerland - my body or my feet slowly adjusting this "new" mode of mobility after years riding the recumbent. The muscles of the legs did not build up more, I've got skinnier, ligaments and tendons got stronger, the transformation is slower and I still have to be attentive for each step of the hike - one misstep can cause damage to the newly forming strength in the legs, as not all parts seem to adapt at the same pace: the muscles are strong, but the tendons and ligaments take more time to adjust - great care despite the new sense of "strength" and "endurance"; this seems the lesson of this all.
Water - on the Jura Crest Trail this became major issue, very scarce distribution of drinking water sources and as mentioned above I adjusted the daily distance based on possible water sources - some where dry, some other sources were not on the map, so I started to photograph unmarked water sources with GPS coordinate to feed back to OpenStreetMap

where other hikers can benefit from it as well.
Beauty - Switzerland is beautiful - it really is. Both routes are wonderfully layed out, the paved sections are scarce but gravel or grass paths are the common, nice to the feet, and gorgeous views on both trails.
Comfort - The public transportation of Switzerland is excellent, you reach them within 1-2 hrs at max almost at any point, and you can skip or detour easily or rejoin the trails again - civilizationary luxury.
Learning - I still consider myself a beginner of hiking, a lot to learn - when I met a fellow hiker at the alp hike last month with just 11kg backpack who told me it takes 4-5 years to transform legs and feet to endure more serious hiking then I knew, this is just my first year of transformation and more to come.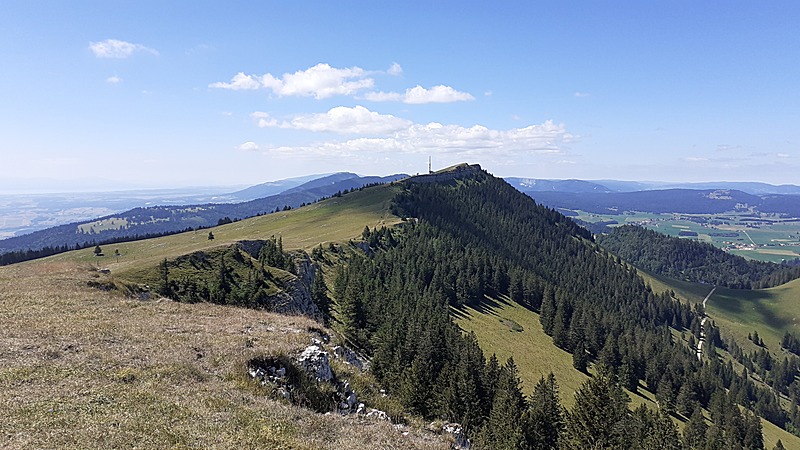 ◈ Petites Roches Dessous, Bullet
.:.