written by Rene K. Mueller, Copyright (c) 2015, last updated Mon, November 2, 2015
Updates
Fri, October 16, 2015
: More description and better structured .
Thu, June 18, 2015: Initial version with a few photos and brief description .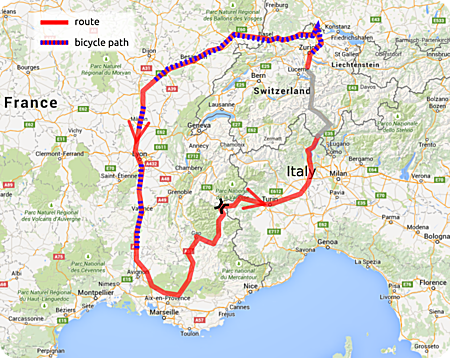 Tour 2015: France & Italy
Date:
May 27 - June 17, 2015
Duration: 3 weeks
Distance: 1700km
Countries: Germany, France, Italy
Cities: Basel, Lyon, Avignon, Briancon, Turino, Locarno
Rivers: Rhein (Germany), Les Doubs (France), Rhone (France), Durance, Po (Italy)
Passes: Col de l'Echelle (1762m) - Hautes Alpes
Bicycle: Longrider recumbent Fateba L1
Camping: Wild (100%)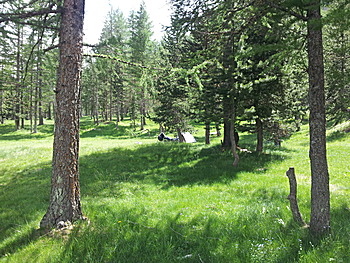 Col de l'Echelle (1762m)
I started near Schaffhausen, rode Eurovelo 6 to Basel more or less, then did a shortcut to Dannemarie to reach the canal Rhein / Rhone (canal du Rhin au Rhone), and followed Eurovelo 6 again Chalon sur Saone, and then south to Lyon - which wasn't easy to traverse as it's quite big with all the little villages in the north and south of it.
Along the "Via Rhona" bicycle roads along the Rhone, left and right of the river, switching back and forth and sometimes to bicycle trail and then normal road for 10-20km and then reappearance of the bicycle path again.
Short before Avignon at Orange I detoured into the valley of Durance, and rode slowly to Briancon, and then climbed the small pass of Col de l'Echelle - a beautiful pass.
Steep decline into Italy, and flat to Turino, which during the day is manageable to traverse with the bicycles (early mornings and late afternoons not recommended), and along the Po partially heading to Switzerland and at Locarno I took the train to Arth-Goldau, from where I continued back to Schaffhausen.
It was a brief tour with just 3 weeks and ~1700km distance covered.

Cloudy 18C
First day along the rhine more or less, and one of the most impressive sight of the trip actually: the mighty Rheinfall. Some of the "official" bicycle trail leads through a hilly forest, while the car road was flat following a river, bad choice. Finally camped next to the rhine on the german side - slow day yet exhausted due the hilly passages.
Sunny 20C
Reaching Basel, everytime trying to find a good route, but the traffic is immense, finally reaching the Rhine - Rhone channel and the bicycle path (no cars).
Rain, Sunny 21C, W
Following the Les Doubs river, beautiful nature scenery - really enjoying the ride.
Sunny, Cloudy 20C
Reaching Besancon, continue to Dole and a bit further, camping in a cultivated forest.
Sunny, Cloudy 22C
Reaching the Saone (becoming the Rhone later), partially following the river sometimes the normal car road - not much traffic, nice weather.
Sunny, Cloudy, Rain 20-25C
Passing through Lyon, everytime a challenging, a lot of traffic and not much space to camp in the wild before and after Lyon.
Cloudy, Sunny 28C
Reaching Valence, nice climate, yet not many photos due the lack of sunlight to charge the phone/camera.
Sunny 31C N
Reaching "Provence" slowly, following the Rhone and the offical "Via Rhona" bicycle trail/path; meet a fellow cyclist Jean-Marc from Geneva, who informs me of the death of a common friend, Ron McGerity

, who I met a few years ago on the road in Monaco, he used to ride also with the Fateba longrider 9 months per year all around the world; he was hit by a drunken truck driver near Moscow last November I was told.
Sunny 36C W
Entering the valley of Durance, flat valley at the beginning near Avignon - a region I have been revisiting now several times, trying out new paths and places to camp.
Sunny, Cloudy, Rain, Cloudy 25C SW
Further the valley of Durance . . . camping next to the channel.
Sunny, Cloudy, Rain 34C SW
First flat and then more hilly to Gap, and then descending to the Lac de Serre-Poncon, and continue to Embrun and just before it starts to rain pitched the tent and rested.
Sunny, Cloudy, Rain 25-30C SW
First rest day of the tour, relaxing and enjoying the lake near by.
Cloudy, Sunny, Cloudy, Rain 20-25C SW
Even though is a short trip of just 50km something, it's has heavy steep passages, and so early in the tour it was still hard even I knew what I was expecting, the scenery reaching the provencial Alps.
Sunny, Cloudy, Rain 12-20C E
After a good rest I got up early and passed through Briancon with some steep climbing and took a photo when I left the village, and then enter a small valley to climb Col Echelle - and arrived around 10:00 at 1762m elevation/altitude.
My planned highlight of the tour . . .

A brief video clip of the beauty of this place:
Cloudy, Rain 10-22C
A bit cloudy and foggy in the morning, but I start anyway as I don't have sufficient liquids to stay another day, so I descend the steep road down the italian side, and reach Susa soon - the brakes got hot and I had to stop frequently to let them cool off (most annoying). Camping next to Dora Riparia aside of the main road and the highway. Sunny 25C E
Following the Po river and short before reaching Crescentino I stopped at the ice cold Dora Baltea river to rest for this day - quite some mosquitos but nevertheless I washed cloths and myself thoroughly with the refreshing cool river water.
Cloudy, Rain, Cloudy 20C
About 100km straight and flat riding, from early morning until early afternoon - not much charge left to take photos though; short before Arona I find a place to camp. Cloudy, Sunny 22C
Through dormant Arona along the lake of Maggiore I reach Locarno and thereby Switzerland, when I jump on the train through St. Gotthard - a pass which I planned to ride over, but I felt not having sufficient endurance due the rather short trip; I would have required to ride 2-3 weeks more to climb 2000Hm with the baggage which the south approach of St. Gotthard requires.
Cloudy, Sunny 20C N
A few days stayed with my parents and then contined to Zurich, and then Winterthur and revisiting Fateba

, the manufacturer of my longrider, and then continued to Schaffhausen where my trip ended for this summer.
Unlike previous years, this time it was rather short trip with 3 weeks and roughly 1700km - along the rivers and just one pass crossing over from France to Italy near Briancon via Col de l'Echelle, one of the most beautiful passes in France.
It likely was the last tour I made with the Fateba-longrider, as I am fed up with the lack of suspension and disc brakes - riding french and italian roads, in particular small road and through villages without proper suspension and heavy baggage is playing with luck regarding your wheel and breaking of spokes; almost each single trip in the past I had troubles with broken spokes, and the lack of disc brakes made descend from passes an annoying excerise of patience: you climb slowly uphill, and likely you descend as slowly as the rim brakes heated up the wheel so much that the inflates melted holes, and made downhill riding dangerous.
Update 2015/10: switching to Flux S900 shortrider for 2016.
.:.