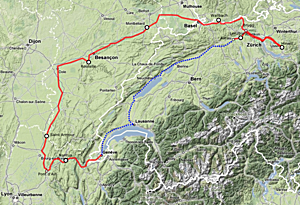 Map of the tour Switzerland / France 2007 (7 days)
Date:
May 19th - 25th 2007
Duration: 7 days
Distance: 750 km, ca. 105km per day
Countries: Switzerland, France
Cities: Zürich, Basel, Montbeliard, Besancon, Dole, Geneve
Bicycle: Fateba L1 longerider recumbent
Camping: Commercial campgrounds and wild camping

Oberdürnten (CH), Uster, Zurich, Baden, Klingnau, Mumpf, Wallbach
Wallbach, Rheinfelden, Basel, Hegenheim (F), Altkirch, Dannemarie, Montbeliard
Montbeliard, L'Isle sur le Doubs, Baume les Dames, Besancon, Routelle
Routelle, St. Vit, Dole, Le Deschaux, Sellieres, Lons le Sounier, St. Armour
St. Armour, Bourg en Bresse, Pont d'Ain, Nantua
Nantua, Bellgarde, St. Julien, Geneve (CH), with train to Aarau, Lenzburg
Lenzburg, Baden, Brugg, Zurich, Dübendorf, Uster, Oberdürnten
Between Mulhouse und Montbeliard you can ride near the channel on a dedicated bicycle road, ca. 27km. After Montbeliard to Besancon is very hilly, and from Besancon to St. Vit again a bicycle road (ca. 30km).
The climbing from Pont d'Ain to Nantua is steep, ca. 400-500 Hm on a couple of km.
.:.