written by Rene K. Mueller, Copyright (c) 2012, last updated Mon, August 19, 2013
Updates
Mon, March 26, 2012: First version with rough description and a few photos, no detailed diary yet .
A brief description of a tour in Europe in Spring & Summer of 2011.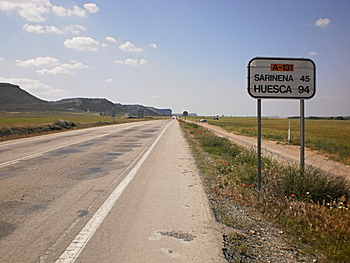 Between Lleida and Huesca (Spain)
Date: Mid April - Mid September 2011
Duration: 180 days (apprx. 6 months, about 5 months riding)
Distance: 9500 km
Countries: Switzerland, Germany, France, Spain, Italy, Austria, Hungary, Slovenia, Croatia
Cities: Geneva, Avignon, Barcelona, Tarragona, Pamplona, Tarbes, Beziers, Basel, Strasbourg, Darmstadt, Goettingen, Braunschweig, Muenster, Koeln/Cologne, Wiesbaden, Mannheim, Basel, Schaffhausen, Donau-Eschingen, Ingolstadt, Linz, Wien/Vienna, Bratislava, Zagreb, Trieste, Venice, Torino, Genova, Aix-en-Provence, Grenoble, Geneva, Biel/Bienne, Zug
Rivers:
Tour 1: Emme, Aare, Rhone, Canal du Midi
Tour 2: Rhine
Tour 3: Danube, Po, Durance, Rhone, Aare
Bicycle: Longrider recumbent Fateba L1
Camping: Wild (100%)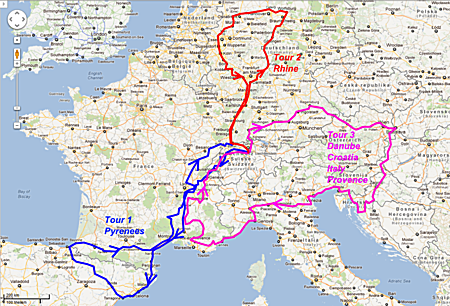 Three Tours: Pyrenees, Rhine, Danube (9500km)
That's my classic route reaching France: from Zug via Baden, Biel, Morges, Geneva, meeting a friend, then heading to the Rhone valley, down to Sete and then the first time via Perpignan to Spain, rather small climb, then Girano and reaching spanish coast to Barcelona.
Riding through Barcelona, beautiful architecture, worth a few days stay - definitly. Exit Barcelona to south was risky on the highway, along the coast to Tarragona, then reaching into the country to Leila and beautiful scenery further along the Pyrenees, Huesca to Pamplona.
One pass reaching to Hendaya and then France with Biarritz and Bayonne, then Pau, Tarbes and direction Toulouse but avoiding it and then reaching meditarean sea again, Montpellier, Nimes and then going into the valley toward Ales, and further to Les Vans, where I stayed 4 weeks - then continued back to Lyon, Besancon, Basel.
From Basel along the Rhine to Strasbourg, left-hand side heading north short before Frankfurt, and going east - followed local bicycle trails, almost no slopes, Fulda, Bad Hersfeld, Goettingen, riding around Braunschweig and then reach Wolfsburg, to visit relatives. After a few days continue to west, along the Mittelland Kanal mostly a bicycle trail, but with some rough passages not possible to ride, reaching Muenster (bicycle city), further along local channels with bicycle trails reaching Wesel, and the Rhine, returning on the left-hand side again direction south, Duisburg, Koeln/Cologne, Bonn, Koblenz, Mainz, and then Ludwigshafen am Rhein, mostly bicycle trail with a lot of other riders, finally reaching Basel again, to Zug for stopover. From Zug, Zurich, Winterthur, Schaffhausen, then very hilly to Donau-Eschingen, the source of the Donau/Danube - from the following all along the Danube. A few passages are hilly as you can't ride all the time close to the Danube, Ulm, Donauwoerth, Ingolstadt, Regensburg, nice ride then rather flat then to Passau and crossing to Austria reaching Linz, where the Danube valley becomes narrow, beautiful scenery to Krems an der Donau, Tulln, and then following the Danube channel through Vienna, just the south exit is hard to join the bicycle trail again, even local people didn't know the way.
A short visit to Bratislava, but then riding south in Austria again to Neusiedl am See, reaching Hungary at Szombathely, busy streets, reckless drivers, no options to ride side streets, no good country to ride the bicycle, reaching Slovenia for a few kilometers, then entering Croatia, much nicer than Hungary, also friendlier people. Varazdin, and then reaching Zagreb. Further to Karlovac, then very hilly further to Tounj, Ogulin, Vrbovsko, Delnice, extremly hilly, one day going 2-3 times 400-600 meters downhill and uphill again, tiresome.
Reaching the sea near Bakar, Rijeka nice city, then entering near Rupa to Slovenia, Pivka, Sezana and reaching Italy and then Trieste, and flat along the sea to Venice, and stayed a few hours there.
Piove di Sacco, Cavarzere, Adria and then Bottrighe and then along the river of Po, low traffic streets, Ostiglia, Borgoforte, Cremona, Piacenza, Pavia, Alessandria, Asti, Torino, Casale Monferrato, Alessandria, Genova just reaching at rush hour, also hard to find a wild camping spot to pitch the tent ... little open space along the coast. Imperia, Ventimiglia, and then entering France with Nice, Cannes, then Vidauban, very nice scenery, Brignoles, very nice ride - reaching Aix-en-Provence, Lambesc, reaching the river Durance, Pertuis, Sisteron, and then turning west Nyons, a bit hilly, long downhill ride reaching Bollene, then north along the Rhone again.
Trying another route to Geneva via Grenoble, Chambery, Aix-les-Bain, Rummily, but then very hilly to Annecy, better would have been to Seyssel, but I went via Cruseilles to St. Julien-en-Genevois to Geneva again, and along the lake to Lausanne, and very tiresome uphill ride and very busy road to Moudon, nice then, Payerne, Murten, riding through Bern, Langenthal, back to Zug.
I wrote a daily diary, but right now don't have the time to type it in . . . maybe later.
French Rhone valley I rode often, and prefer the west or right-hand side of the river - narrower roads, but less traffic. France is good mostly, respectful car drivers (thanks to Tour de France), along the coast little space for wild camping.
Spain was nice, most autoroutes bicycles were permitted, wide shoulders.
Germany has very good bicycle trails, well signaled, except one part where I had to lift my recumbent on staircase-bridge, biggest non-sense on my trip.
Austria was nice with the Danube bicycle trail, but not all was flat, also some hilly parts.
Hungary was bad, reckless car and truck drivers, narrow and very busy roads, not recommended at all.
Slovenia and Croatia nice people, respectful car and truck drivers, Croatia in the south and along the coast very very hilly, nothing flat there (except tires perhaps).
Italy along the Po was nice, low traffic road, not really bicycle exclusive, but good - friendly and helpful people.
Rhone, Rhine, Po and Danube are largest rivers in Europe, and a nice opportunity to do long rides with the bicycle.
.:.