1st Day (Sun 12.9.): We exlore the local area, and a live lecture on the Grand Canyon geology, lazy rest of the day.
2nd Day (Mon 13.9.): Small excursion at 6:30 approximately 150-200 metres from Cedar Ridge in the canyon downhill, and Melanie is continuing to Skeleton Point; we return very soon on the top again before lunch to be - the canyon is wonderful, and if you are hiking downhill a little more, you are realizing how big, how deep it is. Lunch at the Bright Angel Lodge.
3rd Day (Tue 14.9.): Melanie wanders into the canyon, my heel hurts and I decide to stay at the campground.
4th Day (Wed 15.9.): I sleep long, and I think Melanie contrary to my expectation getting back at 13:00, arrives 11:00 already in camground! We eat lunch, and Melanie stretches out after the 1600m climb.
We ride around 9:00 going to barely a few kilometres further Tusayan into the IMAX, and watch the "Grand Canyon", the film (or something like that), disappointing, half documentary, in part pseudo-acting movie - hardly to endure watching - but the recordings with the flight through the canyon is great, but the film is not worth it if you have seen the Grand Canyon with your own eyes. We eat a big pizza, then continue toward Williams - after Kaibad Lake, and the nearby campground - with a lot of mosquitoes, and curious retirees look at our recumbents.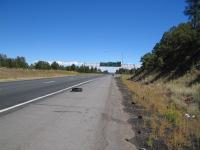 Heading to Flagstaff, AZ - and all the junk on the side of most highways . . . [sigh]
We ride I-40 from Williams to Flagstaff, shoulders as usual with a lot of garbage. After a few hills we make a stop and eat lunch at the rest place, very nice. In the afternoon we arrive in Flagstaff, a lot of traffic, and a campground (Woody Camp Ground) near the center. We go shopping and return to the campground at night.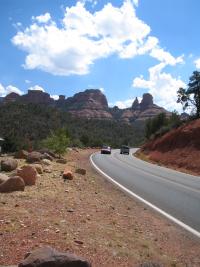 Sedona, AZ
At first I-17 out of Flagstaff, then the beautiful Oak Creek Canyon valley downhill, about 1000 meters in altitude downhill, great - with many curves, then the mountains turn more red, we approach the outskirts of Sedona, and looking for campgrounds, but only one permits also tents - is not very friendly, but this one campground is ok, funny people there, and some longtime residents there, the "leftover" of the alternative life in Sedona, but otherwise everything is very commercial in Sedona.
1st Day (Sun 19.9.): It rains, we are walking a little in Sedona, drink in a Starbucks a chocolate (terrible, too much water) - read the newspaper, buy something later.

2nd Day (Mon 20.9.): Little trip to Sedona Airport Mesa, a vortex (of power) in the vicinity, we walk around the Airport, already very, great view - with the recumbents back to the starting point.
3rd Day (Tue 21.9.), We meet Lori, Brad and Ariel, we discuss, make a trip to the Cathedral Rock, where Lori and Brad married. A small river, Oak Creek, very quiet, idyllic, a place of tranquillity and peace.
4th Day (Wed 22.9.) Trip, Chapel (Church) on a rock (vortex), a hike into the valley, beautiful, we enjoy this little walk - later with the recumbents toward Red Rock, Bell Rock and back, eat with Lori, Brad and Ariel dinner.
5th Day (Thursday 23.9.) Trip to Boynton Canyon and Vista Trail, we detour a bit away from the paths, in a small cave, which was already inhabited (ash on fire station) - later in the afternoon we travel with Lori, Brad, and Ariel toward Cottonwood, but too late we arrive there in a park to go.
Last day in Sedona, we pack, eat lunch with Lori, Brad and Ariel - at 14:00 we begin to pack the recumbents (with boxes from a bike shop). Around 16:00, the shuttle arrives, as previously agreed to take long bike boxes, but they deny us the lift, great - we call one another shuttle, and then remove a few chairs, go with boxes to Phoenix (formerly again the Oak Creek Canyon up to pick up another customer) - it is late as we arrive in the hotel in Phoenix, immediatly heading to bed.
5:45 early in the morning, with the hotel shuttle to the nearby airport, check in, take-off to Washington DC - 2-3 hours, then in the evening taking the flight to Zurich Kloten - a few films, a little sleep. In the morning, about 9:30 in Zurich finally.
Melanie's mother picks us up at the airport by car, and we go with the recumbents back to Lenzburg. At home!
(End of Article)
Content: