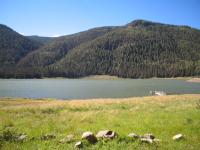 Big Meadows National Forest Campground, CO
Today, we eat in a restaurant lunch - finally, we still have to ride quite a lot uphill. I think it is ok, about the food we have also had no expectations. René has different requirements. We have an extremely strong winds so that we sometimes almost get off the roadway! A construction site allows us to pass the standing car trafiic, slowly but surely we get up to the Wolf Creek Pass. Our campground is 3 km away from the road as we drive a beautiful route through mountains and streams. It looks like in the Swiss mountains. The campground is located on a lake in the middle of a forest clearing, very nice place. On a shady place, we are expanding our night quarters, it is again very windy. I am pleased to go in a sleeping bag to warm up. Today René cooks - he should do it more often, not because it was fine, but that he will exercise our stove. Early we go to sleep.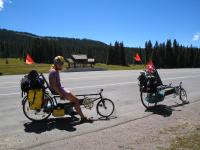 Wolf Creek Pass, CO (Continental Divide)
In the morning, I almost can't get up and leave the tent - it is too cold! We leave at 10:30. Back on the road we face right away on a construction site, the supervisor is so nice and takes us about 2 km with the pickup car up until the construction is over, he said it would be too dangerous to ride with bicycles through the construction zone. For 2 years they build a 300m long tunnel (!!). The pine forest left and right of us looks very much like dying forest - bark beetles! So from now it goes further uphill, the wind is again very strong. But fortunately, we have only sporadic traffic (due to the construction site) so we spent most of the time almost alone the road.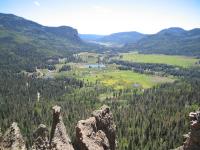 Wolf Creek Pass, CO - view into the valley heading to Pagosa Springs
I enjoy the ride with 5 km/h uphill due to the wind, it is not so hot! We pass through a ski resort, where they are building on - ugly, and then yes, we are finally at 10400 feet on the pass, we had a total of 1100m climbing. After the pass downhill we face again strong headwind! The road is very steep down, but due the wind ride 20km/h slower, only about 40km/h. The view get more and more beautiful. Already we see almost down to the lakes of Pagossa Springs - looks heavenly. Even a few hills, and then we are there. At the entrance, we find a camp ground. With the manager we have a nice chat, he tells how he lived 4 years in Las Vegas. In the evening we go in the Hot Springs - very nicely built with many small pools. So we enjoy the natural sulphur hot water - is doing well although almost too hot - at least for René - a beautiful moon in the sky. Here it is not so cold after sunset. (mel)
Slowly pack up and go from P. Springs, a piece of steep uphill road, and much traffic, we drive toward Chimney Rock, and after approximately 46km hilly when we arrive at Ute (Utii spoken) campground, which is not marked on our maps. It has water, and a simple toilet. We go to the Chimney Rock later but the Visitor Center has been closed at 16:00. We meet a spirit guardians there, which approaches Melanie, (......) Later, we return back, cook, eat and sleep soon.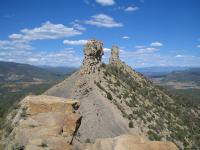 We get up a little earlier on, but it is still noticeably cool (below 10C). This time we want to go earlier Visitor Center, we have a little chat with the camground host, and so we leave at 12:00 to Chimney Rock. We pay 6 US per person for a guided tour. With the guide, we continue on the back of the C. Rock. It follows a tour with 3h extremely useful and interesting information about the site and culture, and even more questions, due lack of money the place is run by volunteers, no new archeological studies made anymore - very strange. CR is like a huge sundial marking important dates of 21.12. and 31.3. 21.6. and 21.9. It has many round caves called Kivas. We speak with the guide about the current political situation of USA, he is very critical about G.W. Bush believes that this government has fascistic tendencies. We go back to campground (about 6 km), cook, eat and a small camping fire, sleep.
Approximately 9:00 up, 10:20 leaving, a little traffic, hilly, I have a flat tire, fixing, eat lunch, then in Bayfield to purchases liquids, further, from afar we see a large smoke cloud, it must burning fairly close. Around 16:30 we arrive in Durango, the Visitor Center has closed, but using flyers we find a nearly campground in the city. We shower and go out to eat Chinese. It's ok, soup, salad, vegetables, tea, we take the leftovers. (rkm)
We take a short hike. Breakfast we eat at the French Backery with some croissants and baquet, really good. So then we walk the Main Ave. along until we turn into local neighbourhood. Finally, we also find a path on a hill. It's pretty dry here and has many small oak trees - more bushes. It is hot and soon we have enough of our hiking. So we make a little rest and enjoy the vista. Actually, we wanted to ride today with the legendary steam train ride but 60 USD is just too much for a ticket. We make walk back, which means this time we spare the main street and take the bus. In the afternoon - after a little siesta we got for some shopping. Velomech and outdoor shop . . .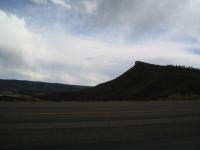 René happens to experience more flat tire despite of tire gel preventing those, and once again getting a new tube. And again he gets another flat tire, with the new tube - useless tubes as they can't handle the pressure. A nice man brings in René bike shop. New tube. The ride goes uphill all the way, it is rainy, we stop. We are in a very beautiful valley. It goes uphill even more. René again a flat tire . . . Departure, shopping. René points up to the rock horizont, just good I don't know he means we have to ride uphill to the final destination of today, Mesa Vera. Finally Last we arrive in the national park after riding 3/4 h uphill. Very beautiful views. It is 19:30 when we finally arrive at the campground.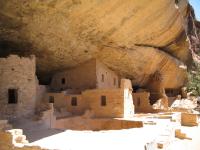 12 deer, rabbit 1, 5 squirrels, striped squirrel, 3 partridges, and a hummingbird we saw today. We visit Spruce Tree House with the bus staff - there are about 30 km from the campground. The Anasazi villages are between rocks in a confined space, impressive how they lived! The trip there is very impressive, whole areas have burned trees all over. Every year forest fires happen, a natural occurance. All of the same tree trunks burned look like a forest cemetery. (mel)
Sleep, and in the morning we walk the Ridge Trail, barely 3 km at the end of the Mesas. Actually, we wanted to visit the lookout point, and this path we discover later, about 200m up to the end, with a further view - as promised. No railings and it is about 500m going down. Later we buy T-shirts, cook food and go to bed early.
We drive down Mesa Verde, and are soon approaching to Cortez, just quickly stop at a Whole Food Store and get soy milk powder and other things. From Cortez when it starts to rain, a short stop. Next to Mesa Oasis Campground, very neglected - not recommended. Cook, eat, sleep. Throughout the night a lot of wind, storm, thunder and lightning in the vicinity.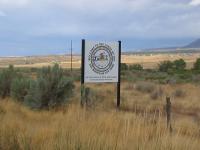 Entering "Ute Mountain Tribe" Reservation
We drive off, happy to leave the shabby camground behind us, but the storm is still not over. We drive by a casino (with RV Park and tent site) and pass at 10 km, but the storm is so strong that we must halt and get off our recumbents, the rain horizontal shoots into our faces like needles, it is almost as dark as night with the stormy clouds. A car stops, and the driver asks if he can help us, he runs about 8 km south to the Ute Mount Visitor Center with heated space. We warm oursevlves up and the guardian of the center says in 1-2h the whole Ute Indian / Native history; invasion, land theft, Christianity, alcohol problem, etc. sad stories. He offers us bringing us back to the casino, we accept this offer grateful. The passed casino campground is clean, shower, pool and even a sauna - beautiful and comfortable - but financed by players I think. We eat in a restaurant, pretty good and cheap - to dinner again - and shower extensively.
Content: