Updates
Mon, April 26, 2021
: 4 days hike April 2021 Zug, Sursee, Schloss Hallwyl, Zug added .
Wed, February 24, 2021: Initial 2 days hike description February 2021 and Impressions 2021 started .
Some smaller hikes or tours
2 Days Hike February 2021: Brienz - Luzern - Zug
4 Days Hike April 2021: Zug - Hochdorf - Sursee - Schoeftland - Schloss Hallwyl - Horben - Zug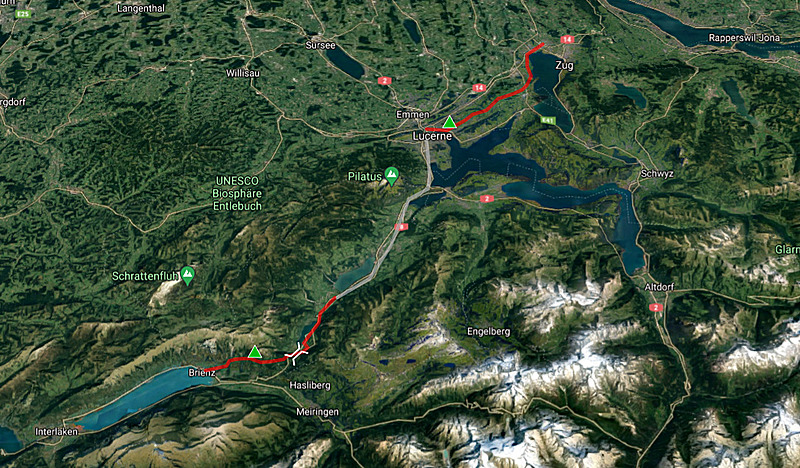 2 Days Hike: Brienz - Giswil - Luzern - Zug (~50km)
As of late February 2021 an unusual warm period reached Switzerland, and as I was meeting new friends near Brienz, I decided to try out a new lightweight single person tent which is pitched with a single walking stick, and only weights 850g compared to my two person tent which weights 3kg. I started in Brienz and hiked over the low Bruenigpass (1008m) down to the next valley of Lungern to Giswil, where I took the train to Luzern/Lucerne and continued the hike toward Zug then - a brief 2 days hike.
I started the hike in late afternoon 15:30 from Brienz toward Hofstetten, after just 1.5hrs hike I stop near low river between Hofstetten and Brienzwiler I pitched my tent for the first time, and I struggle to stretch it properly, 18:00.
That was a cold night, apprx. -5C and the ground was frozen around the tent, and part of the tent had ice from the condensated moisture of my breathing. Even though I had additional layers of cloths on, feet were cold and while packing also my hands cooled off. 8:00 departure, the sun rose above the mountains warming me up slowly. My gel-based shoe inlets also were frozen but liquified again while walking - I reached Brienzwiler and hiked uphill reaching the forest which had refrozen heavy snow which made is easy to walk over and not sink in.
Eventually reached Bruenigpass, and then apprx. 1km flat path and the sun strong I had to remove some layers of my cloths before continue. Then descending into the valley and the northern slope was in the shadow and so the path frozen and very slippery especially with weight of my backback - so I walked on hard snow and not established footsteps of other hikers to have more grip.
As soon I reached the first meadows and direct sunlight the snow was gone, and again 15C - which for late February in Switzerland is an exception, usually it's the coldest time of the year. I continued toward Lungernsee and then Giswil, where I took the train to Luzern.
Once I reached Luzern I continued among masses of people walking on the lake of Luzern/Lucerne, taking advantage of the unsual warm weather like me. Soon reached the nearby calm forest above Luzern and find a nice spot with afternoon sun through the trees and hopeful early sunlight for the next morning too. Second pitch of the new tent worked better, also the soft ground made it easier to tune the stretching the tent properly.
Good night sleep, not as cold as previous night and continue 8:00 toward Adligenswil, Udligenswil and the public water sources or fountains were all shut off during winter time, so I purchased some orange juice instead. Soon reach Meierskappel and leaving the alp scenery of Luzern behind me and walk aside of the official trail and passing remote farms - the local farmers are curious seeing me with big packback and keep asking me whether I walk the "St. Jacob's Trail", which just happens part of my route. The temperature drops with the wind which comes from different directions - around noon it gets warmer again and wind soothes and eventually reach Cham and the lake of Zug and soon my destination.
The hike was beautiful over the Bruenig - fortunately the snow was not soft but hard and so it was easy to walk over the snow and not sink in, it otherwise would have been a much harder hike over the pass. I had two pairs of shoes with me, light hiking boots to walk on snow over the pass and the rest I walked with hiking sandals from last year which reach their end of life.
The new tent (3F Lanshan 1, ultra-lightweight pitched with a single walking-stick) turned out usable as I had little expectation - it's tricky to pack it into the little bag, as folding and rolling tightly is essential, and with cold fingers or hands not easy to achieve. The condensation inside the tent perhaps is due the cold temperature of the first night, I will see if it prevails also with other seasons other than winter.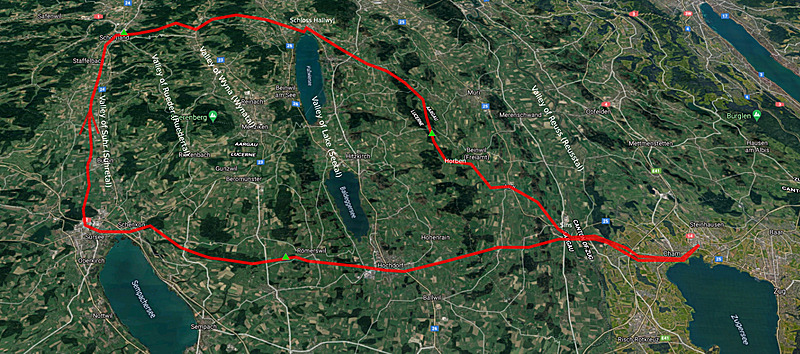 4 Days Hike: Zug - Hochdorf - Schoeftland - Schloss Hallwyl - Horben - Zug (~100km)
Pondered for a brief hike for 3-4 days exploring the pre-alpin middle land (Mittelland) with low ridges of 700-800m high and flat wide valleys in between - easy to hike.
Starting 8:30, briefly along the Lake of Zug, in Cham leaving toward Sins, over the old bridge crossing the river Reuss. Abtwil, and descending into Hochdorf, briefly shopping and then reaching Roemerswil and a bit outside a small forest where I rest around 16:00 and decide to stay for tonight here. Sunny but windy, wind from the north cooling the strong sunshine of late April, apprx. 18°C - I feel physically well.
Had a good sleep, leaving 8:00 and crossing a golf park, then a nice forest near Vogelsang ("Birdsong"), with a great view to the next valley of Suhr, below the Lake of Sempach and Sursee (city) at the northern end of the lake, it's noon, and I shop food for today and tomorrow Sunday as shops are closed Sundays in Switzerland. I leave Sursee along the river Suhr heading north for ~3.5 hours until I reach Schoeftland, 16:30 - I feel exhausted so I know I won't continue too far but hike up the hill east from the village and find a nice spot to pitch my tent for tonight. Quite a lot of ticks start to walk on the tent, outer and inner net outside though, so I know next morning to pay close attention to clear the tent thoroughly before packing.
Good sleep yet the temperature was dropping from 18°C to 5°C during the night, the birds sing early and otherwise no sound of civilization in the midst of the forest - that's why I also like to camp in the forest - and slowly pack everything while I'm in the small tent, and then shake the tent from the inside so 7-8 ticks fall off the inner and outer tent and rather quickly pack the tent as I know the ground is full of ticks waiting to walk up the folding tent or the backpack nearby - that's the other side of camping in the forest, you might find spots which are nice but also host a lot of ticks you like to avoid biting. So, 8:00 I leave still in the forest, and on the ridge further toward Teufenthal down a small valley, and up again - leaving one valley to the next.
As a side-note: the valley aren't deep, but they all align south to north and end near the river Rhein - they were formed by glaciers from the alps in the central/southern part of Switzerland - the region is also called "pre-alpine" or Voralpen.
So I reach the Hallwilersee or Lake of Hallwil with Castle of Hallwyl at the northern end of the lake, from there ascend to Fahrwangen, Bettwill and then into the forest on top of the long Lindenberg and Horben, apprx 40min before I reach Horben I find a nice spot to camp, again in the forest. 16:30 pitching the tent and resting.
Many villages end with or contain:
au: where a bending river creates wet land or forest
wil: literally "spot to rest", or also "a couple of houses"
Awake early in the night, but waiting until the sun rises, and leaving 8:00 again, after 30-40min I reach Horben, a beautiful spot with an old chapel and a restaurant and wide view to Zugerland (Canton Zug) and the mountain of Rigi. Then descend toward Auw, and reach Sins again, over the old bridge and continue to Cham and reach my destination again, 14:00.
The hike was easy, but the steady north wind ("Biese") constantly all day long made my eyes water, on the other hand it limited the heat in the direct sunlight and easy to hike 7-8 hours per day; and running shoes with good grip made a huge difference to traditional hiking shoes, and follow my preference to hiking sandals or lightweight solid running shoes.
I used again the lightweight tent (3F Lanshan 1, ultra-lightweight pitched with a single walking-stick) with barely 500g, and got better experience to pitch it properly, but it's really low with little headspace when sitting (e.g. eating inside the tent), but sufficient headspace when laying down.
Content: