"For to be free is not merely to cast off one's chains, but to live in a way that respects and enhances the freedom of others."
Nelson Mandela
from "Long Walk to Freedom" 1995
Updates
Wed, December 12, 2007
: Updated the tour, added additional coast-to-coast routes of Hwy 50, Adventure Cycling Association and RAAM .
Sat, February 25, 2006: First version, preparing the tour .
Dates: May - June or September - October 20XX
Status: Planning
Distance: 4720 km (2950 miles)
Duration: 32 days (without extra or relaxing days)
Start / End Point: Washington DC - San Francisco CA
USA States: Destrict of Columbia, Virginia, West Virginia, Ohio, Indiana, Illinois, Missouri, Kansas, Colorado, Arizona, California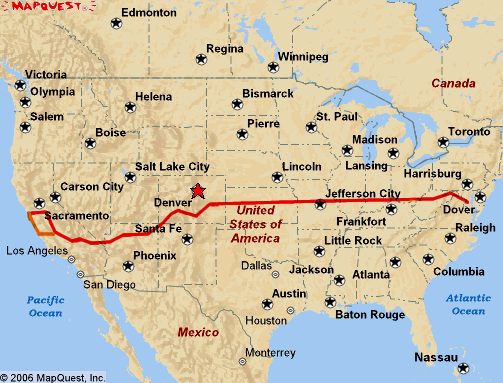 The TransAmerica 20XX Route
I developed my own route, so it doesn't follow any established coast-to-coast cycling route, yet, much of the route is the Route 50. Main urban areas like Cincinnati, St. Louis, Kansas City, Los Angeles are avoided. From Flagstaff AZ to Bastrow CA the Route 66 is used.
Two main passes are required to ride over:
La Veta Pass
Wolf Creek Pass
Extra days:
Mesa Verde (+3 days)
Great Sand Dunes (+1 day)
Grand Canyon (+3 days)
Relaxing days: 1 day per 10 days, 3 days for entire trip, best combined with the extra days
Preliminary Route: First I looked at the geographical direction, going from D.C. to SF, rather straight; looked up with Mapquest.com the route, the Apalachians don't allow straight crossing, so there I made a detour, avoiding interstate highways. I saw Route 50 goes almost straight from east to west, but a bit too north for me as I like to go over the Four Corner, and through Navajo land.
Topology: Once I made a preliminary route I looked up with Topozone.com the topology, seeing if there are some steep and difficult elevations to climb up, the part from Walsenburg over the Rockies til Flagstaff I know, in particular La Veta Pass and Wolf Creek Pass I know what it takes.
Resting Places: As next I looked up with Google.com the different state parks for each state, e.g. "west virginia state parks" and so on, and checked along the preliminary route which state park I could use to camp.
Preliminary Schedule: I already made a rough schedule below, but needs to be refined; the state park locations in particular give me a raster how to set the preliminary daily segments to ride.
Detailed Maps: With Mapquest.com I went the route again, with apprx. 120km (75mile) wide maps, and marking the camping facilities (state parks predominantly), and printing them out to make notes (there isn't really a good program yet to put notes on graphics), additionally draw route again more detailed.
Topology Repeat: Maps.Google.com finally (12/2007) provides also terrain information showing a bit of the topology as well, but without specific elevation information, so I recheck the entire route again.
Printed Map: I've got a Rand McNally "the road atlas '05", A3 large 138 pages thick map, and it includes campsites and National Park - and I have refined the tour further. And I have to say it, using this map makes it much easier to optimize the tour further. I only look up details online for a few big cities like St. Louis or Cincinnati and look how to circumvent or pass through them in detail. Additionally the last concern is riding I-40 from Kingman to Barstow, or the older route 66.
I first thought to go as it goes, means, just route planning but not setting any kind of schedule and camp in the wild, yet, the US cultures is very much into "owning" something, in particular the land, so as I saw at my last trip there that almost every piece of land is fenced, and owned by someone; except the state parks and national (forest) parks, which provide often camping facility, simple (no water) up to rather luxury facility infrastructure, and reasonable priced.
Currently I have detailed maps, but I have to check some routes upon their topology. I follow partially route 50 often, where suitable, otherwise I detour on less expected traffic roads.
So far the route is pretty much defined, except:
Cincinnati: I like to make a better detour around Cincinnati, it seems hard to cross the Ohio river, need to check if I can ride on interstates
California: I haven't decided to go for the valley or coast route, need to check details further.



Washington DC - Cincinnati MI




Cincinnati MI - Kansas City KS




Kansas City KS - La Junta CO




La Junta CO - Flagstaff AZ




Flagstaff AZ - San Francisco CA
The following maps are apprx. 117km wide, and 88km height, so, in a day 1 to 1.5 maps should be ridden through.
Content: