"God grant me the serenity to accept the things I cannot change; courage to change the things I can; and wisdom to know the difference."
Reinhold Niebuhr
1892-1971
Updates
Thu, July 6, 2023
: Adding Swiss Alps: Gotthard & Lukmanier hike .
Wed, April 27, 2022: Adding first hiking tour 2022 .
Wed, February 24, 2021: Adding 2020 tours and 2021 tour .
Thu, August 7, 2008: Div. smaller tours: Zug - Bern - Zug (1 day tour) .
Sat, July 12, 2008: More details on France, Italy, Germany, Czech Republic and Austria after my Europe trip .
Thu, January 3, 2008: More details riding in Switzerland, France and Italy .
Mon, November 26, 2007: Hints on riding in Switzerland, France and Italy .
Wed, November 21, 2007: More photos from travelings, and now all travel diaries online .
I found another form
to be
for myself with traveling, instead to relate to a single place or site as home, I relate to every place as home I travel to or through, whereever I am - the more I travel the more I realize this for myself. Of course there are spots I relate faster and perhaps deeper than other places, e.g. Italy and France are very dear to me and I love to travel there, as well Four Corner in the USA.
Most diaries are held impersonal, I don't really describe my inner state of mind and heart - this is done intentional.

| | | |
| --- | --- | --- |
| | | |
| Switzerland | Switzerland | Switzerland |
| | | |
| Switzerland | 4 weeks, 500km, Switzerland | 2 weeks, 200km, Switzerland |
| | | |
| Switzerland | 5 days, Switzerland | 4 days, Switzerland |
My current hiking equipment (2023): tent (Naturehike Cloud Up 2, 1.5kg), backpack (Big Bear, ~70L), sleeping bag, 2x walking sticks; I dropped cooker & pans but I noticed salt in-take being an issue. My meal while hiking is bread & cheese at noon and muesli (with additional salt) at the later afternoon / evening, and cereal bars, chocolate for sugar intake eaten in-between, and carrots and apples for vitamins. The heavyiest items are: tent (1.5kg), 1-2x 1.5L water bottles (1.5-3kg), food for 3-5 days (~3kg) in case I hike up in the alps with rare possibility to shop.
The bicycle tours I made mostly with a
recumbent
, a so-called "longrider" (
Fateba L1
) and after 2016 with shortrider
Flux S900
.
1 week, 580km,

: France, Germany, Switzerland

3 weeks, 1700km,

: France, Italy

10 weeks, 4000km,

: France, Italy, Austria, Germany

4 weeks, 2500km,

: France, Italy

4 weeks, 2500km,

: France, Italy

24 weeks, 9500km,

: France, Spain, Germany, Austria, Hungary, Croatia, Italy

9 weeks, 5900km,

: France: Loire, Atlantic, Garonne, Canal du Midi, Rhone

8 weeks, 7500km,

: Switzerland, Italy, France, Netherlands, Danmark, Germany, Czech Republic, Austria

1 week, 750km,

: Lenzburg (Switzerland), Basel, Montbeliard (France), Dole, Bourg en Bresse, Geneve

5 weeks, 3500km,

: through France, and then meditarean coast, and north of Italy

(german only), 1 week, 800km,

: from Lenzburg (Switzerland) to Marseille (France) via Rhone Valley

6 weeks, 1600km,

: from Denver/CO to Sedona/AZ - the beauty of the Rocky Mountains, Monument Valley and Grand Canyon

(german only), 1 week, 560km,

: on the northern part of the island

(german only), 2 weeks, 500km,

: french atlantic coast from Bordeaux to Hendaye
| | | |
| --- | --- | --- |
| | | |
| (Switzerland, France), 4 days, 634km | (Switzerland), 1 day, 248km | (Switzerland, France), 2 days, 525km |
I'm also planning a USA Coast-to-Coast Tour sometime, apprx. 4800km or 3000 miles.
| | | |
| --- | --- | --- |
| | | |
| (german), Canarian Island | (german), Canarian Island | (german) |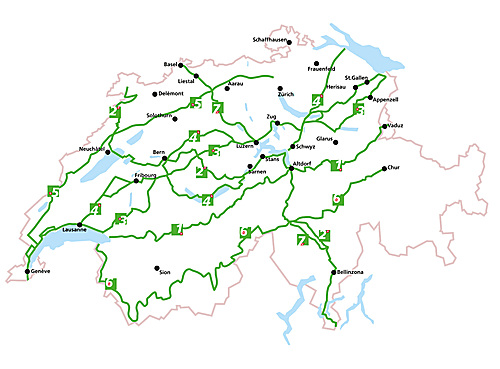 Swiss National Hiking Trails
There are
7 main hiking routes

in Switzerland - but there are hundreds locally enumerated ones (2 and 3 digits), and almost all villages can be reached via local signaled hiking paths.
1: Via Alpina: 390km, 20 stages

I hiked a bit of it as part of Swiss Alps 2020 Hike
stages start and end at low elevation but usually go over higher passes

2: Trans Swiss Trail: 500km, 32 stages
3: Alpine Panorama Trail: 510km, 29 stages
4: Via Jacobi: 645km, 33 stages
5: Jura Crest Trail: 320km, 16 stages

I hiked all but one stage at Jura Crest & Panorama 2020 Hike
stages are well planned, recommended, but great care of water sources in case you camp in the wild (aside of start/end of stages)

6: Alpine Passes Trail: 610km, 34 stages
7: Via Gottardo: 320km, 20 stages
Hiking in Switzerland is simple, all paths are well signaled, there are plenty public water sources except at Jura Crest Trail, but otherwise this is an non-issue. Camping in the wild is mostly possible (forests recommended), and planning stages to stay in hotels is simple if you like to have it comfortable.
I'm often now cycling aside of the official cycling roads but on the streets which often have a cycling lane aside. The official bicycle routes are aside, without much traffic by cars, but often up to 50% longer, and not so fast to ride (lot of curves). Usually I also ride flat routes, along rivers and lakes as you can see the map.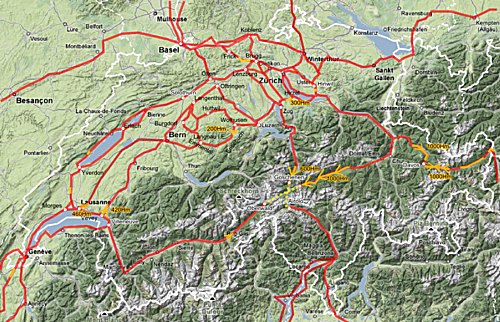 My Personal Routes in Switzerland
Routes themselves in red, steeper ascents marked orange, with following detail description:
Hinwil - Uster - Zürich: 24-30km 1:45-2:15h, reverse way +30min - mostly bike trail or bike lane, go through Dübendorf, stay on main road inside the city
Zürich - Baden - (Brugg or Mellingen) - Lenzburg: 38km 2:30h - from Bucheggplatz go down direction City/Limmatplatz, go off Escher Wyss Platz and go along Tram 4 to Hard, then either along Limmat river or main road to Spreitenbach, there detour from main road to bike signs, then rejoin main road after Spreitenbach, in Baden either detour to Fislibach, direction Mellingen there take bike trail avoid Mellingen itself, or ride through Brugg, and then to Othmarsingen, Lenzburg
Zürich - Baden - Koblenz - Basel: 80km 5:00h, stay on main road to Baden, it's most fast except around Spreitenbach, near Koblenz, Stein or Rheinfelden pass to Germany as that side of the river is nicer to ride - reverse way make sure at first "Zurich" sign take "City Bike Trail", don't remain on main road but take last section into the city the bike trail
Zürich - Zug: 30km 1:50h - direction Adliswil, either main road with bikelane, or dedicated bike road along the river Sihl, mostly flat, after Sihlbrugg decending to Baar; reverse direction +20min
Lenzburg - Olten - Solothurn - Biel: 78-100km 3:30-5:30h - ride bike trail to Olten, there you can take official (+10-20km longer) bike trail No 5, or take the "Solothurn Bike Trail" which is less nice but much faster, you even can stay on the main road which is also nice as you travel through nice villages, after Solothurn either take bike trail No 5 or stay on main road to Biel
Biel - Yverdon Les Bains - Lausanne: 100-120km 5:30-6:00h - Biel to Yverdon take nice bike trail No 5, it's a bit slow but nice, after Yverdon ride to La Sarraz, Cossonay, then via Morges to Lausanne, or leave Lausanne out and go to direction Morges in case you ride further to Geneve later
Lausanne - Geneve: 60km 3:00-3:30h, bike lanes on main street, not so much traffic as most cars and trucks are on the highway
Hinwil - Rapperswil - Hirzel - Zug: 38km 2:30h - reverse way +30-40min - from Wädenswil to Hirzel apprx. 40-50min, downhill from Hirzel to Sihlbrugg takes 7 min when you let it ride, rather ride fast and avoid cars trying to pass you, after Sihlbrugg take bike trail leading down to Baar, from there good signalisation to Zug or Rotkreuz in case you ride to Lucern
Zug - Luzern / Lucerne: 24km 1:30h - bike lane on main road, very busy road from Cham to Rotkreuz, avoid afternoon and evenings for that part, after Ebikon before Lucern a lot of traffic lights which slow you down, enter Lucerne itself, it's worth it a stay
Luzern - Wolhusen - Langnau i.E.: 78km 4:30h - pass main train station, keep right then, ride to "Emmenbrücke" (not via Littau), there direction Wolhusen, has nice bike lane, after Wolhusen some climbing to Ebnet, apprx. 150m, afterwards flat mostly, going up a bit til Escholzmatt, afterwards a bit downhill again but hardly noticeable
Langnau i.E. - Langenthal - Lenzburg: 87km 4:30-5:00h, head direction Sumiswald, there a bit climbing, detour left once you see "Langenthal", a bit climbing, a bit downhill again, otherwise rather flat, to Langenthal, then stay on rather busy road of Kantonstrasse "Bern - Zurich", follow sign to "Zurich", Oftringen, Unterentfelden, stay then on the main road direction "Zurich" still until you reach Lenzburg, as said, it's a busy road but has bike lane all along
Bern - Langenthal - Lenzburg: 82km 4:00h - from Bern railway-station, left follow "Zurich (1)", Worblaufen, Schönbühl, Hindelbank, Kirchberg, stay on "Zurich (1)" until Langenthal, then the same mentioned above
Oftringen - Luzern/Lucerne: 50km 2.50h - in Oftringen on main street or reach for the river "Wigger" and its bicycle trail there until Reiden, then main street to Sursee, Emmen, then either to Luzern city or heading to Zug / Hochdorf
Zug - Brugg: 50km 3.00h - via Knonau, Uttenberg, Obfelden, Merenschwand, Aristau, Bremgarten (short steep climbing), Mellingen, Birrhard to Brugg
Brugg - Basel: 50km 3.00h - Bözberg (ca. 20Min ascent), flat descent to Frick, at Stein already crossing Rhine to Germany to Bad Säckingen and staying on german side, it's flater but a bit farther (ca. +8-10km), or at Rheinfelden (CH) to Rheinfelden (D) to Grenzach-Whylen (D) again Basel (CH)
Basel - Freiburg i. B.: 70km 4.00-4.50h - from Rheinfelden (D or CH) along Rhine direction "Weil am Rhein" on bike trail (without border control), further along Rhine on slight gravel road to Kleinkems, then direction Efringen-Kirchen and Bad Bellingen, then join B3 which has separate bike trail; alternative: from Basel to Kleinhüningen, cross Rhine to France up to Ottmarsheim (F) then cross the Rhine to Neuenburg am Rhein (D), Müllheim and via B3 to Freiburg (+10km)
Basel - Waldshut-Tiengen (D) - Winterthur: 140km 9:00-10:00h - from Basel via Grenzach/Wyhlen (D) staying on the german side all along (much nicer than CH side), until you reach Waldshut, then after 2-3km take bridge to CH, and then a bit hilly, follow road 7 to "Winterthur", partially bike lane or bike roads, but some bike roads go uphill whereas normal street goes flat, so stay on car street; reaching "Glattfelden" you detour to avoid the short highway, ascend prior Rorbas, and descending nicely into Winterthur
Bauma - Uster - Zurich: 40km 2:00h - short ascend after Bauma, reaching Baeretswil and then descending into Wetzikon, mostly a bike lane, after Wetzikon bike road/lane to Zurich, via Duebendorf reaching Bucheggplatz, from there decide to go into city or detour to Escher-Wyss-Platz to reach the Limmat river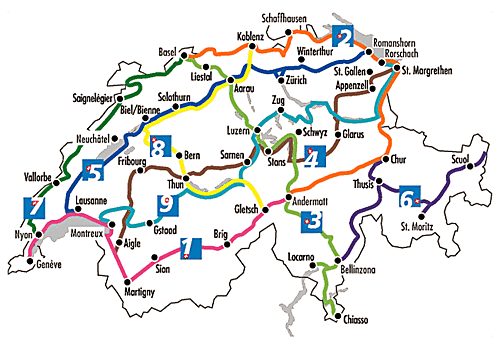 Official Swiss Bike Trails/Routes
Switzerland has 9 large bike trails No 1 to No 9, they are ideal for enjoying the ride and taking some vacation on the road with a bicycle, but aren't always as good to get from A to B, and better bike trails are available, for more information see Veloland.ch

.
Rhone Route: Basel, Aarau, Luzern, Stans, Andermatt, Locarno, Chiasso
Rhein Route: Basel, Koblenz, Romanshorn, Chur, Andermatt
Nord Süd Route: Basel, Liestal, Aarau, Luzern, Stans, Andermatt, Bellinzano, Chiasso
Alpenpanorama Route: St. Margrethen, Ziegelbrücke, Glarus, Stans, Sarnen, Thun, Fribourg, Aigle
Mittelland Route: Romanshorn, Zürich, Aarau, Solothurn, Biel, Yverdon les Bains, Lausanne
Graubünden Route: Martina, Scuol, St. Moritz, Thusis, Chur, Bellinzona
Jura Route: Basel, Sainelegier, Vallorbe, Nyon
Aara Route: Koblenz, Aarau, Solothurn, Biel, Bern, Thun, Gletsch
Seen Route: Rorschach, Landquart, Rapperswil, Zug, Luzern, Sarnen, Interlaken, Gstaad, Montreux
There is hardly a place you can't get with the bicycle in Switzerland, which is nice to know. As of 2008 there are now over 100 bicycle trails through entire Switzerland, additional to the main 9 routes.
If you care to ride Switzerland, purchase the "Generalkarte 1:300,000" which is the best as it has topological detail information, don't buy the official "Veloland Schweiz" by Kümmerly + Frey map as it may illustrate the official bike trails which are signalized quite well themselves, but it gives you almost no information of climbing elevation details; it only gives you >> indication for hard climbing and is missing smaller roads suitable for riding with the bicycle.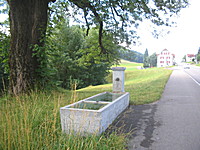 Typical waterfountain in Switzerland, Neuthal near Bauma (Switzerland)
Shopping: Mo-Fr 8:00-18:30, Sa 8:00-16:00 (17:00), at larger railway stations Migros, Coop and Aperto exist which have open also Su. Backeries open 6:30 or 7:00 and some have open Su morning as well.
Camping: sufficent commercial camp-sites (season is 1st May to 30th September, a few whole year), CHF 15-25 per person & night, wide-range quality:

Geneve: has only one official campsite, a bit outside of the city (follow "camping" sign) - otherwise sufficient option to camp in the wild outside of the city itself direction border to France
Biel/Bienne: Biohof Camping on No 5 direction Yverdon ca. 10min to ride, beautiful sight and quiet
Chur: worst camp-site, avoid it

Wild Camping: considered suspicious behaviour but mostly tolerated, best spots are near forests, at or after sunset pitch your tent, or ask owner/farmer of the land beforehand which is appreciated, WC: "dig a hole with a small shovel, do your business, cover hole with earth/dirt" as all wild camper do.
Water: in swiss-german part almost every village has a well with drinkable water to fill your bottles, swiss-french alike but less often, swiss-italian part rather scarce.
Umbrail 2501
Nufenen 2480
Gr. St. Bernhard 2469
Furka 2436
Flüela 2383
Bernina 2328
Albula 2312
Julier 2284
Susten 2224
Grimsel 2165
Ofenpass 2149
Splügen 2113
Gotthard 2108
S. Bernardino 2065
Oberalp 2044

Simplon 2005
Klausen 1948
Lukmanier 1914
Kerenzerberg 1848
Maloja 1815
Col d. l. Croix 1778
Glaubenbühl.1611
Gurnigel 1608
Lenzerheide 1549
Pragel 1548
Col du Pillon 1546
Jaun 1509
Chasseral 1500
Ibergeregg 1406
Brünig 1008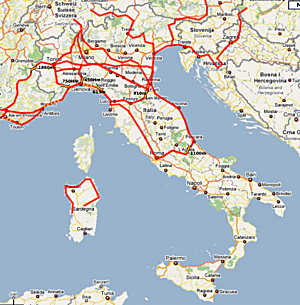 My Italy Routes
From Genua to La Spezia has two steep ascents, also less possibilities to camp in the wild, after La Spezia again more space. Along the meditarrean sea not many possibilities to camp in the wild, but many camp grounds. Beautiful route from the meditarrean sea to Lucca, Florence, and then Passo de la Muraglione - very beautiful.
Shopping: 8:00-20:00, often open Su as well
Camping: sufficient camp-sites, €4-12, be aware of high season (July-August) of full campgrounds at busy sites (e.g. along meditarean sea)
Wild Camping: tolerated, good options near forests, or rivers; along meditarrean sea rare possibilities due high density of population and houses
Water: public wells scarce, rather buy water or ask locals to help out, or get water from cemetries
Roma is a nightmare with the bicycle, it's the worst city I ever rode, there are a few bicycle lanes, but hardly anyone rides bicycles in the city, it's simply too dangerous, much traffic in the east part of Roma. Genua is easy to pass through, lot of traffic during the week, and weekend almost empty streets. Florence is terrific to ride through by bicycle, narrow streets, lot of places to stay and site-seeing. Venice there isn't much to ride, put the bike aside and walk, but definitly worth a visit nevertheless, once in your life.
Entry from Italy to Switzerland via Reschenpass, nice ascent from Bozen, then Martina (Switzerland), and steep and long Fluelapass (apprx. 1:45-2:15 ascending), descending down to Davos. Entry St. Gotthard, flat part to Erstfeld, then light ascension to Wassen, then more climbing to Göschenen, then either take the train to Airolo through the tunnel, or go over the pass, be aware of winter season (November to May) when the St. Gotthard pass is closed and you have to take the train. From Airolo light descension into Leventina, exit to Italy via Chiasso and Como, direction Bergamo very hilly and immense traffic, to be avoided. Rather follow Lago Maggiore and the Ticino river to the Po river, low traffic and good places to camp in the wild. A beautiful ride is from Venice along the river Tagliamento on small roads to Travisio in the north east of Italy, reaching rather flat Villach, some of the passage is a fully developed bicycle road; otherwise Brenner or Reschenpass are other options to connect to Austria from Italy.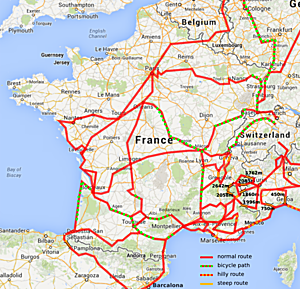 My France Routes
To cross the France it's very wise to travel along rivers, the Eurovelo route no 6 just does this, it starts in St. Nazaire and goes along the Loire, and Saone, and Canal du Rhone au Rhin reaching Basel, almost the entire route being flat and along river and canals. The route from Bordeaux to Biaritz along the coast is terrific, and many possibilities to camp in the wild - at high-season (June-August) most camp grounds are full, be aware. Route from Sete to Marseille along the meditarean sea coast is beautiful, lot of possibilities to camp in the wild, Camargue. After Marseille is no more flat but quite hilly for a while with multiple ascents, afterwards even bicycle trails to Nice, then slow traffic to Monaco and Genua as most traffic is on the highway. East / West from Geneve to Limoges, Bordeaux, the east side is hilly and therefore slow to ride. Canal du Midi or Canal des Deux Meres, from Bordeaux to Toulouse and finally reach the meditarean sea at Beziers following the canals is very nice as well, and at some passages provides useful features, e.g. from Toulouse going south-west along the canals water wells exist for bicycle riders, whereas in departement Aude just before Carcasonne the bicycle road is neglected completely.
Shopping: 8:00-20:00 (smaller shops closed between 13:00-14:30) like Super U, Intermarche, Casino, Carrefour, Lidl etc, a few also open Su in the morning, but all are closed at holidays (e.g. 14. July)
Camping: sufficient camp-sites, €4-15, be aware of high season (July-August) of full camp-sites
Wild Camping: tolerated, good options near forests, or rivers; along meditarrean sea a bit more rare, but still possible
Water: public wells scarce, rather buy water or ask locals to help out, or get water at cemetries
Paris
is most beautiful and a joy to ride with the bicycle, it might be hard to get into the center of Paris passing through all the suburbs which seamless connect to Paris itself, once you are in there is a lot to explore, most beautiful city I saw in my life; leaving the city by bicycle is as hard as entering the city avoiding highways and such, detail map of the city required.
Marseille
is worth to pass through, best along the coast, then you enter the city go on the large Boulevard St. Michelet which becomes Avenue du Prado, that road leads to Cassis then.
Bordeaux
is difficult to pass through, as most signs show highway to the atlantic - another option is keep riding north in the city, til you almost left Bordeaux and watch cycling signs, go that bicycle path which leads to the atlantic without any car traffic, but is 15km longer than direct route.
Entry from France to Switzerland over Basel/Bale is flat, via Bourg en Bresse and then Geneve has two ascents; via Viry/Frangy (without passing through Lyon) also flat reaching Geneve, also a way to ride down the rhone-valley, with a lot of industry (not that beautiful) but fast reaching meditarrean sea. Passing Avignon at weekends as it has almost no traffic, otherwise try to ride around Avignon.
I rode along the coast most of the times, from Genova to Nice - mostly flat, with a few step short hills to do, e.g. around Imperia as example. The border crossing around Menton is mostly flat, just after Menton direction to Nice a few tunnels and up and down around Monaco until you reach Nice, when it gets flat along the coast again. Another crossing I did was Briancon (1300m), which can be reached almost steady climing, except one steep section at L'Argentierre La Bessee. The real heavy climb comes after short before you reach Col de Montgenevre (1860m), a 500m climb over 7km with 8-9% steepness. The climb from the italian side is hard as well, 8-9% from Cesana (1350m) up. I rode Col de Montgenevre at a national french holiday with low traffic, but I was told quite many trucks otherwise drive that pass. For an alternative also via Nevache and Col de l'Echelle with 1760m, which is ca. 100m lower than Col de Montgenevre and less traffic - from the italian side very hard climb from Bardonecchia.
Col du Mont Cenis (2043m): ca. 600m elevation difference from french Lanslebourg with 5-8%, italian side steep from Susa (5-10%) - recommended from french side
Col du l'Echelle (1762m): mostly flat, just 2km / 200m elevation last part, italian very step - recommended from french side
Col Montgenerve (1860m): steep from french Briancon, even steeper from italian Oulx oder Susa, can have lot of traffic - avoid
Colle della Maddalena / Col de Larche (1996m): french side glimbing from Bercelonnette is easy, the same easy from italian Cuneo - recommended both slopes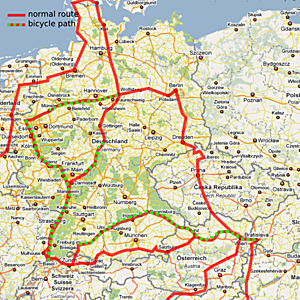 My Routes in Germany, Czech Republic and Austria
Northeast has many bicycle roads and lanes, almost every street from town to town has a bicycle lane as well, with good signalization. East germany the roads are all newly made and well for riding, yet, many farmer roads, also newly built, lead parallel to main roads yet are not signalized - unfortuntely. South germany, Bavaria and Badenwürtenberg have good bicycle roads, yet, dedicated maps are required to decipher where they start and lead to, as local signalization isn't sufficient.
Berlin is worth to ride, approaching it from west from Potsdam follow B1, once you read city border follow B1 or the local bicycle signs "Mitte" - be aware from the border of the city to the center over 27km, it took me 2 hours. Once you are in the city most attractions are well signalized for pedestrians and bicycles. Leaving Berlin via B96 toward south, e.g. to Dresden is recommended, yet, the first 20km of B96 outside Berlin is a car-only highway, and one has to ride through small villages parallel to B96 - once the B96 reaches the Berlin Highwayring it becomes rideable for bicycles and leads to Dresden.
German cities have often bicycle lanes and are well signalized for bicycles as well - unfortunatly Schleswig is not part of that list, really bad signalization in general, but in particular for bicycles. Rendsburg you can use the pedestrian tunnel to ride under the Nord-Ostsee Kanal/North-Eastsea Channel, use the elevator to reach the tunnel. In general the east part of Germany is nature-wise very beautiful and recommended. From Dresden you may take the Elbe bicycle road almost to Prague, unfortunatly the road isn't always that close to the river, e.g. at Königstein rather take normal street.
Shopping: Su most stores closed except backery, otherwise 8:00 to 20:00 for large supermarkets.
Wild Camping: mostly tolerated, good opportunities, south Germany a lot of farming with less opportunities - reach for forests.
Water: south Germany has public wells, otherwise rather buy water or ask locals to help out (note: cemetries mostly have not drinking water)
The bicycle road no 2 leads from north to Prague, unfortunatly there are parts with gravel and even stairs - unbelievable. Approaching
Prague/Praha
from north take 603, that's most simple - leaving Prague I experienced as difficult, finally I rode via Jesenice and then 608 and then 3 to the south, yet, the 3 is very busy and not really recommended - after Tabor direction Wien/Vienna yet it becomes more soothing traffic wise and acceptable. Czech Republic is nature-wise very beautiful, in particular the Elbe area and hilly region around Prague with forest. Approaching Austria from Prague you ride 4, until Pettendorf where bicycles are no longer permitted, ride to
Tulln
and reach the Donau Radweg / Danube Bicycle Road, there you ride either to
Linz
or
Wien/Vienna
. From Linz to Salzburg it's slightly hilly. The Donau Radweg / Danube Bicycle Road in the east is well maintained and easy to ride, particular Wien/Vienna is well signalized for bicycles. West around the Wachau is nature-wise most beautiful and recommended, yet, the bicycle road leads away often from Danube, before Linz the signalization isn't that good anymore - two provinces have their own number for bicycle roads, stupid.
Via Salzburg (A), Chiemsee (D), Lindau (D), Bregenz (A) you may reach Switzerland without any passes.
Content: