last edited 2010/07/11 11:10 (
*
)
In a century which brought a lot of invention about mobility, recent developments only pretend to be real innovations, but mostly refinements of existing ideas, concepts and realizations.
Solar Impulse
project around Bertrand Piccard is such a project.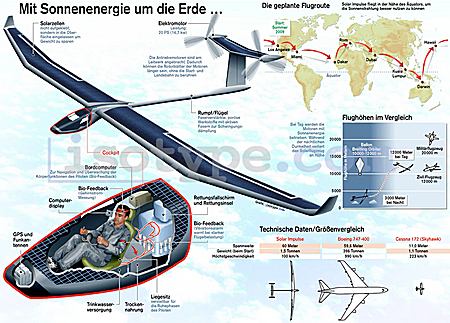 Solar Impulse Plans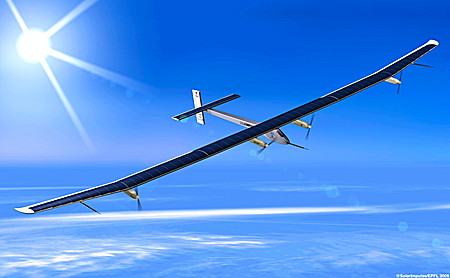 Solar Impulse (Illustration)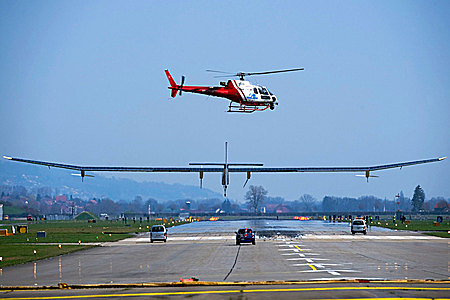 Solar Impulse Test Flight
Crew: 1
Payload: Lithium-ion batteries: 450 kg, (capacity: 200 Wh/kg = 90 KWh)
Length: 21.85 m (71.7 ft)
Wingspan: 63.4 m (208 ft)
Height: 6.40 m (21.0 ft)
Wing area: 11,628 photovoltaic cells: 200 m2 (2,200 sq ft)
Loaded weight: 1600 kg (3,500 lb)
Max takeoff weight: 2000 kg (4,400 lb)
Powerplant: 4× electric motors, 7.5 kW (10 HP) each
Take-off speed: 35 kilometres per hour (22 mph)
Cruise speed: 70 kilometres per hour (43 mph)
Endurance: 36 hours (projected)
Service ceiling: 8,500 m (27,900 ft) Maximum altitude: 12,000 metres (39,000 ft)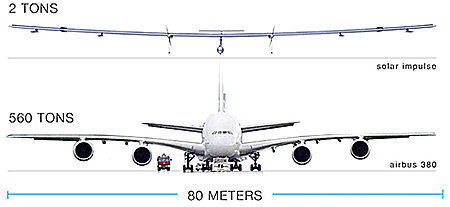 Wingspan Comparison of Solar Impulse vs Airbus 380
The wingspan comparison and weight comparison shows the key of energy efficiency: weight. Regardless in air or surface, the weight is a major factor as pointed out in other postings here. To build a 1600kg airplane where the batteries already use up 25% of the weight reveals also the main problem: storing (electric) energy, and currently (2010) electricity is stored in batteries, and those still impose a high weight cost.
I hope the research around Solar Impulse provides also new insights of efficiency of ground mobility and vice-versa.