last edited 2009/06/03 18:58 (
*
)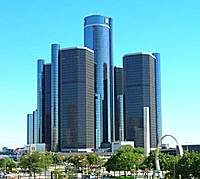 GM Headquarter, Detroit, USA
Two large US manufacturers are bankrupt - all the criticism which was denied the last 10 years finally came true: heavy and inefficient cars without a perspective for the future demands. It has been pointed out, the main reason for the collapse of the two US car manufactures wasn't the financial and economic crisis as such, it just made it appearant that something was wrong and it wasn't just the selection of cars, but the managment itself unable to make the shift.
Chrysler

established in 1925 finally filed "chapter 11" bankruptcy protection April 30, 2009 - and General Motors (GM)

(doing brands like Buick, Cadillac, Chevrolet, GMC, GM Daewoo, Holden, Hummer, Opel, Pontiac, Saab, Saturn, Vauxhall and Wuling) established in 1908 filed also "chapter 11" bankruptcy protection in June 1, 2009 and has been taken over by the US government in order to relaunch with a much smaller infrastructure and its implied loss of jobs.
With these two large US car manufactures also an era of "old thinking" finds an end - the arrogance how the US car manufacturers and its lobbyist prevented early adoption of greener and cleaner standards now finds its unglory end - unable to transform itself within the capitalistic market it requires aid by the fomerly much despised US government - very ironic.
To be fair, both companies developed zero emission electric cars (e.g. the EV1

by GM), yet, according their own statement, the market wasn't ready - so those early attempts failed - compare also Treehugger.com: EV1 Criticism

.
Addenum: The german manufacturer Opel was extracted from the GM prior the "chapter 11" protection - they are trying to survive independently with aid of the german government.