Each 1000km, I took a photo where I just was:
I drove about every 8 days 1000km, the longer the tour went, the more I travelled long distances and endurance increased.

Day Trips
125km Biasca (Switzerland)
148km Ciserano (Italy)
140km Mantova
155km Fano
143km Ravenna
159km S. Benedetto di Trento
140km Castel di Ieri
109km Vicovaro
120km Capranica
- "
121km San Quirico
134km Ponte a Elsa
161km Borghetto di Vara
- "
137km Savona
128km Ventimiglia
103km Antheor (France)
160km Bandol
131km Salin de Giraud
176km Sete
192km Toulhouse
134km Agen
167km Bordeaux
121km Royan
140 Lucon
158km Chinon
163km Cloyes sur le Loire
- "
115km Paris
71km Paris
160km St. Quentin
121km Beaumont (Belgium)
153km Maastricht (Netherlands)
137km Zeeland
156km Almelo
172km Oldenburg (Germany)
113km Bremevörde
151km Husum
88km Tonder (Denmark)
131km Schleswig (Germany)
165km Trittau
174km Wolfsburg
- "
- "
51km "
- "
- "
166km Brandenburg
139km Berlin
168km Dresden
158km Litomerice (Czech Republic)
141km Tabor
191km Tulln (Austria)
141km Krems
172km Linz
212km Rosenheim (Germany)
- "
- "
51km Rosenheim
178km Kempten
175km Bauma (Switzerland)
64km Steinhausen
62 days (including 3 rest days, 8 days visiting friends), 7518km, 147km per day driven, about 18.5km/h average speed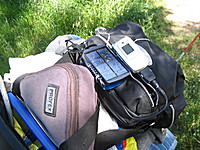 Solar Panel with 2x AA batteries
With the
Scotty Pro
(Personal Solar Charger) (3V/0.55W) of
SolarC

I made good experiences, about 20 hours of sun, the 2500mA/h AA batteries were recharged, and the operation my camera Canon PowerShot A310 as sufficient, three 2x AA batteries I had with me.
Unfortunately, I was not able to charge my cellphone Samsung SGH E710 fully, only 2/3 charge no matter how long the solar panel laid in the sun, but it was enough for a few days for SMS to send and receive messages. Telephone calls were too expensive, so only SMS which were also rather expensive with Euro 0.50 about.


2008/05/09 14:15
(End of Article)
Content: