| | |
| --- | --- |
| | |
8:30 departure, bad and little sleep, go downhill right into Maastricht. Many bicycles, many signs - but I have no idea where I really am. The sky still overcast - so I ask 2-3 people, they have no idea where north is, give me wrong directions, only a french student gives me the necessary information. Coming from Riems I am almost entered the city from NW. It has a sign LF3b Maastricht - Arnhem, I think "great" and follow that route, but I end up getting lost 2-3 times due bad signs or no signs - through small villages and quarters, with many loops, and it appears sometimes I ride in a circle - and I have enough from this and go back on the main route, in order to do this I end up taking a small ferry and go back to Belgium. Finally, I am in Maaseik, buy some food - then everything on bicycle lane on the main road direction to Netherlands again, and the bicycle trail alongside the road. Haelen and then I detour again from the planned route due to a lack of signs, Helden and then finally I take the N277 and stay on it until short before Zeeland. The bike paths are nice, many signs, but only for the next villages - one must have detailed maps when you have a map where just the larger towns are shown. Also, the bike paths aren't perfect, for kilometers it's bumpy like an italian village street, and so I have to slow down to 15 km/h. When the road is good, I ride 21-25km/h and until I approach the next intersection, light plant or roundabout - and each seems different crossing for bicycles, not the same structure, it takes an enormous amount of attention with a large roundabout to pass by or through or around - often you have the traffic not left but right to you or really behind you - so am a little disappointed about the bicycle paths/road of Netherlands, maybe I had too high expectations according to descriptions of dutch people. For the long-distance cycling the flemish Belgium has best approach I think, better than Netherlands. The dutch bicycle culture is for short distances of up 10-15km designed, long distances are poorly marked and unnecessarily looped and layed out, like in Switzerland where parts of the bike paths are often 50% longer than highways. Well, even 1-2 days in Netherlands, let's see what experiences I do with the bike paths. At 19:30 near Zeeland, fixing the camera and its button, in a small grove set up my tent also, 20:00. Thanks! 8:20 departure, slept well, was little short I thought. 20km still to Nijmegen, which I circumvent or avoid the center and just leave on the bridge are going Arnhem, signs are good, getting used to the bicycle signs. I approach Arnhem, where just "Free Your Mind" festival begins, the 5th time and a DJ plays House Music on a huge loud speakers, I listen for 30 min, 12:00, for 4 weeks I have been hearing no more music and miss it - as I noticed I started to sing the last days and now even more after hearing music again. Somehow I drive through Arnhem without reaching the centre, without much trying I admit. Ride toward Velp, where I meet a recumbent rider, Jan, he has friends in Switzerland, and he recognized the bicycle insurance label only swiss bikes have and need. After a short chat I continue toward Zupten, Deventer where suddenly dozens of cyclists join me on the bicycle road. Holten, Rijssen, Wierden and Almelo - 19:00. I ride 15km to Westerhaar - Vriezenveensewijk, where I find a beautiful place. The repair of the camera was successful and the button works again - I made a few more pictures than usual for the day. Thank you for the place and the great day!
Departure 8:30, slept well, was good place. Continue to Hordenbeg and Loevorden, then along the canal, where I come from Emlichheim first, I go back to Schoonebeek to Twist and reach Germany finally. Then toward Meppen, and to my surprise, it has bike paths and good signs in Germany, the next villages and cities are indicated, and the bike / cycling trails are even used by people, for example an elderly 40-member bicycle group passes me while I was studying the map, and otherwise couple and young people ride bicycles. And all greet you with "Moin" (morning) even at 20:00 at night. On side roads, Apeldorn, Savern, Sögel, Welte, Vrees, Friesoythe - all small or large towns, a lot of red bricks houses, all quiet. Cars with german flags and horning, and I wonder what this is all about, it's about european championship of soccer 2008, and tonight Germany plays against Poland. I ride further towards Edewecht, Süddorf, I ride first left then right on the channel toward Oldenburg - almost entirely along the canal has family houses with gardens in front - not much space for wild camping, 4-5km still to Oldenburg I detour south, and end up on a 300m pedestrian trail, where I remain today or tonight. Also I have almost used up all liquid, about 3l water or Ice Tea, which is almost insufficient - 30C max today but the wind let it seem cooler. Now around 20:20 the wind soothes, and it cools slowly. Thanks!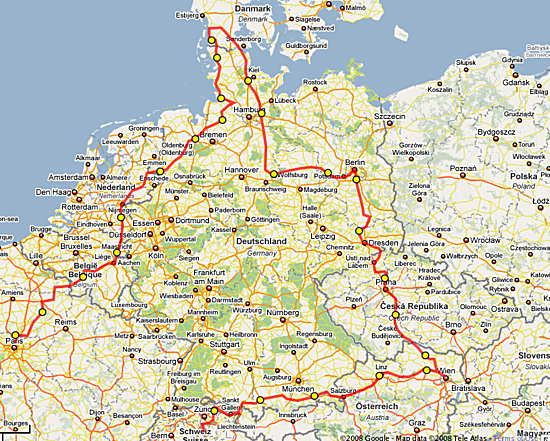 Germany, Czech Republic & Austria
8:20 departure, slept moderately good, I drank too little water yesterday. I reach Oldenburg, a small town, find road to Berne - leaving the city but go shopping first, this time 6l: 1.5l water, 3x 1.5l Ice Tea - 1.5l I drink immediately. Close to Berne I meet
Jos from Bruges (Belgium)

, he rides toward the Northcap, we ride together for this day - nice guy. Before Berne another spoke breaks, and in Berne find a shop to fix it, Euro 3 - it's annoying that frequent spokes breaking - with thicker new wheel spokes it would be much better or even a new wheel. With Jos I continue, he rides 1-2km/h faster, I'm more slow because the bike paths are bumpy again, and I ride less than 20km/h. Bremervörde we reach 17:00, and buy there more food, then on side roads towards Lamstedt we find a place near a forest, each pitches up his own tent. Thanks!
8:10 departure to Lamstedt, then Jos has a flat tire, defective valve, then Hemmoor, where we shop, go to Elb Ferry, where a 200-300m traffic jam lines up with cars and trucks, we with bicycles, we can ride on the ferry immediatly without waiting, Euro 2.50 for the trip, which lasts approximately 30 minutes - before reaching Glückstadt we eat lunch or breakfast together, then we part, Jos goes direction Travemünde, I continued west coast towards Denmark. Marne, Meldorf, Heide, Friedrichstedt and short before Husum I try to find a place but only find an exposed and windy spot - I don't have so many options I realize as many forests aren't vacant but to protect a house which resides in the midst of the small forest, no spot to pitch a tent. Finally I find a campsite near a "natural" forest, 22:00. Thanks!
9:00 depature, a bit reluctant because the weather seems very unsteady, and the wind still strong. Reaching Husum, shopping and further north, slowly with W to NW stormy head wind, 12-15km/h only, very rare SW briefly, then 25km/h, but for only 15 minutes, then the wind turns again. Bredstedt, Niebüll and then Süderlügem, where I want to buy a DK map - there I meet Julia, she offers me a campsite, apprx. 22km away into Norre Sejerslev. First, I am skeptical because I want to go Ribe which is much further north, but during the afternoon I realize I won't make it that far with the strong head wind, and also my eyes hurt from the wind, and my ears begin to feel - signs to not ride further for today and so I accept the offer and visit Julia at her house and her partner. 17:00 and only 88km ridden - but I'm tired. I take a shower and get an opulant dinner in large quantity and we have a lively discussion about cultures and travel, until midnight. Thanks!
7:30 breakfast and a discussion until 10:30, then depature, I drive coast road north direction Skarbaek, the wind is less violent than yesterday, but the left eye and wear my sunglasses to protects the eyes. I also feel the right ear more - sign me no longer proceed this way. I decide to ride east to drive with a tail wind this time - still NW winds. In Tolfstom I see a road to Flensborg / Flensburg, and decide to ride it. Around 17:20 I reached the german border again and Flensburg follows quickly and do bicycle trail alongside the road to Schleswig. 20:00 I find a forest with a campsite for me. Thanks!
8:00 departure, slept well, approximately 12km to Schleswig, on cobblestone road - with difficulty. Very bad roads to Schleswig. In the city very difficult to find directions, needed 40 minutes to exit the city, very bad signs at all and especially for cycling. On B707 and continue until next Rendsburg, shortly before I meet two retired danish people, with MTBs, and he pulls a small trailer, from Denmark they ride to Croatia, 2000km, 100km per day with good 20km/h - I'm impressed that they are so fast at this age, and 20 days to go. Then the direction of Neumuenster, where another spoke breaks again - in bike shop fixed again, Euro 10.50. Finding my way Bad Segeberg, and passing through quickly, further on side roads to Bad Odesloe, Pölitz and many small villages toward Trittau. Unfortunately, I can not ride the B404 and must detour. Meet an talkitive youngster in Lasbeck, and tells me his view of Germany and says the same as a bicycle dealer in Neumuenster: the Germans seem unhappy, but at the same time they seem to go well - funny. Only towards the 22:00 I find my campsite. Thanks!
7:20 departure, slept well, Lütjesee reached at first, then finally Trittau after about 10km, from there to better signs, Grande and through the woods to Geesthacht, about 50Hm down there on the Elbe river bridge, and then side road to Lueneburg, whose early signs I missed, and I had to ask. Lueneburg to reach at noon, and push the bike through the center which is beautiful, I really liked the inner city. South leaving the city, Melbeck, then B4 bicycle trail to Uelzen, quickly through Holdenstedt, very bad signs for bicycles - simply inadequate. Through long forests, approximately 10-15km one section a forest on the B4, or bicycle trail mainly on the 3-4m away from the main street. After about 65km shortly before Gifhorn, and then divert off on B188 direction to Wolfsburg, where a mill museum can be seen - nice. It begins to rain, but I go further, because my goal is Oslos, shortly before Wolfsburg, and there I stay with my cousin. 19:15. Thanks!
Visit my grandmother (98 years old), aunt, uncle and more relatives.
Content: