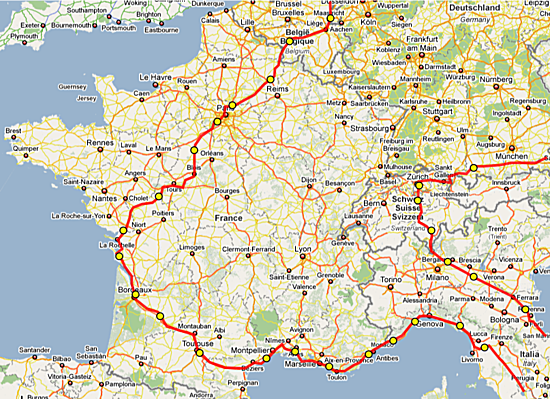 France
7:15 off, slept very well, feel fresh and full of energy. In St. Raphael talking my best friend and parents on the phone, 10:30, not going coast but N98 from Cogolin until shortly before Hyeres, very nice route, from the east slight uphill, then 100Hm downhill. Before Hyeres, I would like to approach Toulon slighly from north and detour, but miss the right intersection, and land in Pierrefeu, further to Cuers, and then from north to Toulon, but with 20km detour I think, but beautiful area. Generally, the country's interior off to the coast has wonderful nature. Toulon from the north through at 17:00. . . in full traffic through a city, not as chaotic as Rome, but also very hectic. Before 19:00 still buy food & beverage, then La Seyne, Sanary sur Mer, Bandol, and leaving to St. Cyr sur Merbiege I detour into the forest, my sleeping place. Thanks!
7:10 off, slept well, to La Ciotat, uphill slightly to Cassis, and climbing, and then steep downhill to Marseille, tiresome by bike with the pedestrians at the sidewalk, very slowly passing through the city this way, as on the main road no bicycles allowed. You can rent electric bicycles, great! But the bike paths are useless so. Direction to Vieux Port, then L'Estauqe careful to avoid to get on the highway, then it becomes N568, climbing to La Rove, shopping again, continue to Marignaue direction, but then towards Martigues, through the city to Port de Bouc, where nothing goes more, bicycles not allowed. I ask around, nobody knows how to get further with the bicycle, or they give me wrong information. The solution: reaching the beach, then holding at the right, if you see the damm turn right, and then left on the gravel road to Fos-sur-Mer. Once you reach the light signals there, no more bike ban, enough space on the side, but much faster traffic, reaching for Port St. Louis, continue on N268, a lot of heavy traffic, very fast traffic to container haven, then a peaceful traffic direction to Salin de Giraud, where about 3km before the ferry I find a place. 17:30, eat dinner, wash myself, Marseille and the other parts shows. 19:00 tent set up and go inside as the mosquitoes are the many! Thank you for the day and place!
Departure 7:00, in Salin I briefly shop (water and bread) - then passing the Camargue. At 8:30, I would like eat breakfast, but the mosquitos do not let me, so I eat bread while driving. I put later even my sunglasses on so that I no longer collect flies with my open eyes, so many flies there are. Large trucks pass me with 80km/h in the Camargue, unbelievable! Finally civilization back with shopping temples in Aigues Mortes. Riding via Le Grau du Roi to La Grande Motte, and there no go with bicycles to Palavas-Les Flots - but I should have ignored the bicycle ban, because I finally detoured to Lunel about 15km north. The village or town Lunel I liked, then via D24 to Mangnio and then via innumerable "Round Points" to Lattes, where 2-3 large roundabout give you the final choices, and I find myself on N612, based on my map of 2004 it doesn't exist, or it's the N112, fortunately bicycles are allowed, but the whole road more like a highway. Shortly before Sete the traffic stops, nobody passes me for more than 15min, then a special transporter with a broad asset and police motorbikes pass me, and all the jammed traffic reaches and passes me. Around Sete the right side, then left at sea with the long beach, where construction is underway - towards Adge. Half way to Adge, a bit off road behind bushes, where much waste lies around, on a clean spot I pitch my tent. Thanks!
Awake at 3:00, the wind is stronger, and shakes the tent, 4:00 so strong that I can not sleep. In the darkness I pack everything, tents taken down in the stormy wind, everything packed well, 4:40 drive away, dark, stormy wind sweeps on the coast road, had trouble keeping track. Few cars are so early on, perhaps 5 cars pass me until Adge. I ride highway-like road to Beziers, slight hilly to go there, through the sleepy town at 7:00 direction Narbonne until Carcassonne explicitly is listed, D5/D610. I have a tail wind, warm and moist wind. In Carcassonne it starts to rain, I wait briefly and then put on my rain jacket and trousers, after about 5km outside, I get headwind. The cloud slowly disappear and the sky opens the closer I get to Castelnaudry, ridding N113 with 4 lanes. After Beziege, I detour to the Canal du Midi and find asphalt road, going 2-3km until I find my site - let's see if I can camp here. A few cyclists come by and greet extremely friendly, 18:20. With about 192km (plus 2-3km not registered due heavy rain) and over 10 hours riding time I feel OK, not excessively tired, but enough for today. Thanks!
Depature at 8:00, a few rain drops, a few kilometres from Toulouse away, on the main road I face bicycle ban, so I return to the Canal du Midi, directly come into the city centre of Toulouse. I ride the N113, it starts to rain slightly, and then more - it pours, but the whole afternoon without improvement. I am thoroughly wet, some from sweat, some from rain. Shortly before Agen I go back on the Canal du Midi (or Canal de deux Mers), and under a bridge I wait and to eat dinner, 18:00. The rain gradually stops, I dry clothes as much I can. Later, I ride further only 500m and find a wonderful place, but it starts to rain again, so everything must go quickly - unfortunately. 21:30 in the tent. Thanks!
8:00 departure, in the night it didn't rain further, the wet clothes I hung in the tent, hoping my body heat would dry - not so. My Odlo shirt still moist and cold I pull over again, as well as the shorts. Both dry in the wind soon. It starts to rain slightly again, rain jacket and trousers still wet inside, getting cold, after 30min I get warm again. Agen I circumvent and then N113, with little traffic, very few trucks, recommended. Tonneins, Marmande, Langon, where I detour from the N113 and take direction to Cadillac, then the sky opens, fewer clouds and sunshine finally in the vineyards. Beautiful little town, 17:00 I am in Quinsac, driving shortly before Latresne, there on the bicycle trail to Bourdeaux, on the Garonne right-hand side along, and arrive on the right bank of the Garonne in Bourdeaux. 18:30 eat cereals at the Garonne. Further direction Ambes without realizing I would require to return again next day, but I would like to find a nice place on the Garonne to camp, after a few site seeing I find the place, and the most beautiful sunset I enjoy. Thanks!
8:00 departure, have not slept well and long, I'm still very tired and flabby. Riding back about 4 km to Ambaes, and finding the route to St. Andre de Cubzac and cross the Garonne, two more bridges I see (see photos). Before I turn St. Andre direction Bourg, a side road to Royan, along the coast, but I see very little of the coast, always a few kilometers away and are very hilly, with light rain, which begins at noon, this route is not so attractive. Little traffic, but little views to the Garonne or as Gironde reaching the sea. I arrive around 17:00 shortly before Royan, and turn into a small forest, find a dry place where I put up the clothes to dry and get warm again. I wait until 20:00 to pitch the tent, Thanks!
Content: