Updates
Sun, May 21, 2023
: Adding 3 days hike May 2023: Laufenburg - Brugg - Bonstetten .
Sat, May 6, 2023: Adding April 2023 & May 2023 trips: 4 days hike Airolo - Giornico and 3 days hike Liestal - Sempach .
Sat, January 14, 2023: Last trip 2022, first trip 2023 in one - 2 days hike trip Frick to Wohlen .
Some smaller hikes or riding tours:
2 Days Hike December 2022 / January 2023: Frick - Schinznach - Wohlen
3 Days Hike April 2023: Airolo - Giornico
3 Days Hike May 2023: Liestal - Hauenstein - Sempach
3 Days Hike May 2023: Laufenburg - Brugg - Bonstetten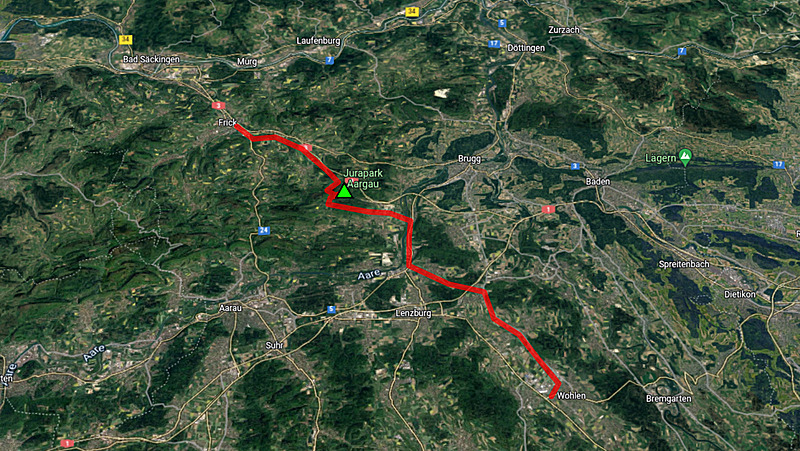 2 Days Hike: Frick - Schinznach - Wohlen (~35km)
The last hike in 2022 and first hike in 2023 starting in Frick, and over small hill ridge, and then briefly along the Aare and then direction Wohlen.
Once again I start in Frick around noon, a few distances:
Frick - Benkerjoch 3h
Frick - Staffelegg 3h 40m
Frick - Aarau 4h 35m
Frick - Gelterkinden 5h
Frick - Anwil 3h 20m
Frick - Laufenburg 3h 25m
Frick - Mettau 4h 5m
Frick - Koblenz 6h 55m
Frick - Siggenthal 6h 15m
Frick - Brugg 4h 45m
And hike along the highway and railway track partially near Boetzberg, and then between Effingen and Zeihen up the small hill toward Linnerberg - a special serene mystic location - on the Ibergflue I pitch my tent for tonight - it's rather warm 10C but windy. The forest looks dormant, it's still deep winter, and the sun stays low all day long still.
After my hike along the Jura ridge a couple of years ago, I began to appreciate the Jura ridge between Brugg and Geneva, incl. these small hills between Basel - Frick and Aare valley.
After a good sleep, yet windy night I leave at 8:15 and descend slowly to sleepy Schinznach Dorf, and walk toward the Aare river, and cross it at Wildegg - a beautiful scenery with the low sun barely over the horizon.
I follow the small river Buenz and reach Othmarsingen, from there toward Dottikon and finally Wohlen, where this brief New Year hike ends.
That's it.
Content: