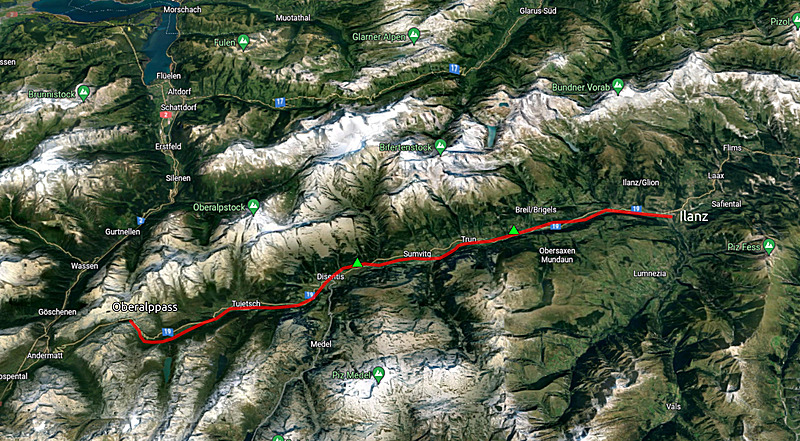 3 Days Hike: Oberalppass - Disentis - Ilanz
A mild weekend has approached, and I decided to hike part of the Vorderrhein starting at Oberalppass and try to reach as far I can eastward.
I arrive at the Oberalppass ~10:00 by train, and a great view and a warm wind awaits me at 2000m elevation. I descend slowly the valley eastward, the "Vorderrhein" valley. The lower I get, the cooler it gets due the shadow within the valley. I reached Sedrun (1406m) and continue to Disentis and a bit outside further near Disla I find a nice spot to pitch my tent. The street and the train tracks are nearby, but there is also various brooks entering the main rhein river, so there is some nice white noise of the water, but also some street noise nearby.
After good sleep, the sun reaches the tent late, 9:30 I get up and pack my things and continue - reaching Surrein, a nice small village residing aside of the Rhein river, flat meadow (usually villages reside on the slope of mountains in this region). Today I go shorter than expected, and after Zignau near Flantuosch I find a nice spot, though I expect very late sun next day - again some street noise and train track nearby - a side-effect of hiking in the valley floor.
Good sleep nevertheless - the tent is wet inside the rain cover (but not inside interior tent), outside just a few drops, it's apprx. 8-10°C and I pack my things and warm myself up - the sky is blue with a few white clouds, in the shadow of the mountains the temperature is around 12-15°C even around noon, whereas in the sun it's easily over 20°C - around 13:30 I reach Ilanz, where this hike ends - the temperature is well above 20°C - incredible for October.
That's it.
(End of Article)
Content: