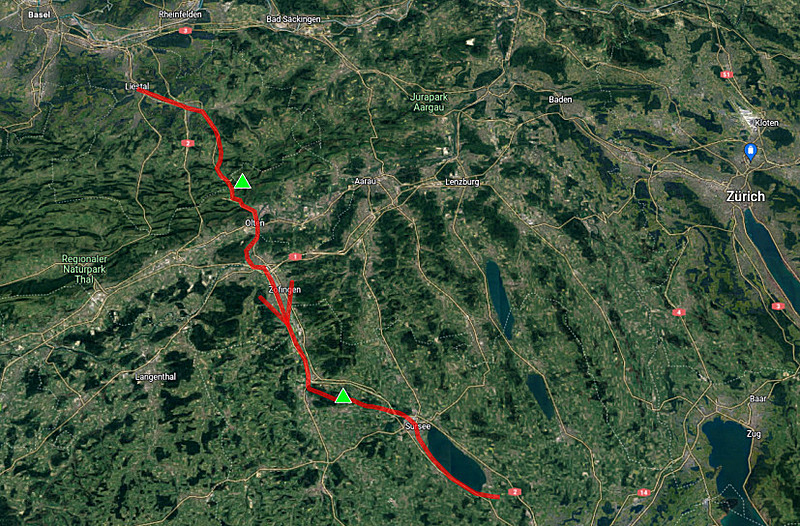 3 Days Hike: Liestal - Hauenstein - Sempach (~65km)
Another segment of the trail no 7 from Basel to Chiasso, this time the part in the north, I skip one day segment from Basel to Liestal, and started in Liestal.
Some distances from Liestal:
Liestal - Sissach 2h 5m
Liestal - Belchenflue 6h 10m
Liestal - Rheinfelden 4h 25m
Liestal - Murenberg 1h 55m
Liestal - Reigoldswil 4h 30m
Liestal - Wasserfallen 6h 10m
Liestal - Kaiseraugst 3h
Liestal - Magden 3h 15m
Liestal - Bueren 1h 55m
Liestal - Dornach 4h 45m
Liestal - Passwang 6h 30m
Liestal - Aesch 5h
Liestal - Basel SBB 5h 20m
Liestal - Dornach (Alternative) 3h 35m
Liestal - Frenkendorf 3h 10m
Liestal - Pratteln 2h
Liestal - Gempen 2h 40m
The trail goes through small villages, more urban than nature (didn't take so many photos of the urban part) like Sissach, and entering Homburgertal with Ruemlingen, Laeufelfingen, and eventually reached the Hauenstein 690m.
Some distances from Laeufelfingen:
Laeufelfingen - Kienberg 4h 10m
Laeufelfingen - Wisenberg 1h 30m
Laeufelfingen - Bad Ramsach 1h 10m
Laeufelfingen - Sissach 3h
Laeufelfingen - Wisen 2h 10m
Laeufelfingen - Olten 4h 10m
Just before I descended from Hauenstein village, I tried to climb on one of the boulders of Hauenstein, and on a small spot of just 10m2 I pitched the tent for tonight, with a great view down to Olten and on the side going down 20-30m.
Good night sleep, leaving 8:30 and descending Trimbach and then Olten, along the Aare river and reaching Aarburg, and from there navigating through urban Oftringen and Zofingen, where one of the busiest highway are routed through. I knew this could become a challenging day, as I wasn't sure how far I would hike and the day was sunny and getting warm to 23C eventually, more in the direct sun. Eventually I ended up reaching Dagmarsellen, quite tired already but I knew I would have to ascend to Santeberg with its forest to find a good place to pitch the tent, so I ended up another 1hr until I found a good place.
Good night sleep, very silent through the night - and in the morning being woken up by bird songs - so I continued 8:30 to Sursee (no photos) and then along the Sempacher See / Lake and eventually reached Sempacher Station, where this hike ended 15:00.
Some distances from Sursee:
Sursee - Schoetz 2h 40
Sursee - Nebikon 3h 10m
Sursee - Dagmarsellen 3h 35m
Sursee - Grosswangen 2h 15m
Sursee - Willisau 3h 45m
Sursee - Ettiswil 2h 45m
Sursee - Wauwil 2h 15m
Sursee - Beromuenster 2h 25m
Sursee - Rickenbach 2h 35m
Sursee - Menziken 2h 35m
Sursee - Bueron 2h
Sursee - Schoeftland 5h 40m
Sursee - Triegnen 2h 15m
Sursee - Sempach 2h 25m
Sursee - Hildisrieden 3h
Sursee - Rothenburg 4h 35m
Sursee - Zofingen 6h
Sursee - Reiden 4h
The pre-alp region with soft hills are nice to hike in spring time, while the higher regions of the alps still are covered by snow, and some of the passes like St. Gotthard still closed.
That's it.
Content: