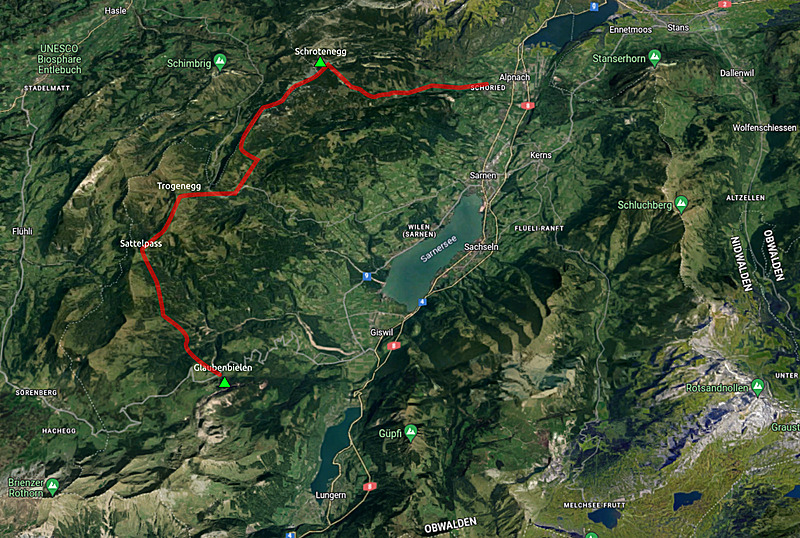 2 Days Hike: Glaubenbielen - Glaubenberg - Alpnach Schoried
The opportunity arose again to hike for 2-3 days, and I started late Saturday to ride with train and bus up to Glaubenbielen.
Arriving 17:00 at Glaubenbielen 1566m, some distances:
Glaubenbielen - Sattelpass 2h 10m / 3h (ridge route)
Glaubenbielen - Langis 4h
Glaubenbielen - Looegg 2h 25min
Glaubenbielen - Soerenberg 1h 20m
Glaubenbielen - Fluonalp 2h 25m
Glaubenbielen - Moerlialp 1h 40m / 4h 15m
Glaubenbielen - Giswil 4h 10m
Glaubenbielen - Rothorn 4h 20m
Then I just hike for a few mins nearby to find a good spot for pitching my tent for the first night.
After a good night sleep, leaving 8:45 and hike toward Sattelpass, ascend then to Trogenegg at 1820m with a great view:
And then descending into Glaubenberg 1543m and then Langis, some distances:
Langis - Sattelpass 2h 10m
Langis - Glaubenbielen 4h
Langis - Staedeli 2h 25m
Langis - Fluehli 4h
Langis - Looegg 2h 45m
Langis - Soerenberg 5h 15m
Langis - Fuerstein 2h 25m
Langis - Horweli 2h 10m
Langis - Alpnach 4h 45m
Langis - Egg 1h 20m
Langis - Stalden 3h 10m
Langis - Jaenzi 2h
Langis - Sarnen 4h 40m
Langis - Schlierengrat 2h
Langis - Luetholdsmatt 4h 30m
Langis - Waengen 4h 10m
Langis - Pilatus 7h 45m
Langis - Miesenstock 3h
Langis - Gerlismatt 3h 10m
Langis - Kaegiswil 5h
Langis - Giswil 3h 15m
Langis - Sattelpass 4h
Then detour a bit to Schwendi Klatbad, and ascend again on the Schlierengrat, a foresty ridge hike with little view on the sides.
Eventually reach Schrotenegg where I find a small spot to pitch my tent - was a long day with 8hrs hiking.
Some distances:
Schrotenegg - Alpnach 3h 10m
Schrotenegg - Waengen 1h 25m
Schrotenegg - Pilatus 5h 10m
Schrotenegg - Bruederen 1h 15m
Schrotenegg - Gfellen 1h 35m
Schrotenegg - Langis 2h 35m
After good sleep awake around 7:00 and starting descend about 7:30 toward Alpnach, beautiful foresty valley slowly descending to Alpnach Schoried, where I arrive 10:30, and from there take the bus again and train back home.
That's it.
Content: