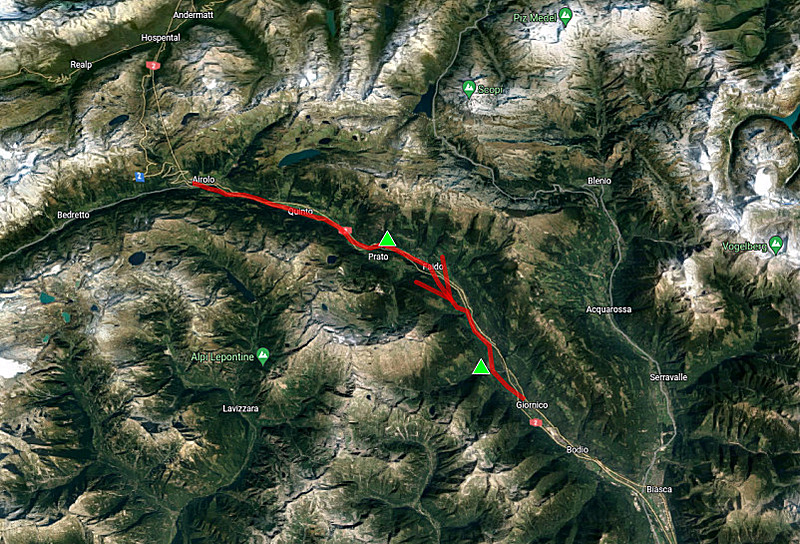 4 Days Hike: Airolo - Giornico (~32km)
So this is part of the trail no 7 from Basel to Chiasso, and as the pass of St. Gotthard is still closed, I thought to take advantage of 2-3 days of warm weather in the south to hike the segment from Airolo to Biasca.
I started at Airolo, a nice region, but the industry and extensive highway bridges make this spot look very urban, kind of "ugly" human made, in an otherwise beautiful scenery. As part of the path was closed, I had to detour for 30min first west before reaching the other side of the highway and going south east down the Leventina valley, mild sunny weather, ideal for hiking. Before Faido I found a nice spot to pitch my tent.
Leaving 8:30 and reaching Faido soon at 10:00, and continue down at the valley further, eventually reaching Chironico 200m higher elevated than the valley base, and prepared myself for the next day rain.
As the rain started in early morning, it pretty much rained through the entire day until next day - rest day. More rain until 11:00, it rained all of yesterday and most of the morning, and the tent leaked . . . one part due my own error, as the wind unleashed one coord at the bottom at my feet, and the outer cover touched the inside tent, and so at my feet water collected inside the tent (3Fulgear LanShan 2021 2P, pitched with the walking sticks); but also at my head the rain water leaked, and I suspect it was the patch where the cord is attached to pull the tent face away, those stitches leak rain water at sustaining rain (a couple of hours). So this is very disappointing, a 1-2 hrs rain won't affect the inside of the tent, but 1 day of rain will leak rain water inside the tent - this is bad. I certaintly going to seam-seal some of the places where threads are exposed on the rain cover and try again.
So I cut this segment a bit shorter, and ended the hike in Giornico, and from there took the bus to Bodio and then train back to Zug.
That's it.
Content: