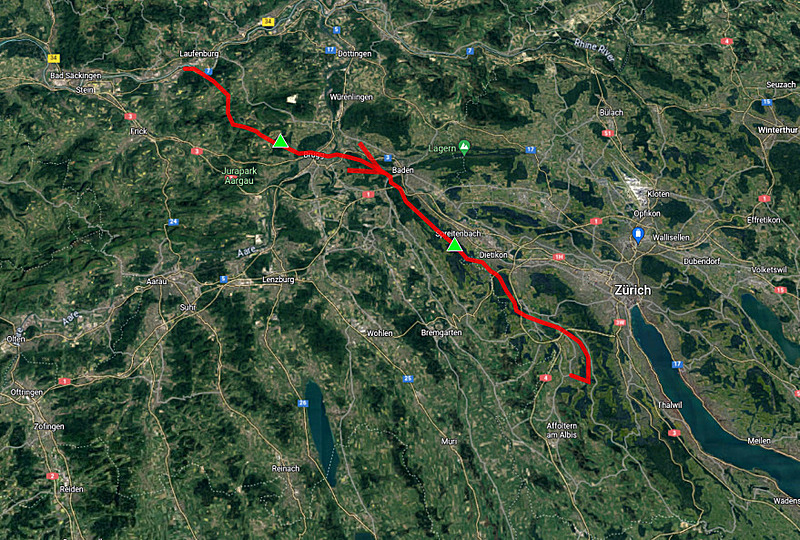 3 Days Hike: Laufenburg - Brugg - Baden - Birmensdorf - Bonstetten (~64km)
After rainy days for a couple of weeks, finally some dry days to hike, and I thought to explore the region around Laufenburg and Brugg, as it's a section I didn't know yet.
Starting at the rhine river at Laufenburg (CH), making the border Germany and Switzerland - there is a Laufenburg (Germany) and Laufenburg (Switzerland).
Some distances:
Laufenburg - Koblenz 5h 10m
Laufenburg - Stein-Saeckingen 2h 40m
Laufenburg - Brugg 5h 15m
Laufenburg - Hornussen 3h 15m
Laufenburg - Frick 3h 15m
Laufenburg - Eiken 2h 50m
Quickly ascending and hiking along low ridge mostly in the forest - sunny yet windy. Beautiful scenery, low hilly, kind of beginning of the Jura ridge which follows westward.
Early rest near Riniken in the forest, using a new tent Naturehike Cloud Up 2 as the Lanshan 2021 2P disappointed on the hike in Ticino a couple of weeks ago. The Cloud Up 2 is a 2 person self-standing tent apprx. 1.8kg, but rather a single person with some extra space - let's see how it performs.
Good night sleep, and starting late at 10:00, descending into Riniken and shortly entering the old town of Brugg and along the Aara river a bit and then entering the forest again toward Baden.
Some distances:
Brugg - Staffelegg: 4h 10m
Brugg - Laufenburg: 5h 10m
Brugg - Mandach: 3h
Brugg - Leibstadt: 4h 20m
Brugg - Beznau: 2h 20m
Brugg - Koblenz: 4h 20m
I detour Baden slightly as I have no need to enter the city, and ascend again into the forest again and before exiting the forest I find a nice spot to pitch the tent again, near Oberrohrdorf. Most of the day overcast, and northwind again all day long - it doesn't feel like spring time but rather late winter days, and it's May already, strange weather, the weeks before and these days now.
Good sleep, still chilly in the morning, wind picks up, overcast again - entering Birmensdorf and continue a bit further until Bonstetten, where this hike ends.
The Naturehike Cloud Up 2 tent performed OK (no lasting rain test yet done), it's easy to pitch, comes with footprint, the self-standing feature I like (no walking sticks needed), but only has one opening at the top end where the head rests, so positioning the tent slope and windwise can become tricky, whereas tents with two entries make it easier.
Tents I used the past years:
Marmot 2P Vapor (3kg): very comfortable, but heavy, self-standing, endures lasting rain and storm, used riding with bicycle, but also for hike (not recommended as too heavy): reliable
LanShan 2021 1P (1kg): very simple, light, very small, backpack fits into the tent though, single walking stick required to pitch: good for short hikes
LanShan 2021 2P (1.5kg): lightweight, requires 2 walking sticks, not fit for lasting rain (leaks easily when rain cover touches inner net)
Naturehike Cloud Up 2 (1.8kg): lightweight, easy and fast to pitch, self-standing (no walking sticks), no lasting rain review yet
That's it.
Content: