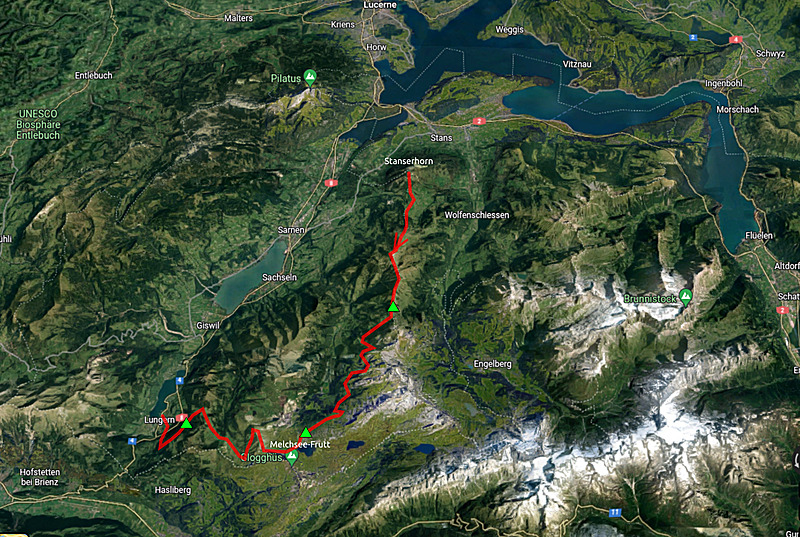 4 Days Hike: Stanserhorn - Melchsee-Frutt - Lungern
After the train arriving in Stans, with a small steep train car to Kalti, and from there via cable car "Cabrio" up to the Stanserhorn 1842m.
Some distances:
Stanserhorn - Ennetmoos 3h 10m
Stanserhorn - Stans 2h 45m / 3h 35m
Stanserhorn - Bueren 4h
Stanserhorn - Dallenwil 3h
Stanserhorn - Wirzweli 2h 15m / 3h 40m
Stanserhorn - Kerns 3h 20m
Stanserhorn - Arvigrat 3h 10m
Stanserhorn - Graefimattstand 4h 10m
A brief flat before descending to 1500m, when I meet a young couple also hiking toward Melchsee-Frutt, their first hike with the tent.
Some distances:
Ober Holzwang - Stanserhorn 1h 35m (going back again)
Ober Holzwang - Storeggpass 4h 40m (our route)
Ober Holzwang - Melchsee-Frutt 9h 25m
We hike together, ascending Graefimattnollen 2049m with a great view:
Some distances:
Graefimattstand - Kerns 3h 10m
Graefimattstand - Stanserhorn 3h 45m (going back again)
Graefimattstand - Grafenort 3h 30m
Graefimattstand - Storeggpass 1h 45m
Graefimattstand - Eggen 2h 25m
Graefimattstand - Melchsee-Frutt 6h 25m
Continuing to Schluchberg at 2106m - the highest peak for today, the sky is still overcast and very windy. Eventually reaching Wagenleis, a very difficult passage to hike through, no walking sticks coming into the way, no photos either, but actually using both hands to climb for apprx. 30m - ropes help, but with heavy backpack this is challenging, the backpack hardly allows to go through some steep and narrow passages. Afterwards again easier, and a nice meadow to camp, but we decide to continue together near Storeggpass, where we pitch our tents on the small spot.
Yesterday was a long day, and more demanding than expected, so a good sleep was required; my hiking comrades didn't sleep so well, but we decided to continue. Blue sky and almost no clouds anymore - ideal hiking weather.
Some distances:
Storeggpass - Grafenort 2h 20m
Storeggpass - Oberalp 3h 15m
Storeggpass - Wizweli 4h 10m
Storeggpass - Stanserhorn 5h 45m
Storeggpass - Wiesenberg 5h 20m
Storeggpass - Melchsee-Frutt 4h 40m
After apprx. 1hr hike, the couple decided to pitch their tent and insert a restday, whereas I continued. The route was slow, meaning, uneven path, either big stones or soft underground from the cow herdes, eventually reached Unter- and then Oberstaffel, and a bit further I found a nice spot to pitch the tent.
Some distances:
Ober Bettenalp - Storeggpass 3h 45m
Ober Bettenalp - Stanserhorn 9h 30m
Ober Bettenalp - Stoeckalp 3h 30m
Ober Bettenalp - Melchsee-Frutt 55m
After a good sleep, further reaching touristic Melchsee-Frutt, almost like a village with hotels and shops.
Some distances:
Melchsee-Frutt - Tannalp 3h
Melchsee-Frutt - Abgeschuetz 1h 30m
Melchsee-Frutt - Aelggi 2h 50m
Melchsee-Frutt - Kaeserstatt 4h 10m
Melchsee-Frutt - Lungern 5h 15m
Melchsee-Frutt - Hasliberg 5h 10m
Melchsee-Frutt - Chlisterli 4h 15m
Melchsee-Frutt - Stoeckalp 4h 50m
I continued ascending to Abgschuetz 2229m, and was greeted with an incredible view west- and east-ward. A steep descending to Rainhuette, and a mild ascend Huettstett at 1739m, I continued further to Schild and its meadow Schildboden 1582m, where I found a nice spot again surrounded by small and big yellow boletus / porcinis (Steinpilze).
I inserted a restday, also to plan next hike as a follow-up of this one, but the weather situation changed to south-west winds and thunderstorm, and this morning I was greeted by rain until ~10:00. Thunderstorms approached late afternoon, with dark almost black clouds, early night the thunder was only to be heard from the distance.
The restday was good, and I decided to end the hike here, and descend to Bruenig or Lungern, and eventually went to Lungern, through shadowy, moist forest - arriving at Lungern trainstation 12:00 where this hike ends.
While descending to Lungern, I noticed a passage where trees were growing on rocks, and in a way one could see the roots on top of the rock which otherwise would be in the ground - an incredible sight of adaption to circumstances or the ground (to be).
That's it.
Content: