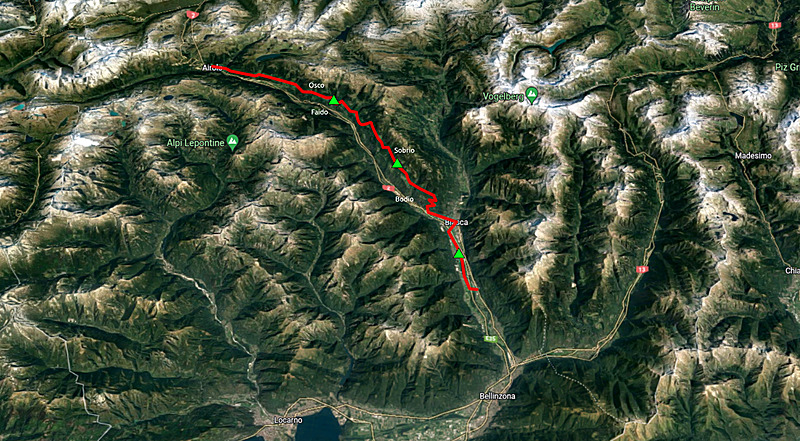 4 Days Hike: Strada Alta (Airolo - Biasca - )
Departing from Airolo 9:15, mild & sunny, starting the "Strada Alta", a hiking path along the slope of the Leventina valley at 1400m elevation - mostly in the forest providing a nice shadow. Altanca, Deggio, Lurengo - each of the small villages having public drinkable water fountains - nice, less water to carry through the day. Later in the afternoon I approach Osco and a bit outside, in the forest I find a nice spot to pitch the tent.
After good sleep, starting 9:15 again, one small village follows the other, with forests in between, not entirely flat path but 50-100Hm up and down: Calpiogna, Rossura, Tengia, Calonico, Anzonico, and I decide to continue a bit more to Cavagnago, and before reaching Sobrio I find a nice spot again.
Mild night, good sleep and reaching Sobrio quickly (no photos), and continue the Strada Alta - previously the path looked more or less patched together hiking trails, now it looks like a old street and actually one of the most beautiful passages of the Strada Alta, the descend to Biasca, rocky and steep slopes through the forest, slowly descending to Biasca - where the Strada Alta ends, I shop some food in Biasca and continue a bit south near Lodrino and Cresciano - quite exhausted pitching my tent near the Ticino river (no photos).
Today I would insert a restday, but it's also the last day of the hike, so I cut this day short and end the end hike at Cresciano and take the bus to Castione (near Bellinzona) and from there train back to Zug. It has been late of September, but it felt like summer - ideal for hiking in the alps.
That's it.
Content: