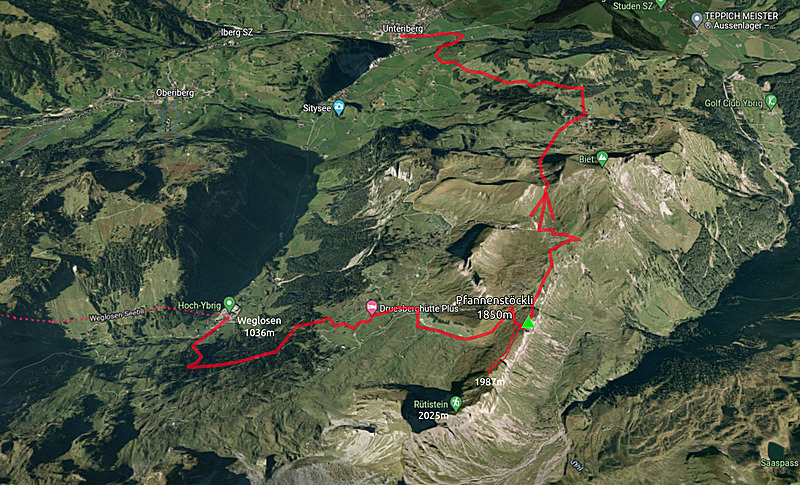 2 Days Hike: Weglosen - Pfannenstöckli - Unteriberg
I took the train to Einsiedeln and then the bus to Weglosen (end station) where the hike starts, 9:10, reaching Druesberghütte 10:30, a brief talk with a couple where he is about paragliding nearby and exchange some of the longer trips. 11:00 I continue toward Pfannenstöckli, where I arrive ~12:00 and decide to stay for now.
Exploring what's close by . . .
I spend the afternoon nearby, and hike briefly a bit up to 1980m elevation near Rütistein . . .
Back at my place for tonight . . .
Evening and sunset approaching . . .
As the sun set, the air cools off quickly - all day was "bise" (cold wind from north/north-east) and now without sun shine and clear sky the temperature falls in minutes from comfortable 15°C to below 10°C.
That was a cold night, apprx. 5°C with wind, perhaps more but the windchill made it feel really cold for a summer night, even though I was ~1850m elevation, my toes really felt like close to freezing. The moment the sun reaches my sleeping bag - I did not pitch the tent but spent the night almost completely closed sleeping bag - all the water drops on the sleeping bag and my shoes vanish, the temperature rises quickly to 15°C again - what a contrast.
Once I reached Unteriberg (917m) the hike ends, early around 13:30 after 950m descending.
Content: