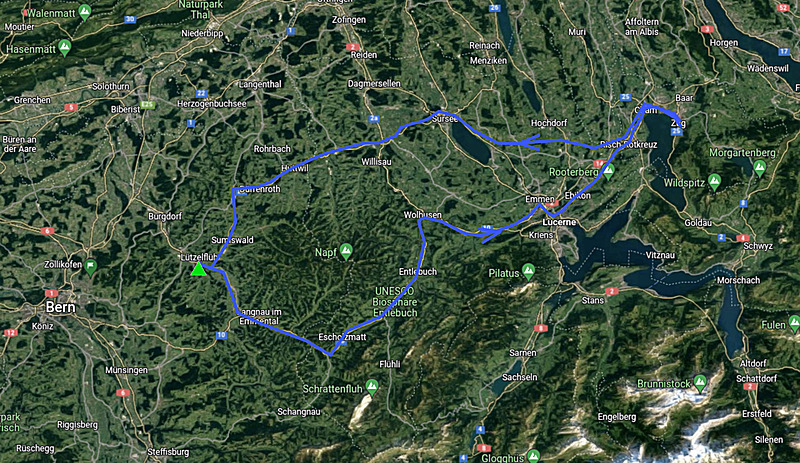 2 Days Ride: Zug - Sursee - Huttwil - Lützelflüh - Langnau i. E. - Wolhusen - Lucerne - Zug
Just taking my recumbent and riding a short 2 days tour around the Napf.
I left late, around 10:30 from Zug, shopping for the tour briefly, and clean the recumbent at the car washing station, as the dirt and dust on the bicycle had to go. About 11:00 headed to Cham, Rotkreuz, Gisikon where I cross the Reuss and head to Inwil, Eschenbach, slightly hilly toward Rain and on official bicycle trail toward Sursee at the end of the Sempacher lake. Continue Mauensee, Ettiswil and Gettnau (north of Willisau), Huttwil (16:00), Dürrenroth, Sumiswald and reach where the Dürrbach enters the Emme river. Nearby, in the forest, I find a spot for tonight, nicely shady and cooler - resting early. During the night rain start to pour - suprisingly for several hours.
I sleep long, due the thick forest the sun's brightness is soothed, about 9:00 I start to pack. 9:45 departure and riding along the official bicycle trail slightly detouring toward Langnau im Emmental, Trubschachen, Wiggen and at Escholzmatt (11:30) I stop for lunch. Further toward Hasle, Entlebuch and a bit steeper down to Wolhusen, the sun is back strong and the last night rain clouds dissolve. Nearly flat toward Malters and I follow bicycle signs toward Emmen, and into the city of Lucerne and continue along the Reuss river through long stretching forest until Root, and quickly toward Rotkreuz, Cham and Zug again, where I arrive around 16:00.
The heavier (~2.5kg) Marmot Vapor 2P tent is spacious, and I appreciate it - trying out new inflatable mattress, with built-in inflator, which does great when laying on, but when weight occupies little space like when sitting, the mattress becomes thin to zero thickness, kind of inmature state of product.
The first day I ride along the path which I hiked last year, and I realized how little I see, how the velocity of 15-25km/h let's me miss so much, along with the perspective provided of the street view, instead of a hiking trail. Never before the contrast has been so intense to see hiking vs riding - I made 87km the first day, which is over 4 days of hiking. Also, while in motion with the recumbent I took far less photos . . .
That's it.
Content: