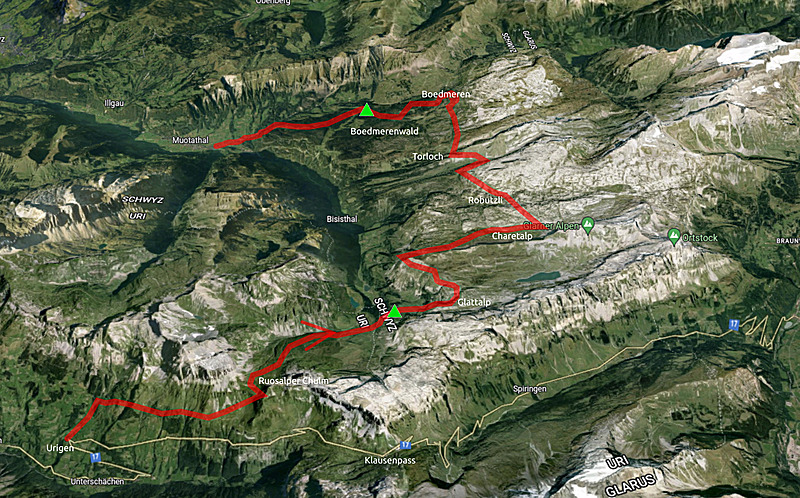 3 Days Hike: Urigen - Glattalp - Boedmeren - Muotathal
This is an interactive (zoomable) map of the hike - click on logo right upper corner to get elevation map
After 1-2 weeks high temperatures in Switzerland, over 30°C - which is quite unusual (climate change) - it seemed an opportunity to explore higher regions of the alps a bit earlier. I wanted to revisit Klausenpass (1947m) again, and try to stay between 1500 - 2000m elevation without much descending, and the planned route almost was able to stay within this range.
I arrived at Urigen with Postauto (1281m) and hiking steep uphill to 1730m until Heidmanegg, and then uphill slightly toward Ruosalper Chulm (2177m), the clouds get denser, the blue sky and the sun covered up - temperature drops and winds increase.
On the northern slope - entering the Bisithal with Muota river thereby - a wide and 200-300m long snow belt, down to ~2000m elevation, then very wet meadow until ~1800m elevation when green meadow starts - Ober Stafel and Unter Stafel and toward Vorderrist Nissegg, Laecki, where I find a place to pitch the tent.
8:00 awake after a good sleep, the sun comes through, still some high fog based clouds hovering around. ~9:00 I leave, steep uphill toward Glattalp where I arrive around 10:20. I choose to walk around the Pfaff mountain to reduce the change of wide snow patches, but as I arrive at Milchblaetz and Riefboeden, it's full of snow patches and it slows me down, but the scenery is absolutely stunning.
Close to Charetalphuettli (1860m) I hike Inneren Streipfen, and reach Robutzli, further to Geitenberg.
Then descend very steep with loose stones toward Raetschental and Hintereste Huetten (1584m), where the next steep ascend comes toward Torloch (1764m), a gap between two boulders - impressive and unique pass. Eventually reach Torstoeckli and taking the right-hand path passing Spitzibueel, and Oberist Huetten.
The weather forecast shows temperature drop and rain until noon the next day, so I decide to cut this hike one day shorter, and descend via Roggenstoeckli (1708m) and Staegen (1504m), through beautiful Urwald (loosely translated as "virgin forest" or "old-growth forest") - one of the oldest forests in Europe - and short before Gschwaendhuette (1430m) I find a dry patch where I can pitch my tent aside of the trail around 19:30. A very long day, and I feel very exhausted after nearly 9hrs hiking today.
Sidenote: once I reached different stone formations - karstic formations to be precise - there are no small streams of water anymore, the water simply sinks into the ground - hardly a place to refill the water bottles; from plenty water sources in the morning, to water scarcity in the afternoon - one really needs to observe nature closely.
Sometime after midnight rains start to dribble on the tent, and last until 9:00 - when it slowly fades. I pack the wet tent, and descend further through the "Boedmerewald" - just a beautiful forest - via Plaetsch (1413m), Mittlist Weid (1220m), Ober- and Unterfedli (1014m), and then walk on asphalt near Hoellloch (720m), and reach Muotothal village (650m), where this hike ends just around noon.
That's it.
Content: