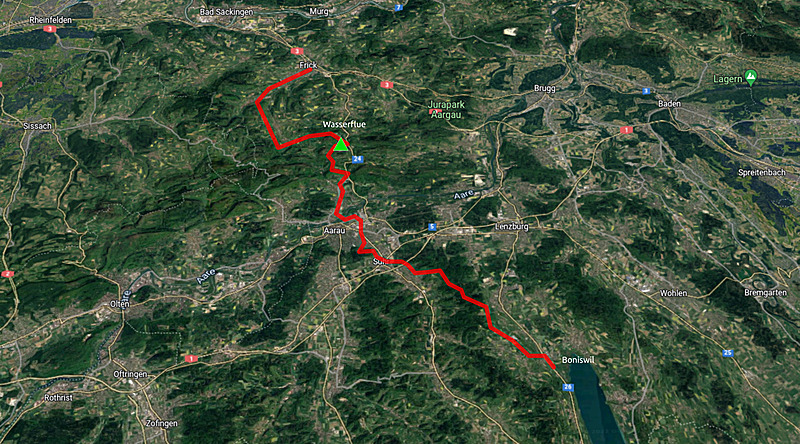 Frick - Wasserflue - Aarau - Boniswil
This is an interactive (zoomable) map of the hike - click on logo right upper corner to get elevation map
This small hike is somewhat a continuation of last week hike, this time starting in Frick and hiking toward Salhöhe and then Wasserflue - slight overcast of yesterday's rain fall. I take the train to Frick (12:00)
Some distances:
Frick - Laufenburg 3h 25m
Frick - Mettau 4h 5m
Frick - Koblenz 6h 55m
Frick - Siggenthal 6h 15m
Frick - Brugg 4h 45m
Frick - Bänkerjoch 3h
Frick - Staffelegg 4h 40m
Frick - Aarau 4h 35m (the one I take)
Frick - Gelterkinden 5h
Frick - Anwil 3h 20m
and start to walk through the small village toward Wittnau,
Some more distances:
Wittnau - Effingen 4h 10m
Wittnau - Salhöhe 2h 40m (the one I take)
Wittnau - Rothenfluh 2h 45m
Wittnau - Mumpf 4h
Wittnau - Stein-Säckingen 3h 10m
where I walk the hike trail #42 toward Salhöhe / Aarau, around 15:15 I reach Wasserflue, a small ridge of apprx. 800m elevation. As there is little space to pitch the tent, I descend from the ridge toward Wilenberg, where I find a bench, fireplace, and a small spot flat enough to pitch the tent for tonight (18:00). Was an easy hike, yet, I drank 3l water just on those ~5hrs hike, with mild 25°C and slightly overcast, and in the distance thunder but rain did not approach me this evening.
There is a particular moment, when the sun shines through the forest creating high contrast patterns on the ground - otherwordly:
Continue on the Wasserflue ridge, passing the large broadcasting tower and thanked then with a great view over Fricktal, and Aarau and Mittelland in the south:
Windy night, every 20mins or so some strong gusts which woke me up - great view near the ridge, but also exposed to the winds going from and to the flat land and the ridges. 7:00 awake, at 8:00 I pack and depart, and slowly descend toward Aarau (10:00),
Some distances:
Aarau - Lenzburg 3h 40m
Aarau - Dürrenäsch 3h 50m (the one I take)
Aarau - Homberg 6h
Aarau - Reinach 6h 50m
Aarau - Schöftland 3h 40m
Aarau - Zofingen 4h 30m
Aarau - Olten 4h 30m
Aarau - Aarburg 4h 40m
and further to Suhr, Gränichen, and then uphill toward Dürrenäsch, mostly through forest which is nice - the sky is still overcast but slowly opening. I decide to keep today shorter, and descend to Boniswil (14:45), where this hike ends - from there I take the train back to Zug (via Lenzburg - Rotkreuz).
That's it.
Content: