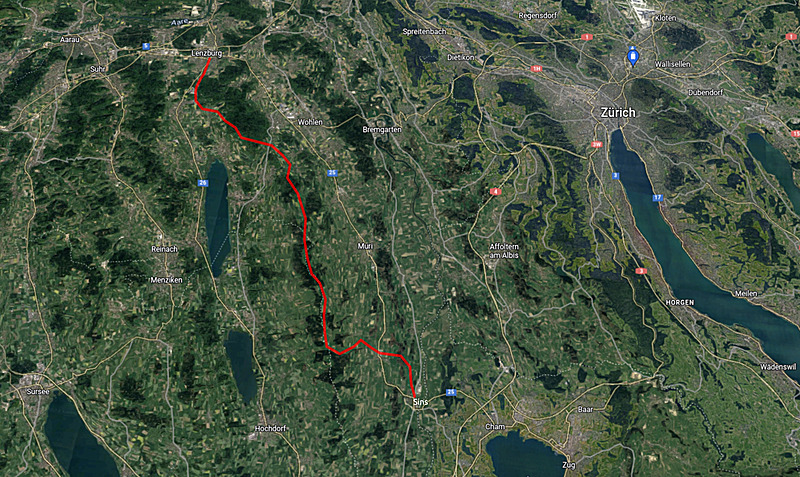 Lenzburg - Sins (~30km)
This is an interactive (zoomable) map of the hike - click on logo right upper corner to get elevation map
I decided to walk a single day from Lenzburg - a place I once lived - and hike toward lake of Zug and see how far I get in 7-8 hrs, with a lightweight backpack with some snacks and 1.5L water bottle.
Some distances:
Lenzburg - Brugg 4h 10m
Lenzburg - Staffelegg 3h 15m
Lenzburg - Aarau 3h
Lenzburg - Zofingen 7h 20m
Lenzburg - Schöftland 4h 40m
Lenzburg - Aarau 4h (alternate route)
Lenzburg - Wohlen 3h 20m
Lenzburg - Homberg 4h 50m
Lenzburg - Beinwil am See 5h 30m
Lenzburg - Villmerggen 3h 15m
From the Lenzburg (397m) train station (9:00) then along the Aabach upstream, at Egliswil into the forest, Eichberg, Sarmenstorf, and up into the forest above Schongau along the ridge, Lindenberg (854m), Horben (818m) and then descend Auw and Sins (17:35) at 410m: 8h 30m hike, apprx. 30km. Along the hike, sufficient public water fountains to refill the water bottle, and walking half of the time in the forest was very nice.
That's it.
(End of Article)
Content: