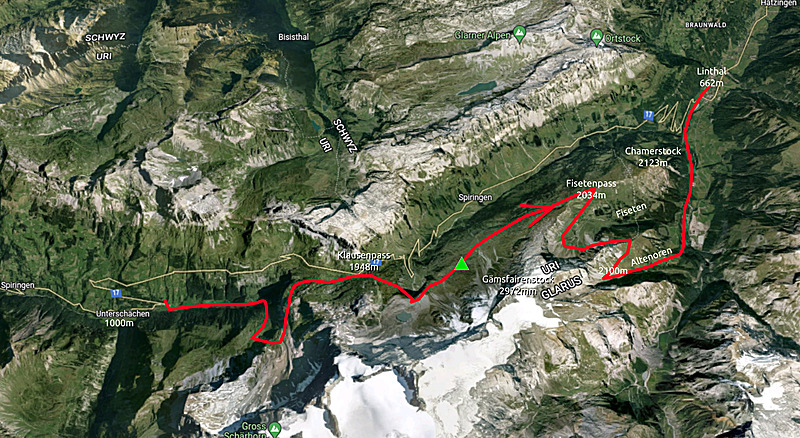 2 Days Hike: Unterschächen - Klausenpass - Fisetenpass - Linthal
This is an interactive (zoomable) map of the hike - click on logo right upper corner to get elevation map
Revisiting Klausenpass region, from Unterschächen over to Klausenpass and then Fisetenpass and descending 1500mm down to 662m at Linthal.
Taking the bus to Unterschächen Hältikehr, and from there start the hike, slowly descending, partially in the shade, passing by the impressive Stäubenfälle/falls, ascending toward Hütten with is small ponds, and continue ascending Chammli (2054m) and sligtly descending toward Klausenpass at 1947m.
Ascending toward Im Griess, a moon-like landscape with just stones, almost no vegetation. The river is grey with sediments, I continue to Griessbödemli and Follen, an uneven meadow with stones - where I pitch my tent 18:30. I scout for another water source to fill the 2nd bottle for tomorrow morning, eventually 19:00 lay on my mattress for an early sleep.
Good sleep, a bit windy during the nights, brief gusts, mild temperature at ~2000m elevation (apprx. 8-10C), pack the tent and my stuff, and depart at 8:00 - further toward Fisetenpass at 2033m - I quickly look up weather forecast and it states tomorrow morning 8:00 rain all day long, so I decide not to stay another night, but make it a 2 day hike only - descending toward Fiseten valley, like a dish or spoon shape, impressive scenery - at Malor (2037m) ridge again entering the next valley, toward Geisstein (2100m) - the Claridenhütte would be at 2451m, but I skip it - ascending 400Hm and descending again would be too much, as I have a descend of 1500Hm ahead of me:
Descending the valley of Altenoren, Wangen (1502m), Helloch, Chäsboden (1336m), all small farms - and then steep through the forest near Reitimatt, Laueli, and eventually Linthal at 662m - a long descend. At 16:00 my hike end, and I step into the train to the way home.
The 1500Hm descending took me 3.5hrs from Geisstein (2100m) to Linthal (662m), apprx. 1 hrs for 500Hm.
Content: