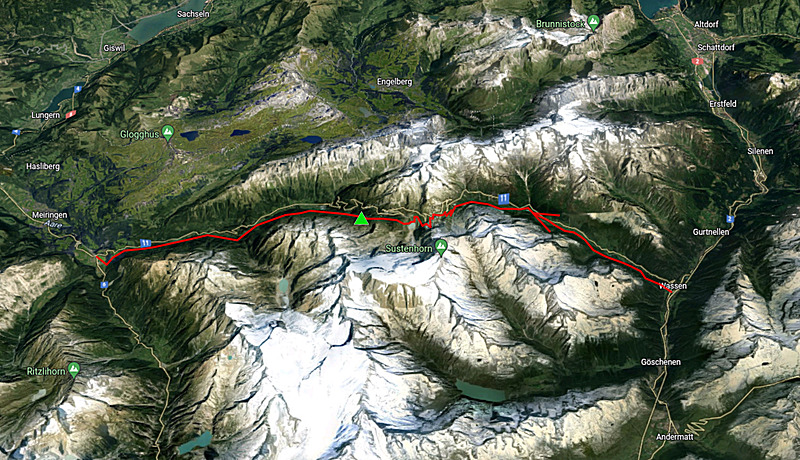 2 Days Hike: Wassen - Sustenpass - Innertkirchen
This is an interactive (zoomable) map of the hike - click on logo right upper corner to get elevation map
Arriving 9:00 in Wassen (915m) by bus coming from Flühlen, mild ascending into the long stretched valley Meiental along the Meienreuss river. Husen (1163m), Meien (1274m), Färnigen (1454m) and going around at Hinterfeldboden, and then steeper ascend (1764m) toward the Sustenpass (2223m) about 14:00, 5 hours ascend, with 20min break to eat breakfast.
As the morning passes by, the cold wind and higher elevation cools the wind further - instead to get warmer with the sun, it cools off.
As I descend from the pass, I look for a good spot to pitch my tent, but I seek a lower place with more mild temperature for tonight. Unfortunately, the prefered location "In Miseren" is nature reservation with no camping policy - a beautiful valley - so I descend further than wanted, until I reach "Wyssemad" meadow, near a large bolder casting afternoon shadow of the sun, I pitch my tent.
After a good sleep, mild temperatures during the night (not less than 10C I would say) I stay in the tent until 7:00 in the hope the sun comes out and dries the wet tent, from the nightly descended humidity. About 8:30 I departure from the place (1575m), and descend further, Eynollen (1238m), Gadmen (1185m), Untere Fuhren (1130m), Eisiboden (972m), Nessental (925m), Hopflauenen (865m), Wiler (735m) and Innertkirchen Grimseltor train station (625m) where I take the train back to home at 13:00.
That's it.
Content: