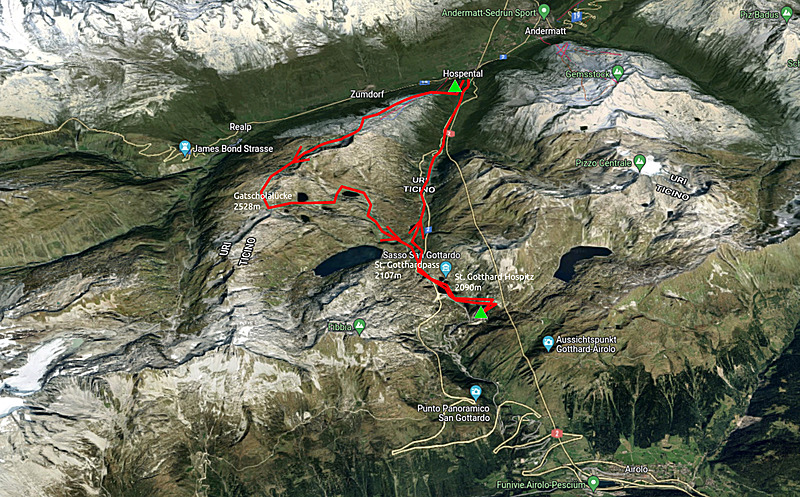 2 Days Hike: Hospental - Gatscholalücke - St. Gotthardpass - Hospental
This is an interactive (zoomable) map of the hike - click on logo right upper corner to get elevation map
I arrive 18:10 in Hospental by train, some distances:
Hospental - Realp: 1h 40m
Hospental - Furkapass: 5h 25m
Hospental - Gurschenalp: 2h 50m
Hospental - Gotthardpass: 3h
Hospental - Airolo: 5h 30m
Hospental - Gatscholalücke: 2h 45m (the one I take today/tomorrow)
Hospental - Gatscholalücke - Gotthardpass: 4h 45m
and I start to hike a bit up for an hour, and find a spot at 19:30 - it's a bit uneven, and windy as well.
No good sleep, but getting up 7:00 as the sun approaches the tent. Ascending nicely (moderately) toward Gatscholalücke and seeing toward Furkapass for a while, also nice small ponds with clear (running) water, eventually I reach Gatscholalücke.
Descending partially flat but then again steeply, which with the heavy backpack is tiresome. Passing by small lakes or ponds until I reach the St. Gotthardpass and Hospice with large windmills. I take a rest as I feel exhausted, and sun and steady wind adds to it . . .
Some distances at St. Gotthard Hospiz:
Gotthard Hospiz - Airolo: 2h
Gotthard Hospiz - Lago della Sella: 45m
Gotthard Hospiz - Giübin: 2h 45m
Around 15:30 I decide to hike a bit up toward Lago dell Sella, but divert toward Bassa della Sella, a small hill a bit aside where I find a flat spot to pitch the tent for tonight.
Better sleep, but all night long wind - no surprise with all the huge windmills put around here near the pass. Departing 8:30, getting some fresh water from the nearby source, and then descend slowly. The valley is narrow, the new street, the old street and the hiking trail - it's still impressive nature. Eventually around noon, I reach Hospental train station.
With headache I step into the train in Hospental - I keep drinking water and go slow, and try to sleep in the train. Lack of sleep really took its toll - so important to have a good rest when hiking more than just a day.
That's it.
Content: