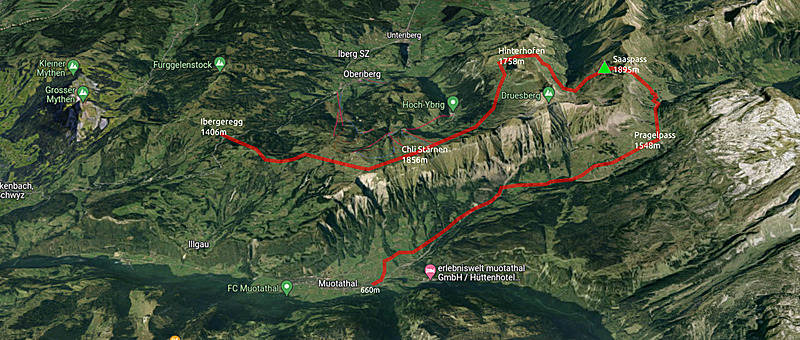 2 Days Hike: Ibergeregg - Saaspass - Pragelpass - Muotathal
This is an interactive (zoomable) map of the hike - click on logo right upper corner to get elevation map
I took the bus to Ibergeregg (1406m), and started the hike there; a small ascend to Chli Staernen / Kleiner Sternen (1856m), and then along the ridge toward Hinterhofen (1758m), and steep descend into the next valley, and slight ascend toward Sihlseeli, and just nearby I found a nice spot for tonight.
Pitching the new ultralight tent "Lanshan 2 2021" (2 person tent), with two walking sticks, very spacious and lightweight indeed (~1.2kg):
After I pitched the tent, I explored the small lake, Sihlseeli, above me (apprx. 5 mins away) barefoot, which was a new experience walking on grass and trail:
Good night sleep, and 5:00 I'm awake, the bright morning sky wakes me, but it takes a while until the sun reaches my tent, about 7:00. Packing and departure around 7:30 - meeting a fellow hiking, spending some time to exchange experiences in the region and getting inspiration to revisit this region again. 8:00 reaching the Sihlseeli again, and then the Saaspass (1895m) as well just above; looking down to the Klönthal, and Silberen where I was 2 weeks ago, then a steep descend toward the Pragelpass (1548m).
At Pragelpass, some distances:
Pragelpass - Hinterhofen (reverse direction) 4h 25m
Pragelpass - Glarus 6h 45m
Pragelpass - Studen 5h 15m
Pragelpass - Innerthal 5h 20m
Pragelpass - Glattalp 8h 20m (longer path)
Pragelpass - Glattalp 5h 40m (shorter path)
Pragelpass - Muotathal 3h 10m (the one I take)
Eating some early lunch near the chapel, and then slowly descending toward Muotathal (660m), where I arrived around 14:00 - where this hike ends.
That's it.
Content: