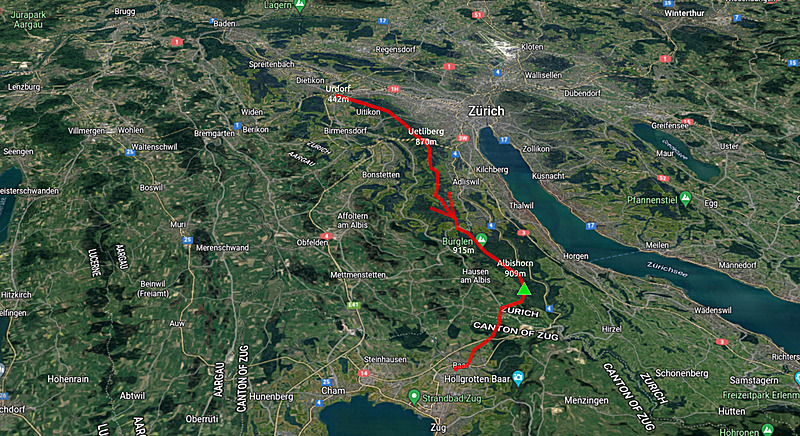 Urdorf - Uetliberg - Albispass - Baar
This is an interactive (zoomable) map of the hike - click on logo right upper corner to get elevation map
After weeks of high temperatures Switzerland above 30°C, Friday the temperatures fell by 10°C and Saturday thick clouds overcast while strong north wind aka as "bise" further cooled down - and I decided to hike again, but on low altitude. I took the train to Urdorf (442m) and started the hike "Misty Albisridge 2022", as I entered the forest, the temperature were mild at 18-20°C and the higher up, the stronger the wind got as I reached Uetliberg (807m), and the low hanging clouds were pushed over the ridge. Instead a wide view over Zurich at Uetliberg, only few kilometer sight . . .
I continued toward Balderen (730m), Felsenegg (810m), Buchenegg (786m), and Albispass (790m) were I rested to eat late lunch.
Some distances:
Albispass - Knonau 2h 30m
Albispass - Mettmenstetten 2h 30m
Albispass - Albishorn 1h 35m
Albispass - Baar 4h 10m (the one I take)
Albispass - Sihlbrugg 3h
Further toward Hochwacht (878m) and Bürglen (915m) and then Albishorn (909m). A bit further, near Mittelalbis, I pitched my tent at a familiar spot as I remember from previous hike in September 2021.
The noise is very limited, the misty clouds absorb all the noise emmisions - it's silent . . . no blue sky, no direct sun, but misty clouds all day - and I loved it.
Long sleep, until 8:00, and packing and departure 8:45 - still low hanging clouds and strong north wind (aka "bise"), descending toward Ebertswil (625m), and eventually Baar (443m) - where the hike ends.
As indicated, after weeks of heat in Switzerland, this weekend was misty, long hanging clouds, overcast all day, strong north wind it was a welcomed change of weather for me, and I enjoyed this hike nevertheless - "Misty Albisridge 2022", apprx. 9 hours from Urdorf to Baar.
That's it.
Content: