last edited 2009/02/24 13:38 (
*
)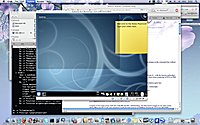 Kubuntu 8.1 as guest on MacOSX with VirtualBox.org
I do intensive graphic work with scripting, e.g. I manipulate .svg files and call
inskape
on the command-line without GUI, and let it render/export a PNG from a manipulated .svg file, using perl.
It took quite a while to

% sudo port install inkscape

it really took 2 hours on my MacBookPro 15" Duo Core. I thought, to install Kubuntu 8.1, with the famous unfinished KDE-4.1, on a VirtualBox.org

, and mount nfs there, and share the directories where those rendering of SVG to PNG is required.
This turned out to be a very fast solution . . . as I was able to install a "server" installation quite fast:

% sudo apt-get install tcsh openssh-server screen wget inkscape

is about what I need on a server without X11 . . . and installed within a 1-2 minutes.
So, even I installed MacPorts.org

on MacOSX 10.5.6, the virtual machine with Kubuntu (or Ubuntu) seems another suitable alternative to have special apps which aren't ported (yet) to MacOSX. The X11 support under MacOSX is sufficient for me.